SWANSBORO - It began with an unsolicited text to my phone on Oct. 25.
"Are you interested in the car sticker promotion program? To earn 700 weekly," the unsigned text stated. I replied, "tell me more."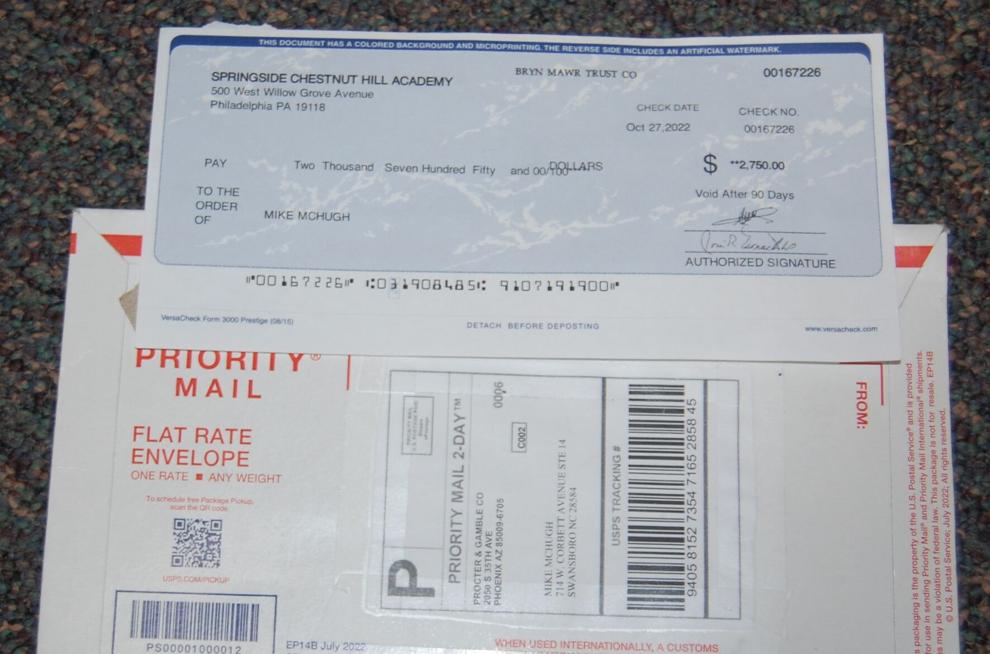 Having dealt with scammers from my days as a newspaper columnist and reporter, I smelled a rat and was ready to play. Over the course of nine days, I would get updates from new "employer" and through their correspondences begin to a trail of their fraudulent ways and learn from local postal workers and law enforcement officials just how prevalent scams are today in and around the Swansboro area.
A very authentic looking $2,750 check arrived to my address in a Priority Mail Flat Rate Envelope on Monday, Oct. 31. Because it was mailed by this means, it had a tracking number that I could enter into the USPS website to learn its origin. Conversely, my new "employer" was also privy to it delivery status.
The carrier had a return address of Proctor & Gamble Co. in Phoenix, Ariz., yet the check was written on a Bryn Mawr Trust Company account for the Springside Chestnut Hill Academy in Philadelphia, Pa. Bryn Mawr Trust Company is headquartered in Wilmington, Del.
Springside Chestnut Hill Academy Chief Financial Officer Frank Aloise wasn't surprised nor too concerned that a check with his school's name on it was being used in a scam. 'We do know about this. It's been going on for months," Aloise said. None of these checks get through because our bank uses a system called "positive pay and furthermore we no longer bank with Bryn Mawr Trust."
The tracking number indicated the parcel was entered into the postal stream in Tyler, Texas on Oct. 28.
Now if this happens to you and you're at this step of the scam, stop. Do not get within three miles of your financial institution or attempt to make a deposit by some other method. It is a phony check. But if you're foolish enough to think maybe, just maybe, it might be legitimate, you're going to get burned.
If someone takes the bait and deposits a worthless check into their account, how soon the funds are made available vary, according to financial officials. Some institutions make some or all of the funds available immediately, but others will implement check holds. Factors that might be considered in whether or not the check requires a hold include:
• Type of check.
• Amount of check.
• The consumer's relationship with the financial institution.
• The amount of funds on deposit with the financial institution.
• How the check is deposited (remote deposit, ATM, in-person, etc.)
Most checks clear within two-three business days, but it could take longer. There have been instances in which it took two weeks or more for a bad check to be returned, bank officials said.
So after I received the check, the scammers began instructing what do next. "You are to mail it to the information via USPS next day express delivery," he wrote in a text. He instructed me to purchase two $1,000 postal money orders and mail them to Joshua Wright living at 959 Burem Road in Rogersville, Tenn. This was an important piece of the puzzle because it put an actual name and address at the drop point. Rogersville is situated northeast of Knoxville just below the Virginia state line with a population slightly larger than Swansboro. Like the Friendly City by the Sea, some Rogersville residents live in the unincorporated area and fall under the Sheriff's Office jurisdiction.
Enter Hawkins County Sheriff Office Detective Cliff Evans. I spoke to Detective Evans on Nov. 3 and gave him the background on this particular scam, including the dwelling in his county and the name of the individual to where my overnight package would have been delivered. He was extremely grateful. "I will pay a visit to Mr. Wright and see what he has to say," Evans said. The detective was not shy to express how he feels about scammers. "I hate those kind of people who take advantage of others," he said.
I did not do what the scammer had instructed me to do, and as you can imagine, he became very upset and began calling me. This is the prize in playing with a con man: to actually hear their voice. His accent and poor use of the English language made me believe he was a West African, probably from Nigeria. Nigeria has become a center of fraud so much so that it's known as Nigerian 419 scams. Named for the violation of Section 419 of the Nigerian Criminal Code, the 419 scam combines the threat of impersonation fraud with a variation of an advance fee scheme in which a letter, email or fax is received by the potential victim.
Swansboro Police Chief Dwayne Taylor and Detective Jeremy McNeil said scams are running rampant in and around Swansboro.
"We investigated a scam last month in which an 84-year-old Swansboro man was conned out of $62,000," McNeil said. "And recently a Cape Carteret woman got embroiled in a fraudulent Amazon scam in which the caller said there had been suspicious activity on her account and it needed to be shut down and that her bank account had been compromised," McNeil said. The middle-aged woman was then transferred to another individual who purported to be from the United States Treasury Department gave the unsolicited caller her Social
Security number and bank account information. After she hung up, she received a second call that identified the phone number as coming from the Swansboro Police Department. When she answered, "Officer Terry Clark" gave her his badge number and told her if she didn't comply, an arrest warrant would be served on her. Fortunately, she hung up and called the SPD only to learn what she had suspected: It was a scam. And as a little aside, SPD does not have an Officer Clark, and the department doesn't use badge numbers when addressing citizens. A third citizen was bilked out of $5,000 when they fell victim to the "grandparent scam." This phone scam calls a person and claims to be their grandchild or someone claiming to represent them such as an attorney and demands money to get them out of trouble.
Taylor said citizens who think they have been reached by scammers, or worse, been robbed by con men to call their local law enforcement official at the municipal or county level. Residents of Swansboro can call the SPD's non-emergency number at 910-326-5151 or the Onslow County Sheriff's Office at 910-455-3113.