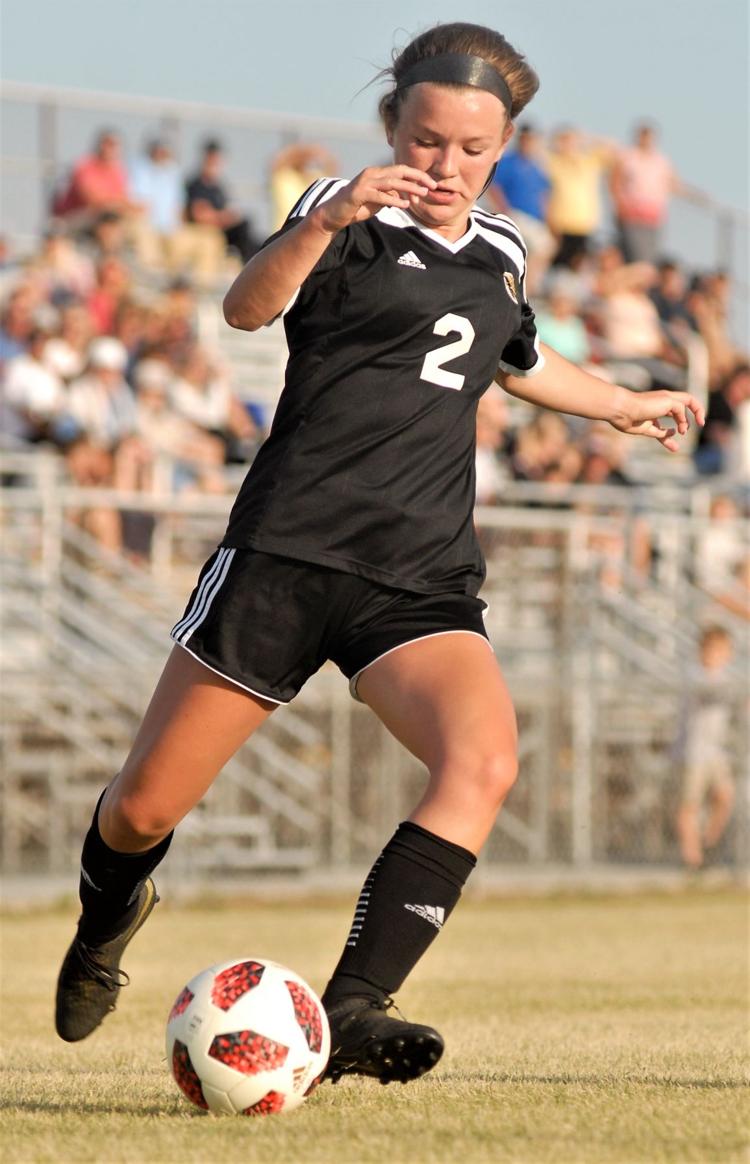 OCEAN — Scoring a hat trick in the first game of the season would make for a good start to the year.
Gentry Straub had accomplished that feat by halftime.
The Croatan sophomore dented the net three times in the first 40 minutes versus Swansboro in a 4-1 victory.
"I was very surprised," she said. "It was very exciting, though."
Straub couldn't recall ever securing a hat trick in a half.
"That was kind of crazy to me," she said. "To think it happened in just one half, that was pretty good."
The Cougars defeated the Pirates for the first time since 2007 – the teams haven't played every year since then – with Swansboro going 17-0-3 versus Croatan in the past 13 years.
Straub's first-half hat trick in the season opener shouldn't have been that big of a surprise. She scored two goals in a contest on four occasions last season and finished her freshman year with an impressive 18 goals and 13 assists in 25 games.
"I was hoping to start as a freshman, but when (coach Paul Slater) called the starting lineup (in the first game), I went into a little bit of shock," she said. "It was a little nerve-wracking."
Her nervousness came from the same place it does for all freshmen who go from playing games against middle schoolers to high school seniors in a matter of months.
"It was a little frightening," she said. "But everyone was super welcoming, and coach Slater helped me a lot. They made me better as a person and as a player."
The Cougars bring back nearly their entire roster from a team that went 21-4 in 2019 with its first conference title since 2014 and advanced to the fourth round of the 2A state playoffs. They ended the year No. 4 in the MaxPreps 2A rankings.
The returning talent had the squad dreaming of a state championship run until the N.C. High School Athletic Association suspended the season from March 14 to April 6 due to the coronavirus pandemic.
"It's kind of devastating," Straub said. "We have a great team. We have a lot of potential. This group of girls, we really click well, we have a good connection. I think we could have gone far this year, but with the suspension, it hinders that. It's a lot of chaos at the moment."
Straub said team members would still meet over these next weeks to get some touches and to keep their fitness.
Last year's team might have made a longer run had it received more competition in league play.
The Cougars went 14-0 in the 1A/2A Coastal 8 Conference, outscoring league opponents 82-4. Eleven games were shutouts, and five finished as 9-0 mercy-rule wins.
"It was rewarding on one hand to beat teams like that," Straub said. "But at the same time, it was repetitive and not as much competition as we hoped for, and so we had to work harder in practice and realize that those weren't the teams we were going to be seeing in the playoffs. We had to put in the work."
Croatan planned for long postseason run this year with a brutal nonconference slate that includes 4A Wake Forest (10-8-1 last season) and 3A squads Hunt (14-3), West Carteret (9-8-1), Rocky Mount (9-8), White Oak (14-5-1) and Jacksonville (15-7-1), which went to the fourth round of the playoffs.
The rigorous campaign also includes 2A powers East Lincoln (15-6), Clinton (22-5-1) and Forbush (17-3-2). Clinton brings back nearly its entire roster from a team that beat the Cougars 1-0 in the fourth round. Forbush also went to the fourth round.
"It will give us some good competition, though," Straub said. "We want to win conference, of course, and go further than we did last year in the state playoffs."
A standout student with a heart for community service – she volunteers with TOPSoccer (The Outreach Program for Soccer) – Straub hopes to attend a four-year college and work to become a nurse anesthetist.
"I knew I always wanted to go into the medical field," she said. "I've been taking some health classes in high school, and those have set my path."
A nursing major will prove challenging in college, but Straub said she hasn't ruled out playing soccer at the next level.
"I've been thinking about soccer in college," she said. "Because education is my No. 1 priority, I'm not sure, but I would love to play soccer in college. I've got a lot of thinking to do, but I'm a sophomore, so I've got time."
Here are a few of Straub's favorite things, as well as her ideal groups with which to eat dinner and survive a zombie apocalypse and the five items she would take with her on a deserted island:
Favorite Movie: "American Sniper."
Favorite TV Show: "Criminal Minds."
Favorite Cartoon: "SpongeBob SquarePants."
Favorite Band: Thomas Rhett.
Favorite Song: "Get Along" by Kenny Chesney.
Favorite Book: The Hunger Games by Suzanne Collins.
Favorite Team: U.S. Women's National Team.
Favorite Athlete: Julie Ertz.
Favorite Vacation: Mexico.
Favorite Hobby: Going to the gym.
Favorite Subject: Math.
Favorite Quote: "I can do all things through Christ who strengthens me. – Philippians 4:13.
Favorite Food: Chicken wings.
Favorite Drink: Gatorade.
Favorite Restaurant: Rucker Johns.
Favorite Season: Summer.
Favorite Sports Memory: Beating Dixon last season and winning conference.
Favorite Teacher: Ms. Lynn DeRosia.
Favorite Sport: Soccer.
Favorite Pre-Game/Post-Game Ritual: Listening to my hype pregame playlist.
Favorite Website/App: Snapchat.
Favorite Follow on Twitter/Instagram: Julie Ertz.
Ideal Dinner Guest List: Thomas Rhett, Alex Morgan, Luke Kuechly, Mia Hamm and Post Malone.
Ideal Group to Survive a Zombie Apocalypse: Annie McLean, Logan Howard, Emma Seymour, Kaygan Forsythe, Lorena Montesano and coach Lindsey Gurley.
Items For A Deserted Island: Food, water, a phone, a knife and a soccer ball.