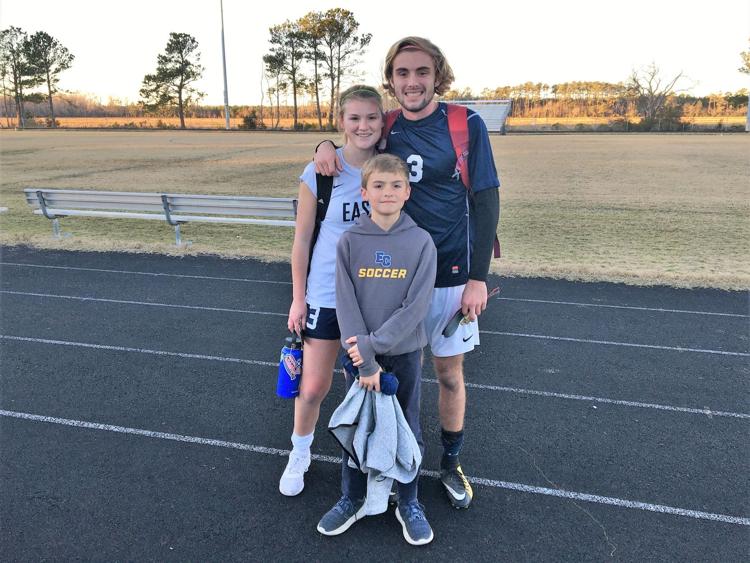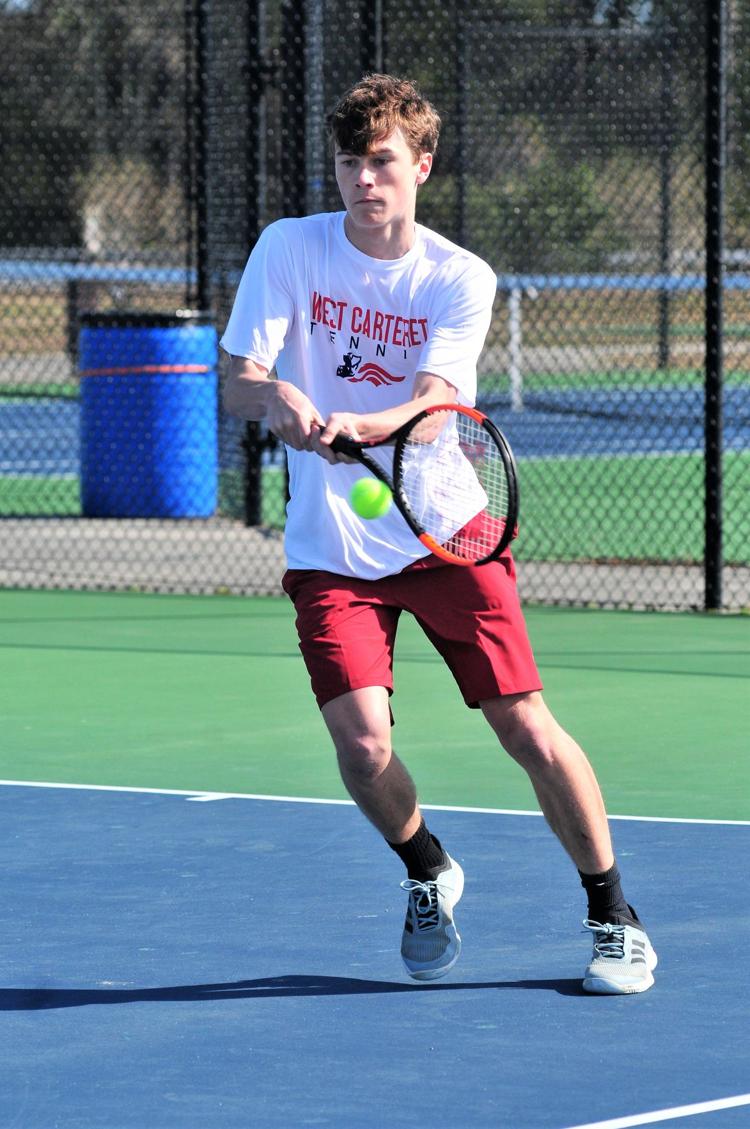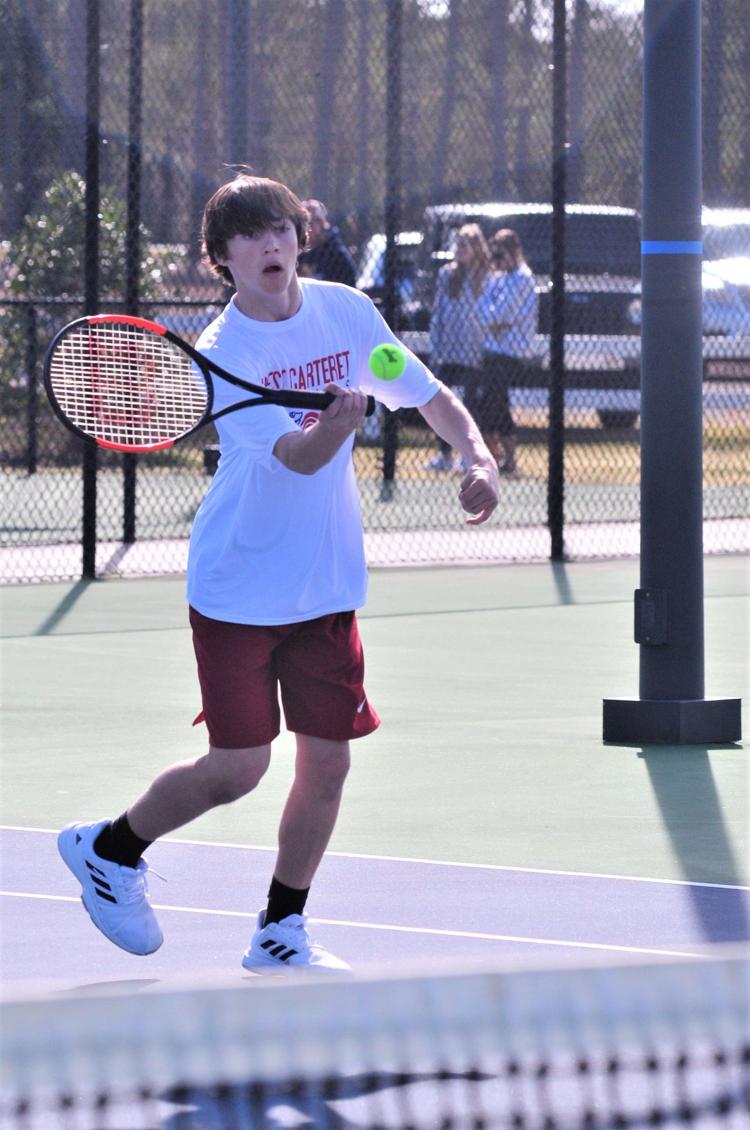 MOREHEAD CITY — Brotherly and sisterly love is alive and well in the county's high school sports programs.
On the varsity level alone, there are a host of notable pairs, even a trio of sisters, that give programs a one-two-or-three punch from the family name.
Senior Jake Reynolds and sophomore Cole Reynolds both wrestled significant minutes for a West Carteret wrestling team that finished the season 26-5 in dual team competition, while the senior J.J. and junior Josh Williams helped buoy the school's boys basketball team to a 21-5 finish and the program's first conference tournament championship since the 1984-1985 season.
At Croatan, the Grays (junior Dakota and sophomore Landon), the Simonettes (senior Zach and sophomore Eli) and the Lindsays (juniors Zach and Ryan) all elevated the wrestling program this winter and helped it to a 26-4 finish, while senior Jacob Boucher and sophomore Garrett Boucher were two of the three all-conference selections for the boys soccer program that went 14-6-2 in the fall.  
At East Carteret, sophomore twins Anna and Jacob Gillikin were in starting roles for the softball and baseball teams, respectively, while Jayden Shelton and freshman Jamaya Shelton both played for their respective varsity basketball teams.
It's not unusual for a pair of siblings to play vital roles for the same team, but the Cummings brothers took that to a new level this spring when they were tabbed to compete as the top two singles netters for the West boys tennis team. Sophomore Rob Cummings was the No. 1 player after going 9-2 at the No. 2 spot in 2019. Freshman Adam Cummings was the No. 2 starter this year. Both brothers were 3-0 before the season was cut short due to the COVID-19 pandemic.
Only a grade apart in age, the two have used each other as competitive fodder at home for years.
"I've always considered it a blessing to have a brother that I could play with in the yard every day," Rob Cummings said. "It has helped both of us get better in whatever sport we were playing at the time. I don't even think about it when we play together on a team anymore because we have literally played so many sports together – soccer, basketball, tennis and baseball."
Adam added, "My older brother is a really good athlete that has pushed me to get better every day. I'm so grateful that I got to grow up with someone to play and train with. We have always been competitive when we play sports with or against each other."  
Grade gaps are everything – unless you're twins, that is. Sophomores Caroline and Kelsey McAloon were both members of the varsity girls soccer team before the shutdowns.
Kelsey and Caroline are the younger sisters of Croatan senior standout Savannah McAloon, an all-conference athlete in volleyball, basketball and soccer.
"We all get a good laugh and a sense of fulfillment when we play and practice together," Savannah said. "Just because I am the oldest, it does not mean that I cannot learn from the twins. My sisters definitely push me to be my best, even though I already put enough pressure on myself. They will never realize the amount of times I have looked to them before making a big decision."
Last season, Kelsey scored nine goals and added four assists as a midfielder, while Caroline, who is in line to take over in the goal after senior keeper Kelly Hagerty graduates, tallied 10 saves and recorded seven shutouts in 12 matches in 2019.
"These last couple years, we have been practicing together, and it has been amazing," Kelsey said. "Even though I'm the youngest doesn't mean that I don't break their ankles."
Caroline added, "The competition between us stays pretty neutral most of the time, but there are definitely some times where we get a little extra competitive.
"I definitely feel like we push each other in different ways. When I see the girls do something and sorta see them give me a cocky nod, it makes me get a little excited to try and beat them."
Caroline has been dealing with a torn ACL she sustained during a state tournament in Atlanta, following a punt that Kelsey actually scored off of.
"I think she is so strong mentally and physically to come back from that and still be killing it," Kelsey said. "Also, my older sister Savannah is just a beast. She is insane and doesn't even know it. She has succeeded so much in school and on the field."
Savannah has been a four-year starter for the basketball and soccer programs. This season on the hardwood, she averaged 7.7 points, 5.2 rebounds, 1.3 assists and 1.1 steals per game. On the volleyball court, where she started for three years while tallying 38 digs, 31 digs, 18 blocks and six aces as a senior. She is a defender on the soccer pitch.
"There is always competition especially knowing that we all play a different position," Kelsey said. "Savannah and I get pretty competitive, and I always think I can be more aggressive than her, but then I realize she is twice my size."
Twice her size or no, Savannah is still around to help her sisters on the pitch when they ask, like tying Caroline's shoe when she's in the net and her gear makes it difficult.
"I am a big believer in the power and everlasting bond shared between twins," Savannah said. "Their commitment to each other is almost as strong as their commitment to their sports. The girls make me proud to be called their older sister."
While the Croatan girls soccer team gets the benefit of all three McAloon siblings, the East soccer program has to split the talents of the Brooks siblings between the boys and girls programs. Senior Mitchell Brooks anchored the boys team's defense in the fall, while Meredith Brooks scored three goals as a freshman and was penciled in as a midfielder/defender starter for 2020 before the season was postponed. Like most siblings, the pair practices informally together at times.
"We will occasionally go to a local park to play against each other or just work out at home and kick the ball around in our yard," Meredith said.
The two-year age gap hasn't lessened the intensity of the competition between them either.
"We both agree that there is more of a desire to beat your sibling than anyone else on the field," Mitchell said. "Competing against each other is always really fun for us because the winner can always rub it in the other's face in a semi-friendly way."
The two got the chance to officially square off during a charity game at East over Christmas break. Naturally, the match was divided between boys and girls, pitting Mitchell and Meredith against each other.
"There was a point in the game where the two of us were battling for the ball," Meredith said. "I popped the ball away from Mitchell, and he just turned around and tackled me flat to the ground. It was really funny and got the whole crowd laughing."
The age gap can also be helpful, with Mitchell blazing the path ahead of Meredith and being there to provide guidance and motivation.
"Mitchell is a very driven, hard-working person," Meredith said. "He is someone I look up to. I see all these great qualities he has, and he inspires me to be the best version of myself that I can be. He sets a goal and doesn't stop until he reaches it. Whether he is on the field or off, he is always motivating others to do their very best."
The inspiration between most siblings, including the Brookses, goes both ways.
"Meredith's perseverance is something that is worthy of being admired," Mitchell said. "She has suffered many injuries and has overcome all of them to continue playing soccer at a high level."