BROAD CREEK — A man was transported to the N.C. Jaycee Burn Center in Chapel Hill with severe burns after his shrimp boat was destroyed by fire Tuesday.
Carteret County Fire Marshal Eddie Lewis said George Thomas Guthrie, 56, who lives near Mill Creek, and his crew were loading gear on a 35-foot shrimp boat docked at Jones Fish House off Broad Creek Loop Road when the boat exploded and caught fire. Mr. Guthrie was the only person onboard at the time of the explosion.
His father, Phillip Guthrie, was standing nearby on the dock and was reportedly thrown back when the boat exploded, but had no serious injuries, according to Mr. Lewis.
The fire marshal further said the family loaded George Guthrie into a vehicle and transported him to Carteret Health Care in Morehead City for initial treatment.
"My understanding is he was flown to the (University of North Carolina) Burn Center," Mr. Lewis said.
There was no further word on George Guthrie's condition as of Tuesday afternoon.
Multiple fire departments reported to the scene at about 11:20 a.m. to fight the blaze, which totally engulfed the boat. Mr. Lewis said it took about 20 minutes to get the fire under control. The boat eventually sunk at the dock.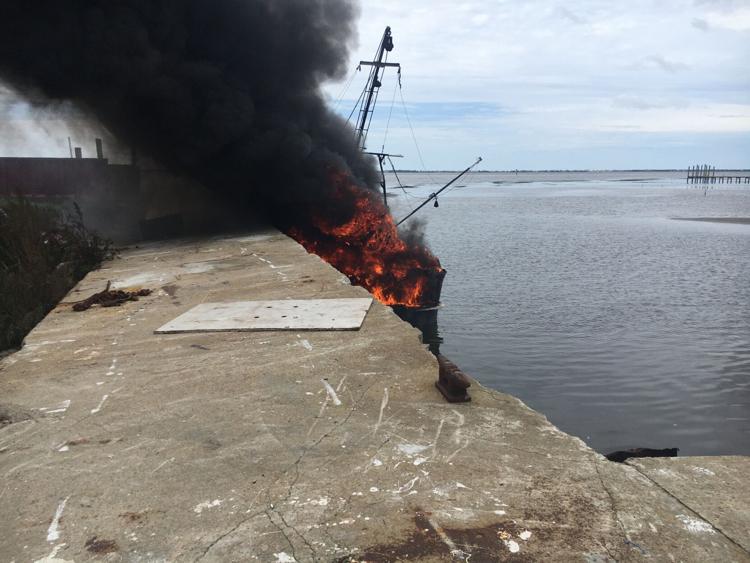 The Atlantic Beach Fire Department provided a boom to contain the fuel that leaked into the creek.
"They said they had just put 50 gallons of gas in the boat and were getting ready to go out shrimping," Mr. Lewis said.
He continued that some of the crew reported smelling a strong smell of gas prior to starting the engine, immediately followed by the first explosion.
"I would describe it as a flash fire explosion or vapor explosion," Mr. Lewis said. "So when they started the motor, there was an initial explosion, followed by a bigger explosion. There were smaller explosions after that."
Mr. Lewis said the boat was a yacht that had been converted to a shrimp trawl.
"They told me they had just put a new motor on the boat," he said.
Mr. Lewis praised the efforts of the firefighters.
"I'm thankful no buildings caught fire and no firefighters were injured," he said. "Our thoughts and prayers are with the man and his family."
The fire marshal said he notified the U.S. Coast Guard of the incident and he wasn't sure who would be in charge of the final report.
"I'll give my paperwork to the Coast Guard and work with them to finalize the investigation," he said.
Contact Cheryl Burke at 252-726-7081, ext. 255; email Cheryl@thenewstimes.com; or follow on Twitter @cherylccnt.