EMERALD ISLE — An ocean fishing pier, Mike Stanley said Thursday, is not just a wooden structure over the water, it's also a romantic destination, frequented by countless lovers and wannabe lovers of all ages, every summer.
Bogue Inlet Fishing Pier, which Mr. Stanley owns and announced this week he is selling with a price tag of no less than $18 million, is no exception.
It's been in his family for 49 years. He's 65 now, so he was a teenager when his family acquired the pier in 1971. Wonder if young Mike Stanley took a few girlfriends out to the end of the then-relatively young pier?
"Oh yeah," he said. "We did all that stuff. And there was some fishing, too."
They'd take a gun to the end of the pier to shoot the sharks, he said. Different world.
Bruce Springsteen sang, with lilting accordion and acoustic guitar accompaniment, about the romance of piers from the perspective of his youth in seaside Asbury Park, N.J., in his 1973 song, "4th of July, Asbury Park (Sandy)."
"Sandy, the aurora is rising behind us
This pier lights our carnival life forever
Oh, love me tonight and I promise I'll love you forever…"
Those things have always happened and still happen at his pier, Mr. Stanley said Thursday. As an inveterate worker, he's seen it all, weddings on the pier, funerals on the pier, arguments of all kinds on the pier and under it. Fights, too, every once in a while.

In short, life happens constantly, in all its splendor and sometimes squalor, on and around a 24-hour pier, where people from all walks of humanity temporarily throw away day-to-day cares and mingle into the night. And maybe catch a delicious meal for the family.
Different times
Growing up with a pier in the family was fun, Mr. Stanley said. You got to know everybody, and Emerald Isle was different then.
"It was so easy," he said. Easy as in laid-back. "Everything was pleasant. It was a good time. You could drive down the beach in an unregistered jeep, drinking a beer and waving to the cops."
Although Mr. Stanley still thinks Emerald Isle is the best place to live and doesn't plan to move when the pier sells, it's not the same. But the pier has been a big part of worlds, past and present. Worlds change fast now, but one of the constants has been surfers.
Surfers' home
Surfer Doug Starcke, who grew up in Emerald Isle and now is co-owner of South Swell Surf Shop, fondly remembers surfing as a kid with his friends at the pier and remembers Mr. Stanley and his family, too.
A pier, he said, is ideal as a surfing spot because sand builds up around it and you know there's almost always going to a good break with ridable waves. Surfers are still there every day, and town officials say they play a crucial role in helping swimmers in distress at the pier, which doesn't have lifeguards.
Bogue Inlet Fishing Pier was and is the Emerald Isle surfers' go-to-place.
The Stanleys, Mr. Starcke said, have let the Eastern Surfing Association hold contests there, which was good for the sport and the area. There were some issues on occasion – surfers and pier fishermen can get in each other's way – but Mr. Starcke said he prefers to look at the big picture.
"It's an asset to everyone," he said of the pier. "I hope he (Mr. Stanley) gets what he wants for it, but I hope whoever buys it keeps it and doesn't change it much. It's a big part of the culture of the North Carolina coast and Bogue Banks. I'd hate to see it go."
History
That culture dates back almost to the town's incorporation in 1957.
According to a history of the pier Mr. Stanley wrote for his business website, two of the original developers of the town, W.B. McLean and George Spell, realized they needed a draw to the west end of their new municipality. They decided to construct a fishing pier about 4 miles east of Bogue Inlet.
"The new pier was named Bogue Inlet Pier, and it was quite successful in drawing development westward," Mr. Stanley wrote. "Camp Ocean Forest (which included overnight and tent camping, as well as permanent mobile home lots) was located directly west of the pier, and a small motel, the Bogue Inlet Motel, was built on Bogue Inlet Drive on the north side."
As the years passed, Bill Watson purchased property across the street from the motel and built a new one, called the Sandra Dee.
"By 1968-70, new construction at the end of the road included Ronnie Watson's Bogue Inlet Store and Bob Deal's Trading Post, among various real estate buildings and the infamous Surfburger drive-in near where the Wings store is today."
Stanleys buy it
Melvin and Joe Stanley bought the pier in 1971.
"McLean and Spell loved to horse-trade, and Melvin and Joe owned a block of property just east of the Coast Guard Station," according to Mr. Stanley's history. "This combination paved the way for the Stanleys to purchase the pier. Melvin and Joe were from the Burlington-Graham area and Melvin was the manager. The original pier house was 1/2 of the size of the current one.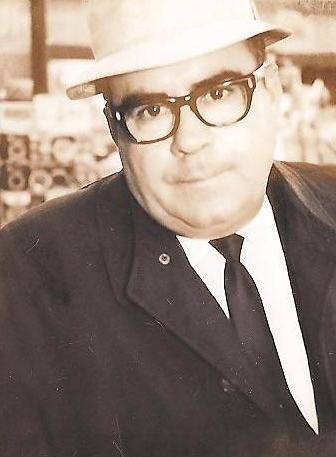 "Over the next two years, business was expanding rapidly (due to the new high-rise bridge opening), and the new pier house was relocated directly on top of the first 60 feet of the pier," he continued.
Melvin Stanley did a tremendous job promoting the pier, according to Mike Stanley, "especially when his German Shepard dog, Sam, acquired a small rod & reel, coupled to a green tackle box. 'Sam the Pier Dog' lived to carry that rig out on the pier and was quite a phenomena for many years!"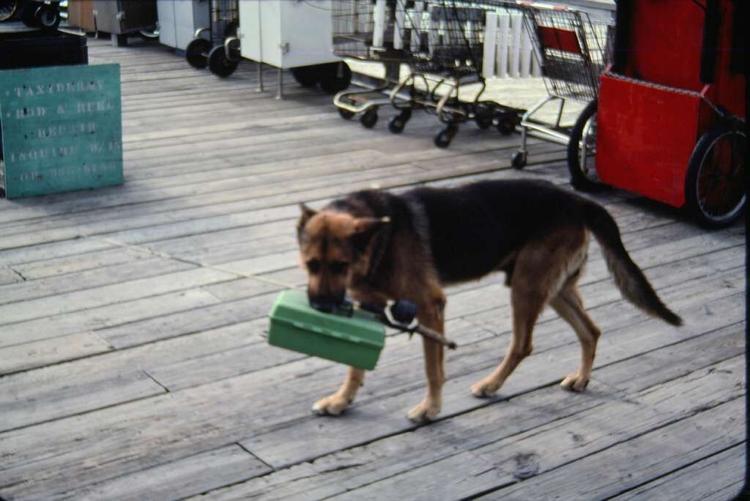 In 1977, Melvin Stanley sold his share of the pier to his brother, Joe, and Joe began purchasing surrounding land. It grew to approximately 14 acres, including the Beachfront RV Park, and it's been in Joe's family ever since.
Melvin Stanley died in 1981, and Joe in 1990. The pier then fell into the ownership of Joe's son, Mike, and the adjacent RV park, east of the pier, went to Mike's sister, Patricia.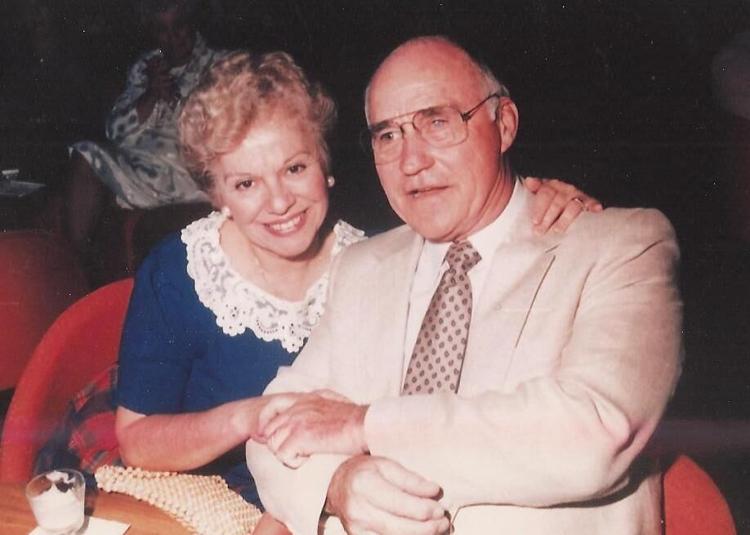 Hurricane damage
Hurricanes took their toll over the years, perhaps most notably in 1984, when a waterspout spawned by Hurricane Diane ripped 238 feet from the end. The pier was rebuilt that winter, bringing it back to 1,000 feet.
Then Hurricane Fran in 1996 took 400 feet from the end. It was rebuilt in 11.5 weeks and reopened April 1, 1997, with a new observation deck at the end, built by Taylor Brothers Marine Construction.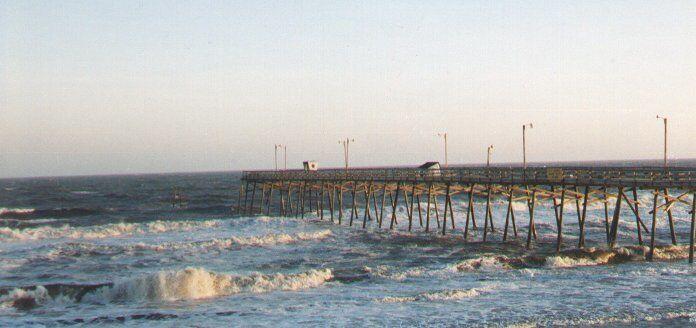 Hurricane Irene in 2011 destroyed 240 feet on the end, and it was replaced in 11 weeks to reopen in March 2012. Various other storms caused pilings from the other Bogue Banks piers to wash down and break off pilings at the Emerald Isle structure, but they were repaired quickly to keep up a safe place for the public, Mr. Stanley wrote.
"Now that most of the other piers are gone, the chance of damage is greatly reduced," he wrote.
Hurricane Florence in September 2018 caused more damage, however, splitting the pier into three sections. Again, the family rebuilt and renovated the pier house and added the Surf's Up restaurant to the east. It's been open since then, except this spring during the early stage of the coronavirus pandemic.
First sale attempt
In 2006, according to the history, all the Stanley properties were contracted to sell to a development team from Raleigh.
"Land values on Emerald Isle were putting tremendous pressure on the owners to sell," Mr. Stanley wrote. "Interest income, derived from the sale price, made it impossible to justify operating it as usual. The Town of Emerald Isle became involved with the purchase, hoping to keep the pier for municipal use. As the sale progressed, and the real estate boom began to fizzle, financial resources became impossible to acquire. The potential developer had to drop the contract, and the pier sale was terminated."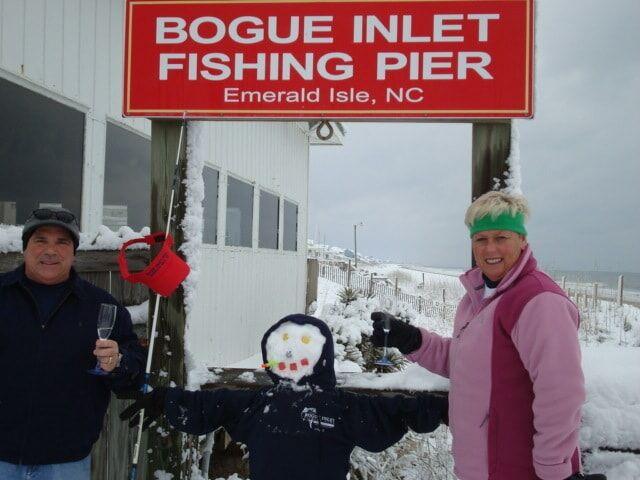 People in the RV park at the pier heard about the deal and panicked over the sale, many of them moving out.
Then the economy crashed, Mr. Stanley said Wednesday, and "we almost lost it all."
But Mr. Stanley and his family persevered. They've since greeted new generations of fishermen, observers, surfers and beachgoers, who have used the parking lots and beach access ramp.
Mr. Stanley said his sister is retaining her financial interest in the pier, so whoever buys it, "would be wise maintain it like it is."
The current sale plan
The pier went on the market Tuesday, and the sale is being handled by Mary Rawls Realty.
Mr. Stanley said he hinted to town officials a few months ago he might be selling, but there wasn't any interest this time around.
In the short time the pier has been on the market, he hasn't had any "nibbles." But Mr. Stanley knows just like fish will not bite one day but bite like gangbusters another, the offers will come, and he's ready. He said he hopes there's a bidding war.
He's not going to sell low.
"I won't take anything less than ($18 million)," he said. "It could take a few years to sell it. But I think there will be a lot of interest. There are a lot people from up north coming down here, bringing a lot of money and looking to invest and get out of all the craziness up there."
The sale will include the pier, its paid parking lots, Surf's Up Restaurant and Beachfront RV Park.
The pier has done great this summer – "wide open," Mr. Stanley said – after being closed in the spring because of the pandemic. But the venerable landmark and other businesses on the property have been all-consuming, and Mr. Stanley has been hands-on, showing up for work and talking to customers.
He said he's enjoyed keeping the whole thing running, but selling at a high point strikes him as a good idea.
"There have been challenges," he said, "but I've always enjoyed making changes, making it better. For us, it really hasn't been about the money. It's been about the satisfaction you get from running a business and putting out a 'product' based solely on people enjoying it. I've always known that if people didn't have fun here, I wasn't doing my job. And I've had fun, too."
In fact, Mr. Stanley thinks that's a big reason the pier has been a success these many years.
"We know how to have fun and how to help other people have fun," he said.
Partnership for growth
The business has grown with Emerald Isle, and the Stanley family and the town have often been partners. For example, the town's Fourth of July fireworks show has been launched from the pier for years, attracting thousands of visitors on a day the pier is not open for fishing.
Emerald Isle has taken off in the last few years, for good reason, Mr. Stanley said, and he also knows the pier is a part of that.
"It's one of the premiere properties on the East Coast," he said.
Vacationers are increasingly shying away from other resort areas, like Ocean City, Md., and Myrtle Beach, S.C., Mr. Stanley said, because those places have lost some things Emerald Isle has managed to maintain despite its growth: community and small-town feel.
He thinks Emerald Isle has a bright future but doesn't think there's much room for a lot of growth. He said he believes that's a good thing. In the early 2000s, he recalled Wednesday, there was talk of a regional sewer system, piping waste from Bogue Banks across Bogue Sound to a sewer plant.
It didn't happen, and Mr. Stanley thinks that was the best decision local officials made. If sewer had come, growth would have come faster and would have been more overwhelming.
"I can't think of a better place to live," he said.
Contact Brad Rich at 252-864-1532; email Brad@thenewstimes.com; or follow on Twitter @brichccnt.