PINE KNOLL SHORES — A brief rainstorm couldn't dampen the spirits of the volunteers and environmentalists who came out to Pine Knoll Shores Town Hall Friday to plant marsh grass.
The N.C. Coastal Federation, a nonprofit dedicated to protecting and restoring the coastal environment, held a marsh planting event Friday at the Bogue Sound shoreline behind the structure at 100 Municipal Circle. Federation staff and members, along with volunteers from the Conservation Corps North Carolina and local residents participated.
The planting was part of an ongoing effort town officials and the federation are pursing to install a living shoreline on the town's property.
Town clerk Charlie Rocci said a lot of credit for starting the project and with forming the partnership between the town and the federation goes to the previous town clerk Sarah Williams, "and the town for wanting to keep the natural look of the coastline." 
"I think they (the federation and AmeriCorps) are doing a great job here," Mr. Rocci said. "We're really thankful for the coastal federation and their contractors. We have full trust in them."
NCCF coastal restoration specialist Dr. Lexia Weaver was among the federation members leading the planting Friday. Dr. Weaver said the federation loves "working with local governments to raise awareness" of the benefits of living shorelines.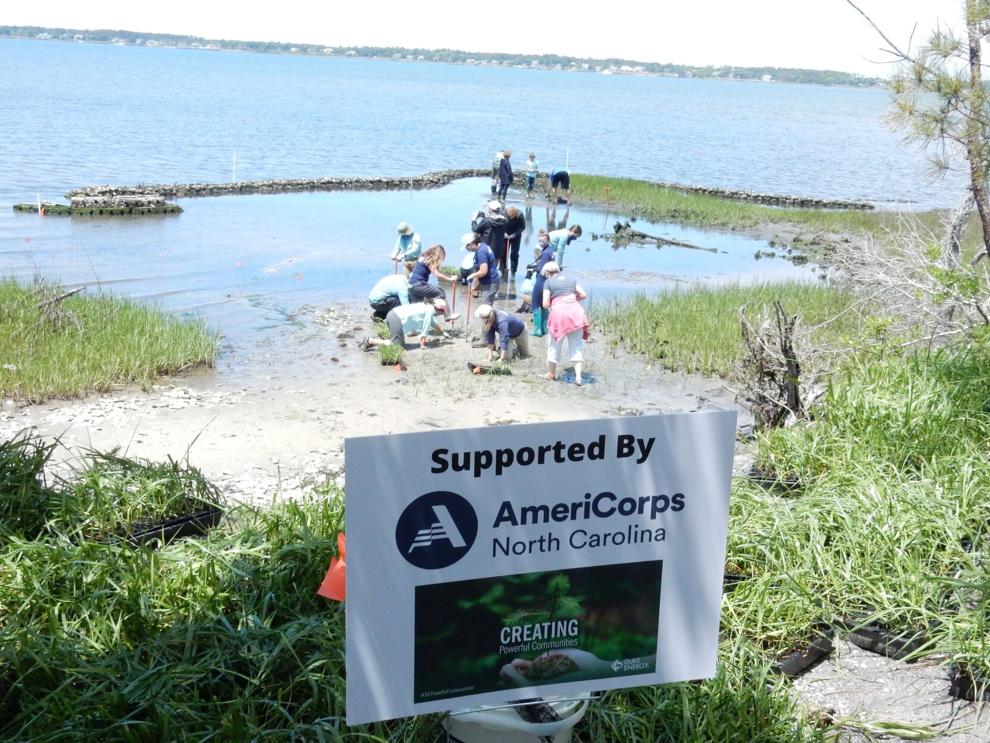 "It's a win-win situation," Dr. Weaver said. "The living shoreline is going to prevent erosion and provide habitat. Our goal is to get more and more of these projects in the water, rather than bulkheads."
CCNC Director Michael Meredith said they're happy to support the work on the living shoreline in Pine Knoll Shores.
"This crew is dedicated to coastal conservation," he said, "we're thrilled to have this crew here today."   
The coastal federation has been promoting living shorelines in recent years as an environmentally friendly alternative to bulkheads. For the Pine Knoll Shores project, the federation hired Restoration Systems LLC of Raleigh to build an oyster sill for the effort. Dr. Weaver said as of Friday, they've built 15 feet of the 50-foot sill.
"We have this new material, Biomason, we're trying out with the sill," Dr. Weaver said. She went on to explain Biomason is a product made of biological concrete mixed with oyster shells, giving it a "low-carbon footprint."
This isn't the only living shoreline project the NCCF has ongoing in Carteret County. Dr. Weaver said they're also working on a living shoreline in Morehead City, near Carteret Community College.
When asked how efforts are going to promote living shorelines as alternatives to seawalls and bulkheads, Dr. Weaver said "it's definitely getting better," but using them to prevent erosion "is still not known by a lot of people."
"It's getting there, but we want everyone to know about it," she said. 
Contact Mike Shutak at 252-723-7353, email mike@thenewstimes.com; or follow on Twitter at @mikesccnt.