CARTERET COUNTY — Sea turtle nest numbers are up in Carteret County compared to last year, and there's still a little less than a month left in the season.
The N.C. Wildlife Resources Commission reports 318 nests in the county this season as of Wednesday. Nesting season generally wraps up by the end of August.
WRC sea turtle biologist Dr. Matthew Godfrey said in an email to the News-Times Wednesday there were 305 nests in the area in 2020. He noted it's common for the numbers to vary year to year.
"Not all adult females reproduce in consecutive years," he said. "Normally, each female will nest several times in one season and then pause for two to four years before her next reproductive season."
As of Wednesday, observers have reported 1,351 nests on North Carolina beaches. While this is lower than the 1,387 beaches reported in 2020, Dr. Godfrey said it's higher than the 1,211 average from 2010-2020 and the 727 average from 1999-2009.
"We hope this increase is a result of conservation actions put into place starting in the mid-1980's to help sea turtle populations recover," Dr. Godfrey said.
In 2019, there were a record 2,358 sea turtle nests on North Carolina beaches. The most nests this year, as usual, are in Cape Hatteras National Seashore, with 283 recorded.
Cape Lookout National Seashore in Carteret County has already reported 262 nests as of Wednesday, Dr. Godfrey said.
National Park Service Cape Lookout National Seashore lead park ranger Nate Toering told the News-Times Tuesday it's been an "above average year."
"There's still nesting going on through the rest of the month and into early September so there's plenty of room for that number to increase," he said. "The last 10-year average (at Cape Lookout) is 237 nests per season."
The NPS patrols the beaches daily to monitor and manage nesting activity.
Fort Macon State Park in Atlantic Beach had three nests as of Tuesday, according to Superintendent Randy Newman.
"Three nests is the yearly average for the park," Mr. Newman said. "Last year we had a record year, with 20 nests."
Fort Macon and Cape Lookout have seen significant visitation this summer. Mr. Toering said while they don't have exact numbers yet, he thinks they've exceeded 2020's 488,000 visitors, while Mr. Newman said Fort Macon has had 299,222 visitors since about the beginning of June. Neither Mr. Toering nor Mr. Newman said they've had issues with visitors disturbing nests.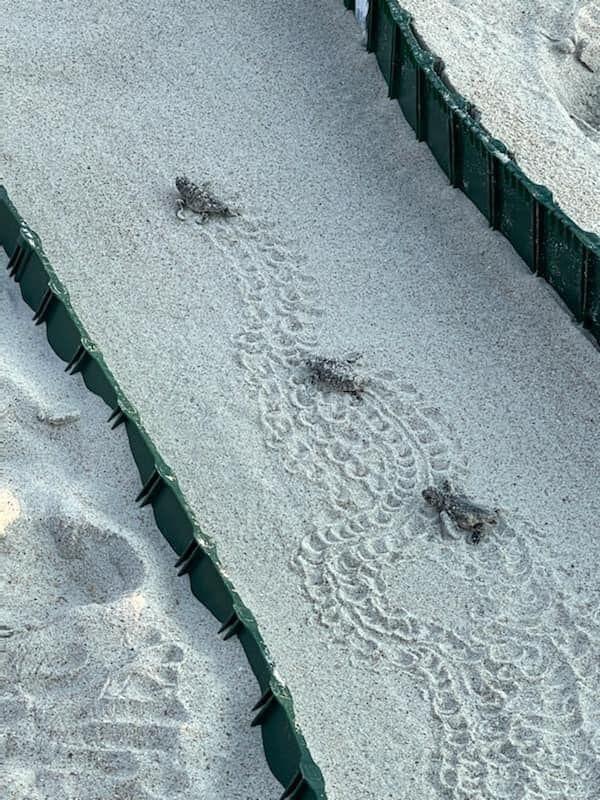 "(Fort Macon) is closed at night," Mr. Newman said, "so normally we don't have problems with beachgoers. However, last year Atlantic Beach Police had to stop beachgoers from disturbing a nesting female near the Tar Landing boundary line."
Dale Baquer, head of the Emerald Isle Sea Turtle Patrol, said in an email Wednesday it's been a better-than-average year, but there have been three tampering incidents. All are under investigation by the town police department.
"We ask if you accidentally go through a nest, just report it immediately, otherwise we have to assume it is a malicious act," Ms. Baquer said.
There have been 25 nests in Emerald Isle, so far. There were 20 in all of 2020, but 43 in 2019, second only to 52 in 2016.
"Two (nests) have hatched," Ms. Baquer said. "One had a 25 percent hatch rate, the other 93 percent."
Another nest failed to develop.
The first nest to hatch was the first nest found. The team excavated the nest and 35 of 138 hatchlings made it to the ocean.
That's not a success rate "we'd like to see," Ms. Baquer said on the sea turtle patrol's Facebook page. "The weather may have played a part. The summer started very cool and wet."
The fourth nest found was more successful, with 132 of 142 hatchlings making it to the ocean.
"These hatchlings gave our volunteers a run for their money," Ms. Baquer said. "Due to lights on the houses behind the nest, they all decided to head towards the dunes."
Volunteers "gathered them up and made sure they headed in the right direction," she continued.
Pine Knoll Shores has had 17 reported nests.
"The nests are normally spotted by our volunteers who walk sections of the beach every morning, but sometimes are reported by a passerby or oceanfront homeowner/guest," assistant town manager Julie Anderson said.
Ms. Anderson sent out an email blast Monday to remind residents and visitors all sea turtle species are threatened or endangered under the Endangered Species Act, and only WRC-registered volunteers are allowed inside roped off areas around nests.
"Unless specifically requested to assist, those not complying with the instructions and directives of these volunteers as it relates to the care or preservation of a nest or its contents may be found in violation of local, state and federal laws," Ms. Anderson said.
Indian Beach town manager Tim White told the News-Times as of Tuesday, staff has received reports of three nests. There also have been three in Salter Path.
"It's about normal," Mr. White said, "but last year we had six if I remember. The people that monitor the nests are very good at marking and keeping the public away from them."
There have been five nests reported in Atlantic Beach.
Contact Mike Shutak at 252-723-7353, email mike@thenewstimes.com; or follow on Twitter at @mikesccnt.