CEDAR POINT — The first first "Coffee with the Sheriff" event, hosted by the town of Cedar Point Thursday night, was a success, with plenty of residents in town hall to speak with Carteret County Sheriff Asa Buck and others about their concerns.
Sheriff Buck said he and others from the Carteret County Sheriff's Office were happy to be there.
"This gives citizens an opportunity to ask questions in a relaxed atmosphere and to get to know people face to face," he said. "Our office is very accessible to people. This is a chance for them to tell us what's going on in their community and for us to get to know some of the people."
Cedar Point town clerk Jayne Calhoun said she was happy the event finally took place.
"I've been trying to do this for three years, but we've had Hurricane Florence and COVID-19. I think this is a great turnout," she noted.
It was hard to tell how many people attended, since they came and went over the two-hour period, but it appeared there were 15 participants or so most of the time.
The event was informal, with no preset questions or talks, and coffee and light food provided by the town. People gathered in small groups or talked individually to Sheriff Buck, as well as to others from the office, including Kurt Nakamura, the deputy who works for the town under a contract with the CCSO.
Several residents told the News-Times they feel quite safe in Cedar Point.
Resident Elizabeth Nutter said she didn't have any safety concerns and called the Thursday night gathering, "wonderful. I think they should do it twice a year."
Another resident, Victor Braggioti, said his only concern was loud music at a bar near his home. He called the coffee gathering a good thing, "a chance to put names with faces."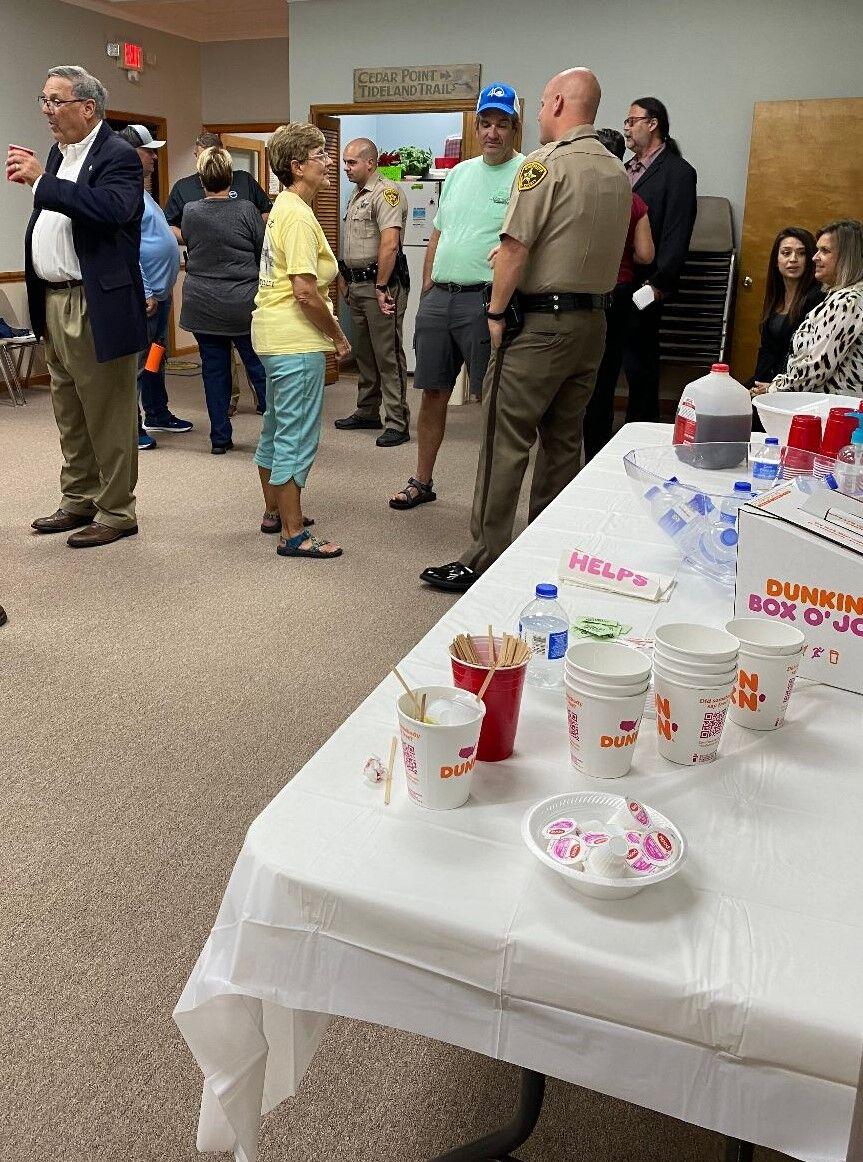 Deputy Nakamura, who has worked for the town for two years, agreed.
"People get to see the faces behind the badges," he said. "Typically, many people's experiences with law enforcement are the worst days of their life, whether they need a police officer or they've been pulled over for something."
Events like the one Thursday let people see and hear that law enforcement officers are "just regular people," he said.
With rapid growth in Cedar Point the last few years, town commissioners have talked some about adding an additional law enforcement official.
Sheriff Buck, in an interview Thursday night, said he is open to that. He thinks the contract system is working well, but there could come a time when the town needs more.
"If they decide they want to do it, either another full-time officer or part-time, it works for me," the sheriff said. "Of course it takes budget resources."
Cedar Point pays 90% of Deputy Nakamura's salary, or $66,674, and the county pays the remainder.
Commissioner John Nash, like Sheriff Buck, said a determination on expanding resources will be up to the current deputy.
"If he thinks he needs help, if he feels overwhelmed, he'll tell us," Mr. Nash said. "We will allow the situation to drive it."
Although the town has its share of break-ins and other crimes, "the biggest issue is really traffic enforcement, and I will say the (N.C. State) Highway Patrol has been doing a better job helping us in the past six months," the commissioner said. "And I think Kurt and the sheriff's office do a great job of community policing, getting out and talking to people."
Deputy Nakamura said "there are times" he feels overwhelmed, especially in the summer, but he generally thinks he's able to handle situations with help from the SHP and occasionally from other sheriff's deputies, for now.
"Things have really been going pretty good in the two years I've been here," he said.
Editor's note: This headline was updated at 12:35 p.m. Monday, Oct. 11, 2021. 
Contact Brad Rich at 252-864-1532; email brad@thenewstimes.com; or follow on Twitter @brichccnt.