MOREHEAD CITY — As students prepare to start the 2020 fall semester Monday at Carteret Community College, officials say they are feeling the effects of the coronavirus pandemic on enrollment.
As of Thursday, figures show a 9% drop in curriculum student enrollment compared to fall 2019. Student enrollment was at 4,066, compared to 4,455 for the 2019 fall semester.
CCC Director of Enrollment Services Tammi Coble said Thursday several factors have contributed to the decline, but one of the main issues is related to parents struggling with childcare issues.
"Many of our students (with children) were waiting to hear what the public schools were doing," she said. "One of the main issues has been the availability of childcare. That has been a big factor."
Beda Ward of Beaufort, who has a 3-year-old in the Head Start program, agreed availability of childcare is a big issue.
"At Head Start they are doing two weeks in school and two weeks online," she said. "Trying to get her into childcare has been very difficult. I was struggling to even find a baby sitter because of COVID. I finally found someone."
Ms. Coble said college staff are reaching out to students to find out what they need to return to college.
"We are calling individual students so we can work with them," she said.
Ms. Coble added CCC students can receive help through funds provided to the college through the Coronavirus Aid, Relief and Economic Security Act. CCC received more than $387,423 from the U.S. Department of Education for direct student aid through the CARES Act. As of Thursday, $156,574 had been distributed to students struggling with the economic downturn.
Ms. Ward was one of the students who received help with CARES Act funds.
"It's making it a lot easier for me," she said.
Students who are attending courses on campus and affected by the pandemic may be able to receive help with expenses related to childcare, technology, health care, food, housing or course materials.
Students who have not applied can still do so. Visit the CARES Act link on the college's website to complete the application and submit it to the financial aid office.
Students returning this fall will find a different environment. Curriculum classes will be offered face to face, hybrid, synchronously and online, dependent on the subject matter. CCC President Dr. Tracy Mancini said the goal is to provide students with multiple options to stay engaged in their education.
Another goal is the safety of those on campus, according to Dr. Mancini.
"The college's first priority this year is ensuring the health, safety and academic success of students as we adapt to the challenges posed by COVID-19," she said.
Four Temperature Verification Kiosks have been installed in high traffic campus buildings that will be used to check the temperature of individuals entering campus buildings. Those with fever will be asked to leave campus and contact their physicians.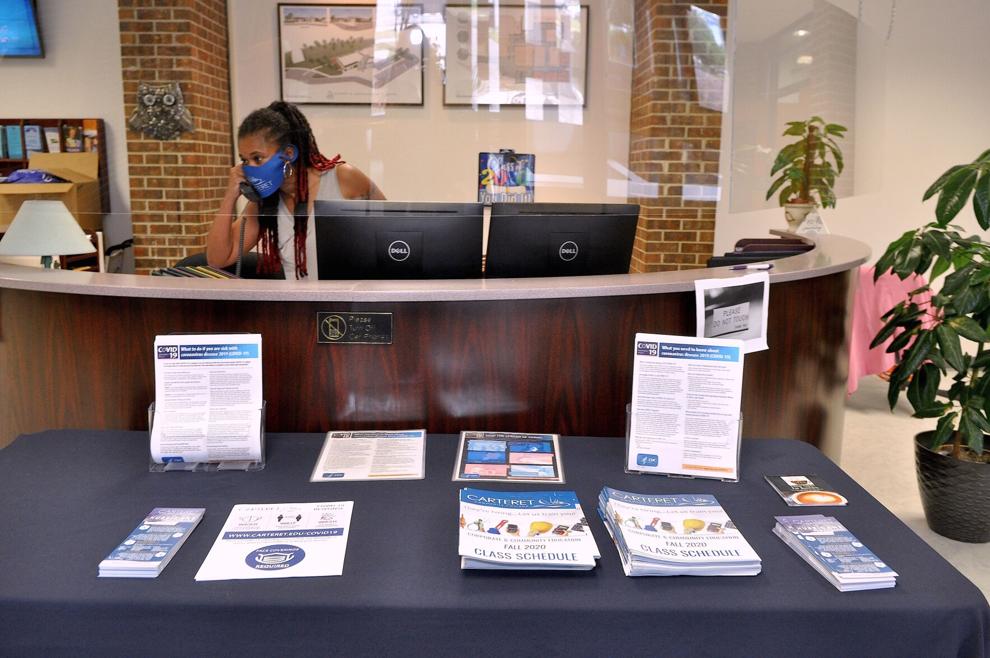 Signs posted across the campus and in buildings encourage wearing a face covering, waiting 6 feet apart and washing hands frequently. Hand sanitizing stations have been placed in buildings, and Plexiglas shields have been installed over help desks and in reception areas. There will be additional stringent cleaning requirements each day, as well.
Everyone on campus is required to wear a facial covering or mask. Faculty and staff may take masks off if they are alone in their offices or workspaces, according to CCC Public Information Officer Logan Okun. Masks are not required when walking outside on campus. However, people walking within 6 feet of one another outside must wear a mask or covering.
Students registering and picking up materials on campus Thursday said they were ready to return to classes.
Welding student Brandon Conway of Newport said, "I feel like the safety precautions they've put in place are good and I'm ready to get back."
Criminal justice major Ryan VanKouthern of Beaufort agreed.
"I'm ready to get going," he said.
Contact Cheryl Burke at 252-726-7081, ext. 255; email Cheryl@thenewstimes.com; or follow on Twitter @cherylccnt.