MOREHEAD CITY — Bells were ringing Thursday in front of Belk during the kickoff ceremony for the 2020 Salvation Army Red Kettle campaign.
Money raised during the annual campaign helps provide toys and food for needy county families for Christmas, and supports The Salvation Army's social services programs and operations costs throughout the year.
Maj. Aaron Goldfarb with The Salvation Army of Carteret County said the needs are great this year because many families are struggling due to COVID-19.
"We're seeing a greater need for help with rent, utilities and lodging assistance," he said. "Our goal this year is $80,000, which is about what we raised during last year's campaign."
Due to COVID-19 safety precautions, all kettle signs are enabled with Apple/Google Pay technology for contactless donation for those who prefer not to put cash in the kettles.
Volunteers will be required to wear masks as they ring, and The Salvation Army will clean and sanitize kettle equipment at the end of each day. Those exhibiting COVID-19 symptoms are asked to not ring bells.
Salvation Army board members and volunteers, along with County Commissioner Mark Mansfield, attended the opening ceremony Thursday, as did Maj. Goldfarb's wife, Capt. Jamie Goldfarb.
The Goldfarbs played Christmas music on an alto horn and trumpet for the event.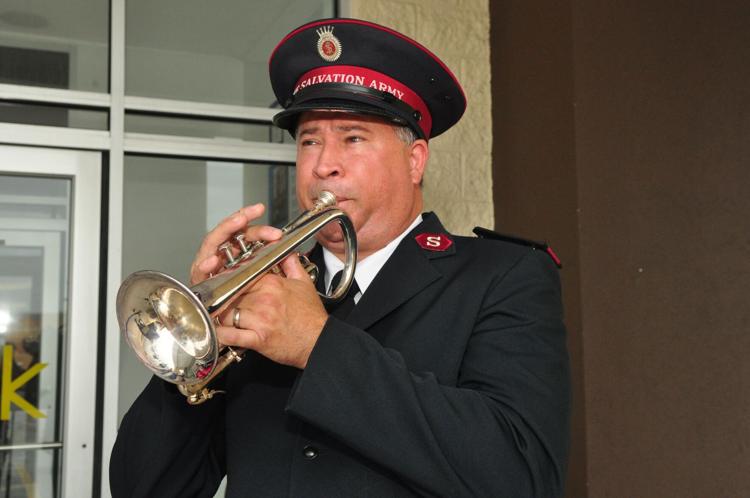 Mr. Mansfield encouraged residents to donate during the Red Kettle campaign, which will end Christmas Eve.
"The Salvation Army helps our county in many ways. They help us during our hurricane preparedness and at our emergency shelters," he said. "They also help our residents with their needs."
Volunteers are still needed to ring bells. Hours will be 10 a.m. to 6 p.m. daily through Thursday, Dec. 24, excluding Sundays and Thanksgiving Day. Bell ringing at Walmart will not begin until Friday, Nov. 20.
Maj. Goldfarb asked that volunteers be willing to ring for four-hour shifts, and groups and organizations are encouraged to participate.
Those who volunteer, like Felix Weinhold of Morehead City, say it's a rewarding experience.
"I've done this for at least 10 years. It's just the right thing to do because there are people in need," Mr. Weinhold said. "To me it's special when I see a lot of younger kids give. Sometimes it's only a penny or a nickel, but they're giving what they have."
Bells will be rung at Lowes Foods in Morehead City and Cape Carteret, Hobby Lobby in Morehead City, Walmart in Morehead City, Harris Teeter in Morehead City and Belk in Morehead City, Saturdays only.
Those interested in volunteering can call Maj. Goldfarb at 252-269-3087.
To make monetary donations without going to the sites, mail checks to The Salvation Army, P.O. Box 399, Morehead City, NC 28557. Donations can also be made by going to salvationarmycarolinas.org/moreheadcity.
Contact Cheryl Burke at 252-726-7081, ext. 255; email Cheryl@thenewstimes.com; or follow on Twitter @cherylccnt.