MOREHEAD CITY — As a few more people trickled in Friday afternoon to get their shot, the volunteers who have been running Carteret County's mass COVID-19 vaccination clinics gathered for a brief celebration to mark, what is hopefully, the end of an era.
The County Health Department held its final first-dose vaccination clinic Friday at the former Kmart building in Morehead City, the site officials have been using since mid-February. The county announced in early April they would be ending the clinics due to decreased demand, though the vaccine is still available through the health department, private pharmacies and primary care providers.
Friday afternoon, volunteers were invited to stop by after the clinic for some pizza and a group photo as thanks for giving their time over the past few months. The pizza was donated by Domino's Pizza, which has a location next door to the clinic and has been a "good neighbor," according to County Manager Tommy Burns.
Mr. Burns had nothing but praise Friday for the county staff and volunteers who have helped pull the clinics off. He said the county has received overwhelmingly positive feedback about the clinic.
"It wouldn't have been possible without our volunteers," he said.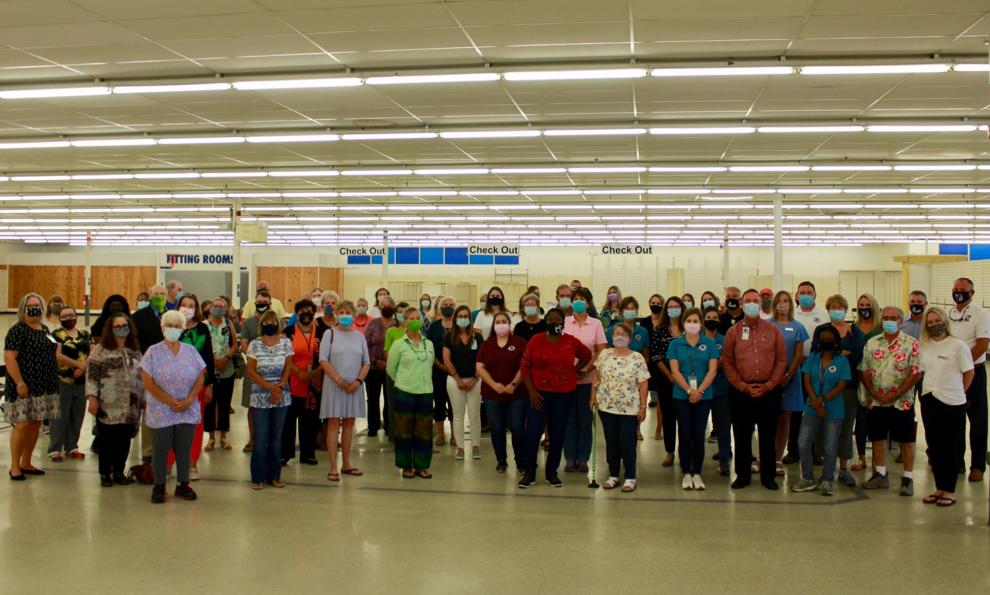 Mr. Burns said the county also plans to recognize students and staff of Newport Middle School, where the health department held the first few mass vaccination clinics before moving them to the former Kmart building.
Katie Cornette, a retired nurse from Atlantic, has been volunteering and described the experience as an "excellent" opportunity for her to give back to the community during the coronavirus pandemic.
"I was very appreciative to have had the chance to do anything I could to help stop the pandemic," she said. "I believe in the vaccine and I have faith in it that it will help put an end to the pandemic."
Carteret County Health Director Nina Oliver has only been in her position since mid-March, so she wasn't initially involved in organizing the clinics, and she said Friday she's been pleased with how they are run.
"I have been thoroughly impressed by the effectiveness, the teamwork and leadership displayed, it all contributes to how well this clinic functions," she said.
Ms. Oliver encourages anyone eligible who has not yet gotten vaccinated to consider doing so. The health department will continue to schedule vaccination appointments on an individual basis by calling 252-728-8550, option 2, or residents can visit myspot.nc.gov to find a local provider offering the shot.
She also urges individuals to continue following health guidelines like the three Ws: wearing a mask, washing hands frequently and waiting at least 6 feet apart.
Carteret County will continue to hold second-dose mass vaccination clinics at the former Kmart building through the month of May. As in the past, no walk-in appointments will be accepted at these events.
Contact Elise Clouser at elise@thenewstimes.com; by phone at 252-726-7081 ext. 229; or follow on Twitter @eliseccnt.