MOREHEAD CITY — Janessa Days, an English IV teacher at the Marine Sciences and Technology Early College High School, sorted books Wednesday in preparation for the return of 51 students on Tuesday, Aug. 9.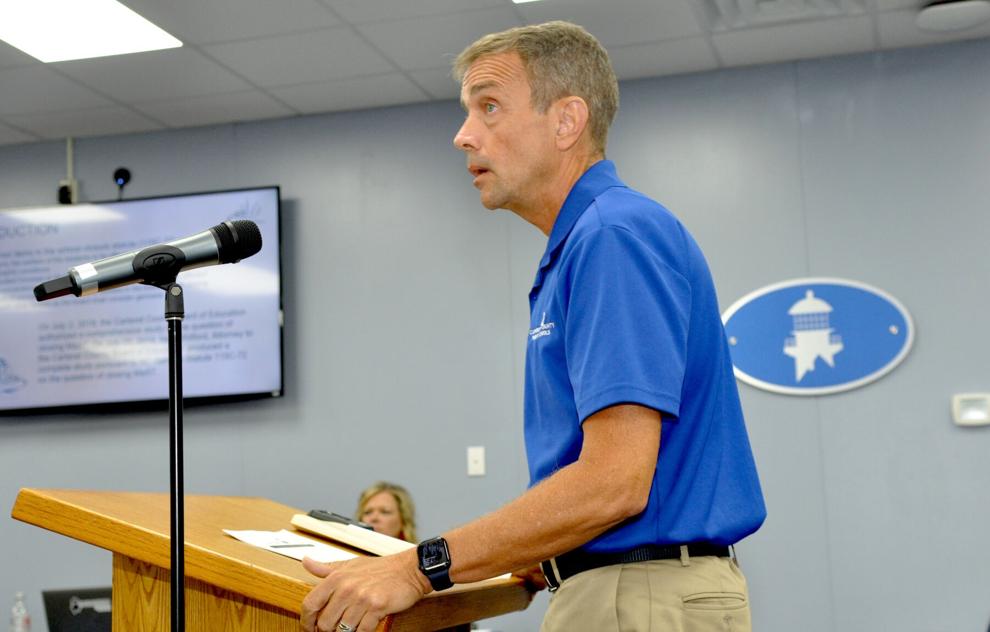 She is one of two full-time teachers for the fall semester at the school, which is facing an uncertain future as the County Board of Education prepares to vote in September on closing MaST after the Class of 2023 graduates. The school also has a part-time instructor, guidance counselor, bus driver, principal and a few other personnel.
This is her second-year teaching at MaST, and Days said she still believes the school is needed in the county. The school allows students to earn college and high school credits simultaneously.
"I knew coming in last year that the school was likely to close, but I think this school is necessary for our county," she said. "We need something to bridge the gap for students who are overachievers or who want to pursue vocational trades but struggle with the traditional high school scene for various reasons."
Days said she will transfer to West Carteret High School for the 2023 spring semester after all of her MaST students earn their English IV credits this fall. The school will only have a senior class this year to allow students who started at MaST to graduate. 
The school board, in April, adopted a resolution to not accept freshmen for the second year in a row. Members also asked Superintendent Dr. Rob Jackson to conduct a study on closing the school after the Class of 2023 graduates. He presented results of the study to board members during their meeting Tuesday in the school system's central office.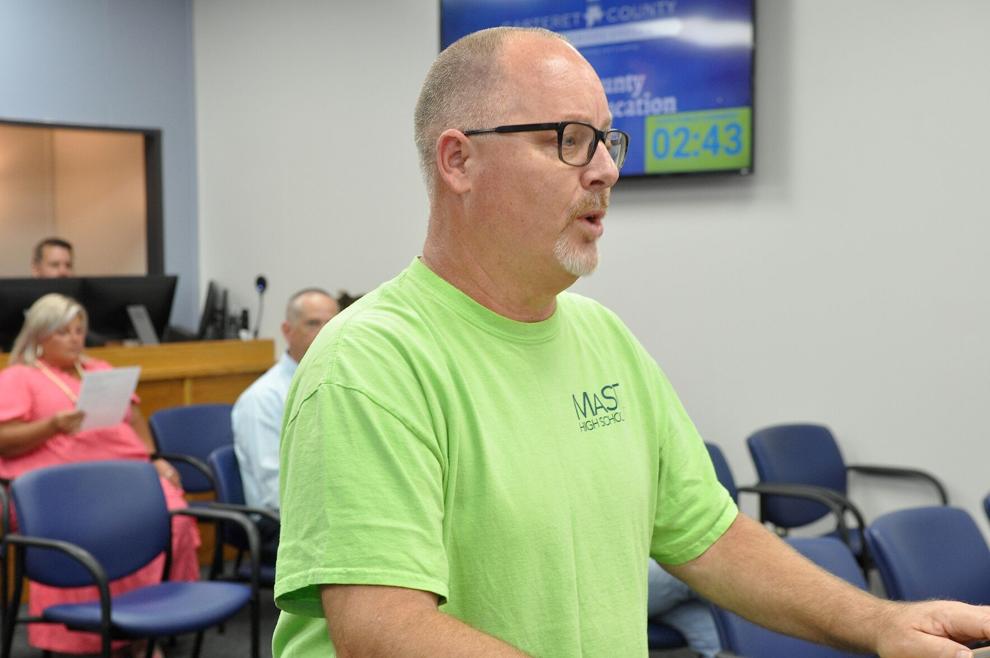 While a few reasons were given in the resolution for the board asking for the study, many parents continue to complain no clear reason has been given to close the school now that the N.C. General Assembly has approved allocating $180,000 in recurring funds for MaST. Lack of state funding was one of the main reasons given by board members for the school's closure.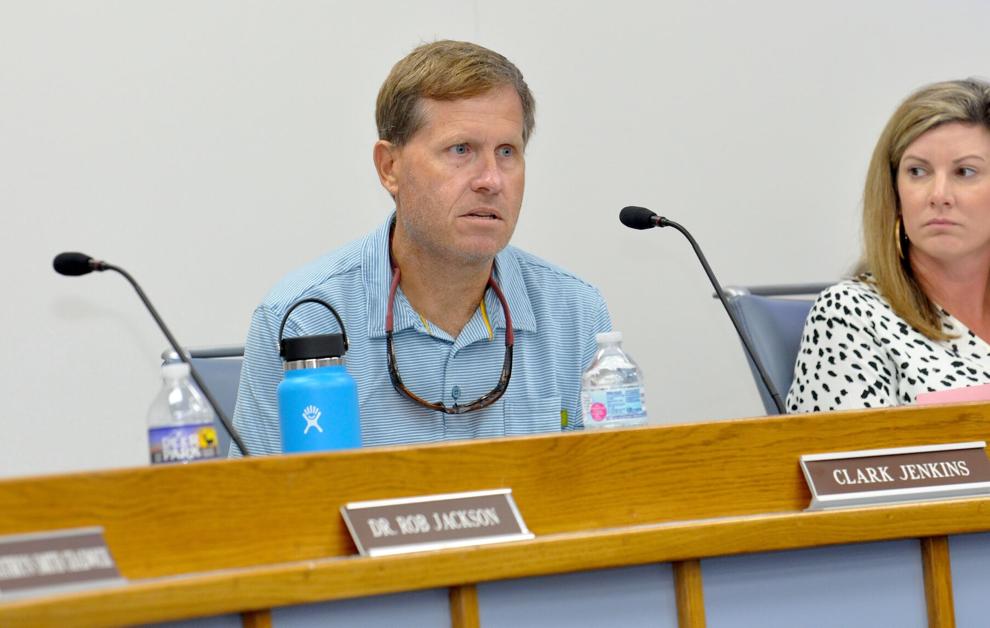 Following Dr. Jackson's presentation, County Board of Education Chairman Clark Jenkins encouraged board members to take a month to consider the findings and be prepared to vote at the Sept. 6 meeting.
"When we vote, I do want us to provide a clear reason why we made our decision," Jenkins said.
He also encouraged parents or community members to contact individual board members in their district with any concerns prior to the September meeting. Their contact information is available on the school system's website at carteretcountyschools.org.
The 25-page report includes a variety of information regarding the school's closure, including the impact on students and the traditional county high schools, student enrollment, geographic conditions, student inconvenience/hardships, costs associated with closure, similar programming at traditional high schools, and sentiments of the County Board of Commissioners and CCC officials.
As for the cost, Dr. Jackson estimated expenditures to operate MaST in 2021-22 at $637,629. That included $453,404 in state funds, $161,164 in county funds, $22,879 in federal funds and $181 in county capital.
Funding received in 2021-22 included $180,000 in state Cooperative and Innovate High School funds and $245,958 in county funds, making a total of $425,958. However, Dr. Jackson said that total does not include state average daily membership (ADM) funds, which are allocated based on student enrollment. The school had 84 students in 2021-22.
The study also shows that the year the school opened for the 2018-19 academic year, it received $105,000 in state CIHS funds and $186,358 in county funds. The state did not allocate funds for 2019-20 and provided $305,000 in 2020-21. The county has provided $245,958 for the past three years. CCC provided $215,000 in 2019-20.
If the school closes, Dr. Jackson said there would be no additional expenses for teaching positions, but he estimates $17,436 for daily transportation from county high schools to CCC for Career and College Promise students. Those students take some college courses at CCC while still in high school.
Dr. Jackson said from 2018 until present, MaST students have earned 18 associate's degrees, with no students in traditional high schools receiving AS degrees. MaST students have received 19 trade certifications, with seven awarded to traditional high school students. No MaST students reported receiving industry recognized credentials, compared to 3,143 credentials earned by traditional high school students. Credentials are defined as certifications issued by professional associations, vendors or employers.
As for sentiments of the County Board of Commissioners, County Manager Tommy Burns is quoted in the study on July 29 stating: "The Carteret County Board of Commissioners support closing MaST Early College High School after the graduation of the Class of 2023."
The study also includes comments by CCC Board Chairman Melodie Darden, dated July 31. Darden states, "Carteret Community College (Carteret CC) believes MaST has been an effective educational option for the students who have attended since fall 2018."
Darden further said, "Despite enduring the devastating loss of Alex Doss in the charter class's freshman year, Hurricanes Florence and Dorian, the COVID-19 pandemic, and ongoing uncertainty about the future of their school, the students and staff of MaST — and the faculty and administration of the college — have persevered in good faith to create a strong educational and social experience for the students who, along with their families, made a deliberate choice to pursue a different high school pathway."
Both CCC President Dr. Tracy Mancini and Vice President Dr. Maggie Brown attended the school board meeting but made no comment during or after the meeting.
At the end of his report, Dr. Jackson said the school system would continue to partner with CCC to offer educational opportunities to students, regardless of how the board votes.
"Increased focus on community college pathways will increase opportunities for students to complete associate degrees and trade certificates," he said.
During the public comment time at the beginning of the board meeting, MaST parent Eugene Thompson of Newport, who has two students attending the school, questioned the board on why they continued to pursue closing MaST when the Class of 2022 proved how successful the school can be. He also emphasized that the state has obligated recurring funds for the school.
"Funding has been provided, and yet you continue to still address this year after year. Why do you insist on closing a Cooperative Innovative High School program for the students of Carteret County public schools? As I speak to the citizens of the county you serve, they all support MaST and ask if I know why you are so intent on ending this program. I have no legitimate response. I have attended several meetings of this board in its dealing with MaST and have yet to hear someone speak against it. If the citizens you serve want to see this program continue, why are you still proceeding with this action?"
The latest action is one of several taken by the board to close the school since it opened. The efforts were met with protests from parents and the community, including legal action, which was later dismissed. 
Contact Cheryl Burke at 252-726-7081, ext. 255; email Cheryl@thenewstimes.com; or follow on Twitter @cherylccnt.