MOREHEAD CITY — Undeterred by dark clouds and drizzling rain, a group of peaceful demonstrators gathered Saturday in Katherine Davis Park in downtown Morehead City to stage a "die-in" show of solidarity with recent protests and calls for police reform and racial justice.
Participants gathered near the flag pole at the park around 4 p.m., first joining hands before lying in the wet grass for a silent 8 minutes and 46 seconds. The term reflected the period of time George Floyd was held to the ground, trapped by the neck under the knee of now-former Minneapolis, Minn., police officer Derek Chauvin.
Mr. Floyd's May 25 killing has sparked widespread protests across the U.S., including in Morehead City, where for about two weeks demonstrators have gathered along Arendell Street to call for racial justice and show solidarity with the Black Lives Matter movement.
"Growing up here, this is the first place I witnessed full, blank on, in your face racism," organizer Damar Small told the News-Times. "…It's kind of swept underneath the rug. So when everything started happening, I just decided I should do something. I should stand up."
Over the past two weeks, others have joined him. Wearing shirts reading "Black Lives Matter" and "I Can't Breathe," demonstrators stepped away from their vigil along the busy highway Saturday and moved into the park for the die-in. A number of people were emotional after the nearly 9 minutes of silence, some rising with tears in their eyes, others smiling while helping neighbors to their feet.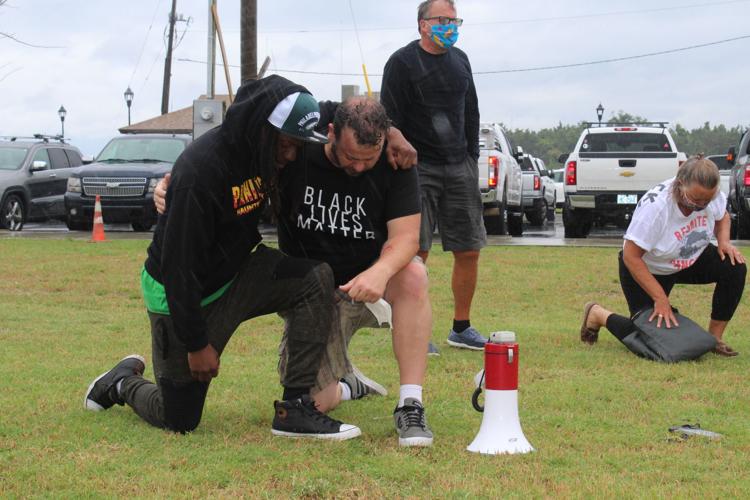 "You never realize how long 9 minutes is until you do something like that," said Shannon Swartz, a longtime friend of Mr. Small who has attended the protests in Morehead City almost every day since they began. "That was really powerful."
The event, "Facedown for Floyd," was originally scheduled for June 6, but organizers postponed and obtained a permit from the city to hold the event at the park. There was no police presence.
James Seretti also helped organize Saturday's event. He said, as a white person, he felt compelled to join the movement after watching the video of Mr. Floyd's death and deciding something needed to be done.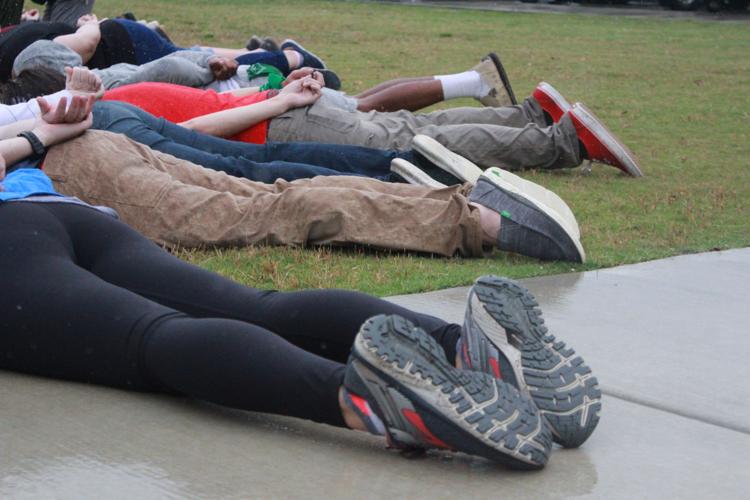 "I was just appalled and I felt like there was some momentum starting to build for the Black Lives Matter movement, for police reform, and I think it's just so important," he said. "I can't imagine, No. 1 being on the ground for 8 minutes and 46 seconds with an officer on my neck, but for my son or for my neighbor or my brother or for any American, it should not happen to. Today's event, to see the crowd come out in the rain and demonstrate like this together, was very moving."
Mr. Small said he hopes the community will engage with the movement to improve the lives of Black Americans and show their support, both in the short-term by "showing up, getting involved" and on longer-range initiatives. While he said he's still working on ideas, he noted locally, there could be more community-minded efforts to provide strong afterschool opportunities for all children and more programs and things for young adults to engage in and do.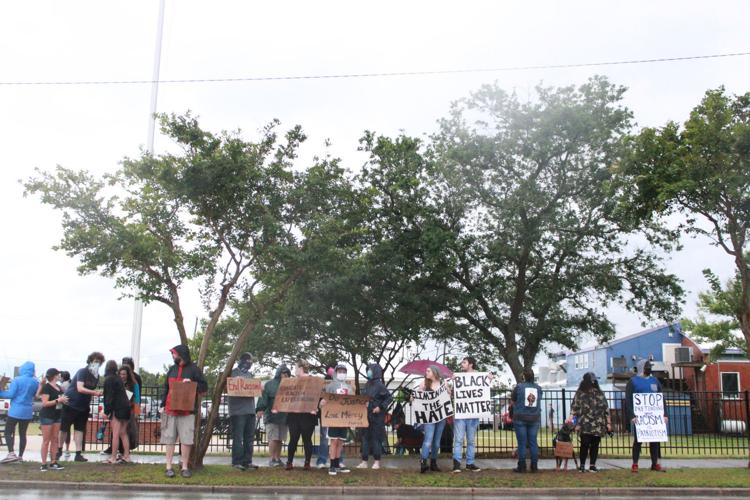 "It's just little things that (are) going to take steps and steps and steps for it to really manufacture into something bigger," he noted.
Mr. Small said wider conversations about racial justice, the American flag, freedom, Confederate monuments and more are being had at the local level, and he hopes that will continue, too.
"I don't want my kids to grow up and (have to) be out here holding a sign that says 'Black lives matter,'" he said.
But Saturday, surrounded by a group of individuals showing up in the rain to engage, he wore a smile.
"That lets me know there's still hope out here. I'm happy about that."