BEAUFORT — At a small, often overlooked waterfront park in downtown Beaufort, residents, elected officials and others gathered late Friday morning for the first Middle Passage Ceremony and to dedicate an historic marker recognizing Topsail Marine Memorial Park as a port of entry in the trans-Atlantic slave trade.
Today, the park is a well-maintained space with benches, bike racks and a public floating dock where visitors can fish or enjoy views of Taylor's Creek. But 300 years ago, before the manicured shrubs and tourist-friendly restaurants within a stone's throw, it was where dozens of captive Africans first stepped foot on foreign soil after being forcefully removed from their homelands to be sold into slavery.
"We are gathered here today on native land to honor and to remember the 2 million captive Africans that perished during the trans-Atlantic human trade voyage," Beaufort Commissioner Sharon Harker said to open the ceremonies Friday. "We're also here to honor the 10 million children, women and men that survived and whose unpaid labor helped build the Americas."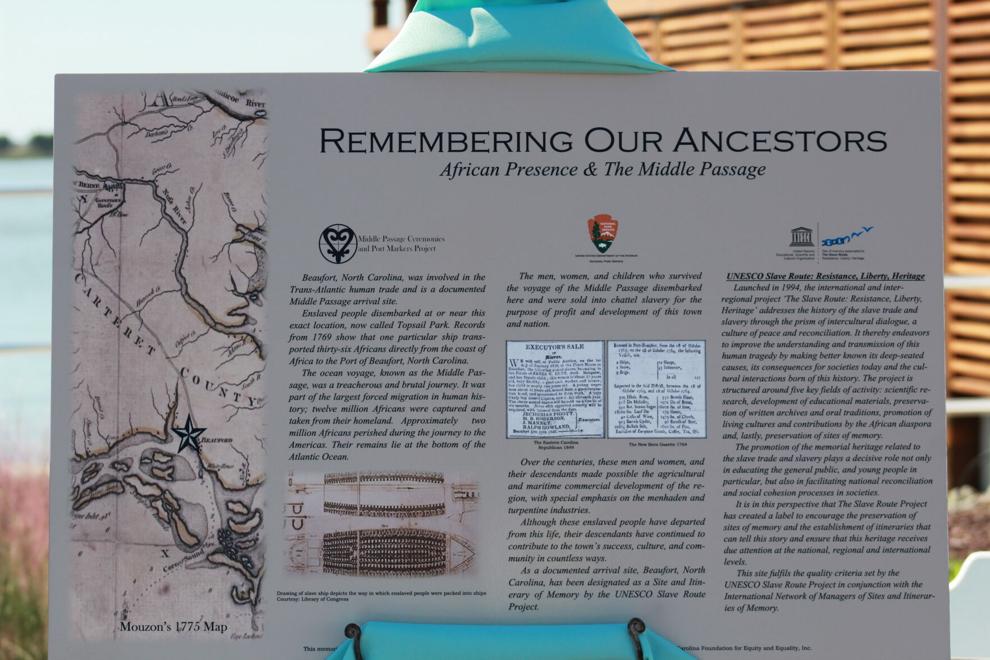 After Ms. Harker briefly welcomed guests to the ceremony, Bishop Donald Crooms with Faith Tabernacle of Praise in Beaufort gave the invocation, then Ann Cobb with the Middle Passage Ceremonies and Port Markers Project made opening remarks. Her organization was one of several which partnered with local individuals to secure the informational signage for Topsail Park, which is one of two documented locations in Beaufort ­– the other being the former Market Street Wharf at the end of Turner Street – where ships arrived from the African continent.
"If the Atlantic were to dry up, it would reveal a scattered pathway of human bones, African bones, marking the various routes of the Middle Passage," Ms. Cobb said, quoting historian John Henrik Clarke.
Both Beaufort arrival sites have been officially designated by the United Nations Education, Scientific and Cultural Organization, or UNESCO's, Slave Route Project as a "site and itinerary of memory." The historic marker, which was unveiled Friday as part of the ceremony, contains more information and will be installed toward the front of the park, near the sidewalk.
"Today, Beaufort becomes the first port in the state of North Carolina to publicly acknowledge this history," Ms. Cobb said. "With this ceremony and marker dedication, we open the door and invite these ancestors to join us so that we can give thanks."
While the ceremony had its somber moments of reflection, it was also an uplifting celebration with music, a hymnal and calls to action to continue fighting for a more equitable future.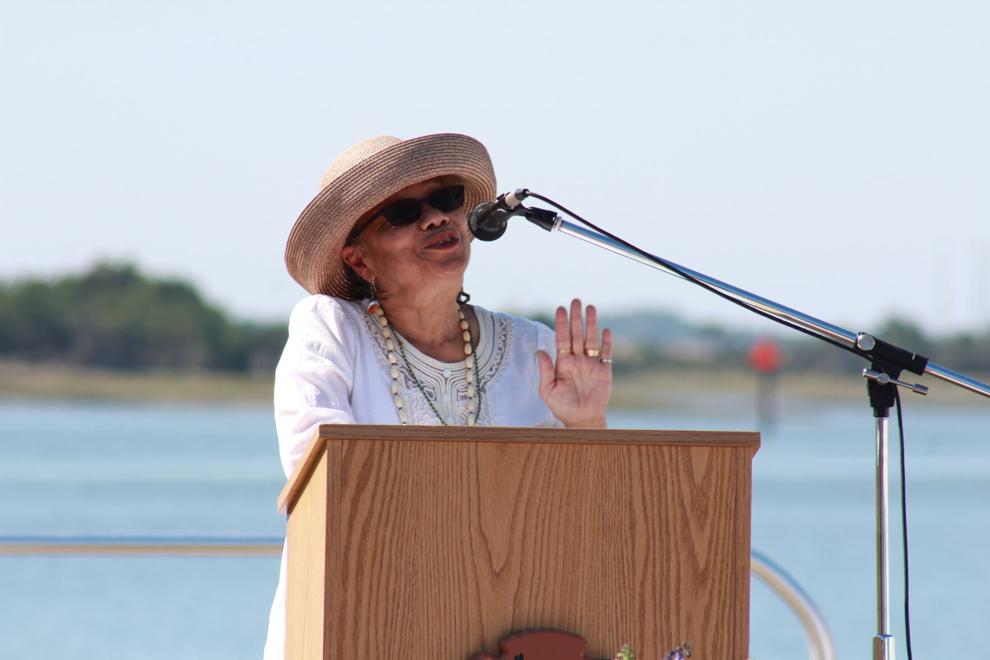 "Carteret County is truly a stronger together place when we honor all, and I mean all, who have made contributions to make this place what it is," community organizer Tyisha Teel said in a community impact statement. "…We cannot change what has happened in the past, we cannot change the fact that this was a port for enslaved Africans, but we can acknowledge it, we can accept and we can move forward with it in truth and in love. And when we do that, then our community and our town is stronger together."
Other speakers included Heather Walker, an organizer with the local Middle Passage Project committee, Pastor Tyrone Fleshman with Mt. Shiloh Missionary Baptist Church in New Bern and B.G. Horvat with the National Park Service, another partner in the marker project. Ms. Walker's son, Anthony Walker, recited a pledge of remembrance, and other local youth called the names of African nations. Francesca Quinn with the project committee unveiled the marker.
Ms. Walker said the intention is to hold a Middle Passage Ceremony at Topsail Park each year on or near Aug. 23, the United Nations' Day of Remembrance. The Beaufort Board of Commissioners recently adopted a resolution making Aug. 23 a day of remembrance for African ancestors.
Following the ceremony, as organizers passed out keepsakes of miniature bottles filled with soil from the park, Beaufort resident Samuel Collins was beaming with joy at the historic display he'd just witnessed.
"This is what the Lord meant when he said it is finished, and it is good," he said, "for us to get together like this."
Contact Elise Clouser at elise@thenewstimes.com; by phone at 252-726-7081 ext. 229; or follow on Twitter @eliseccnt.