CEDAR POINT — Cedar Point officials swore in three town commissioners Tuesday night, including two incumbents and one newcomer elected to fill a seat the commission created in 2020.
The newcomer is Josh Reilly, who sought a commission seat unsuccessfully in 2019 and has for about the past year served as chairperson of the town planning board. He received 92 votes in the Nov. 2 municipal election to take the newly created seat on the panel.
John Nash and Pam Castellano also took their oaths of office. Mr. Nash led the ticket with 99 votes earlier this month, and Ms. Castellano garnered 91.
They were the only candidates for three seats.
Tuesday's ceremony was during the board's regular meeting in the town hall off Sherwood Avenue. The board unanimously elected Mr. Nash, as the leading vote-getter, as mayor pro tem. Ms. Castellano had been serving in the role.
After the meeting, Mr. Reilly said, "It feels good to finally get into something I've tried for for a long time."
He has been attending board meetings for some time and said he feels he has learned how the commission and the town operate.
"I hope I can be successful for the citizens," he added.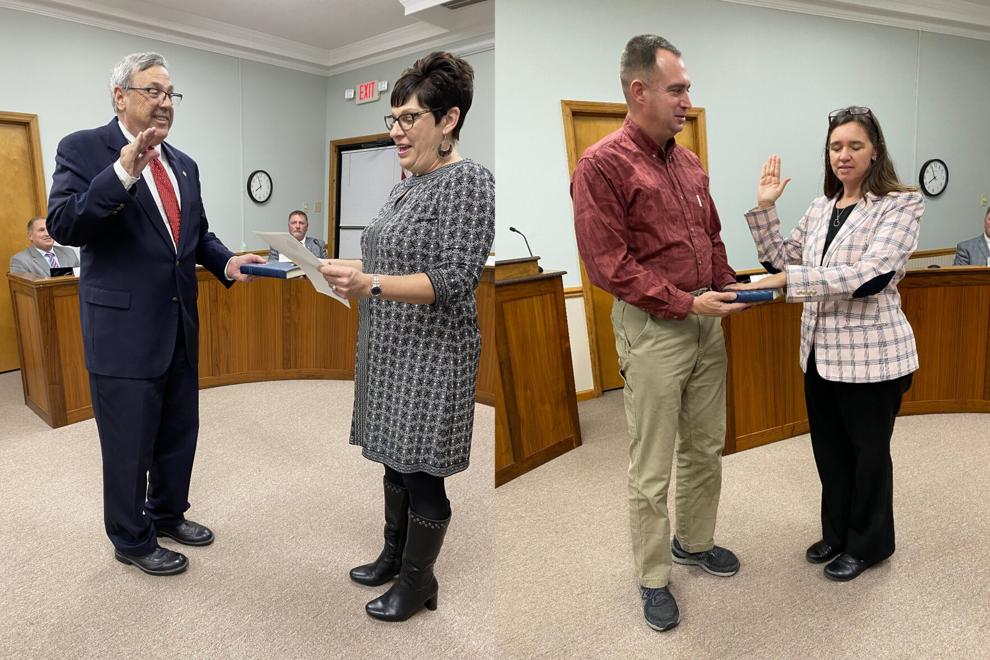 Mayor Scott Hatsell, who, like commissioners Gary Bray and Frankie Winberry, was a holdover this election, congratulated all three and called the seating of Mr. Reilly historic.
"I think I first brought this (fifth commission) seat up 10 years ago," he said.
Last year, the board voted to add the seat when it also voted to change from a town administrator to a town manager form of government and promoted David Rief from administrator to manager.
Mayor Hatsell said the decision to add the seat was a good thing for the town, as continuing growth in population and residential and commercial development warrant "additional representation for the citizens."
The mayor said he knows Mr. Reilly will do a great job.
"Josh will be missed on the planning board, but we have a great planning board and they will pick a great chairman," Mr. Hatsell continued.
The town will appoint a new planning board member soon.
Mr. Nash was first appointed to a seat on the town commission three years ago to replace Sam Meadows, who resigned. Mr. Nash was planning board chairperson at the time of his appointment, as well.
Contact Brad Rich at 252-864-1532; email brad@thenewstimes.com; or follow on Twitter @brichccnt.