EMERALD ISLE — On Friday, local commercial fisherman Marty Frost of Salter Path and his grandson, Hunter Trott, steered their boat to shore with a load of derelict crab pots, collected on behalf of the N.C. Coastal Federation.
Mr. Frost has been volunteering with the federation for about four years now for the NCCF's Lost Fishing Gear Recovery Project. The federation hires commercial fishermen each year to collect derelict crab pots and other gear from the sounds, where they otherwise would pose a threat to navigation and marine life.
As Mr. Frost and his grandson tied up their boat at the N.C. Wildlife Resources Commission boat launch in Emerald Isle, a pile of crab pots stacked in the bow, Mr. Frost said they'd collected about 114 derelict pots that day.
"It's extra income during the winter months, and it's good to keep our (water) resource clean, healthy and viable," he said. "A lot of times you find it (derelict fishing gear) in the marsh. They're a hazard, especially the one without buoys."
Mr. Frost, a lifelong commercial fisherman, said he's been fishing since he was 8 years old. Now 62, he said he had good teachers in his grandfathers.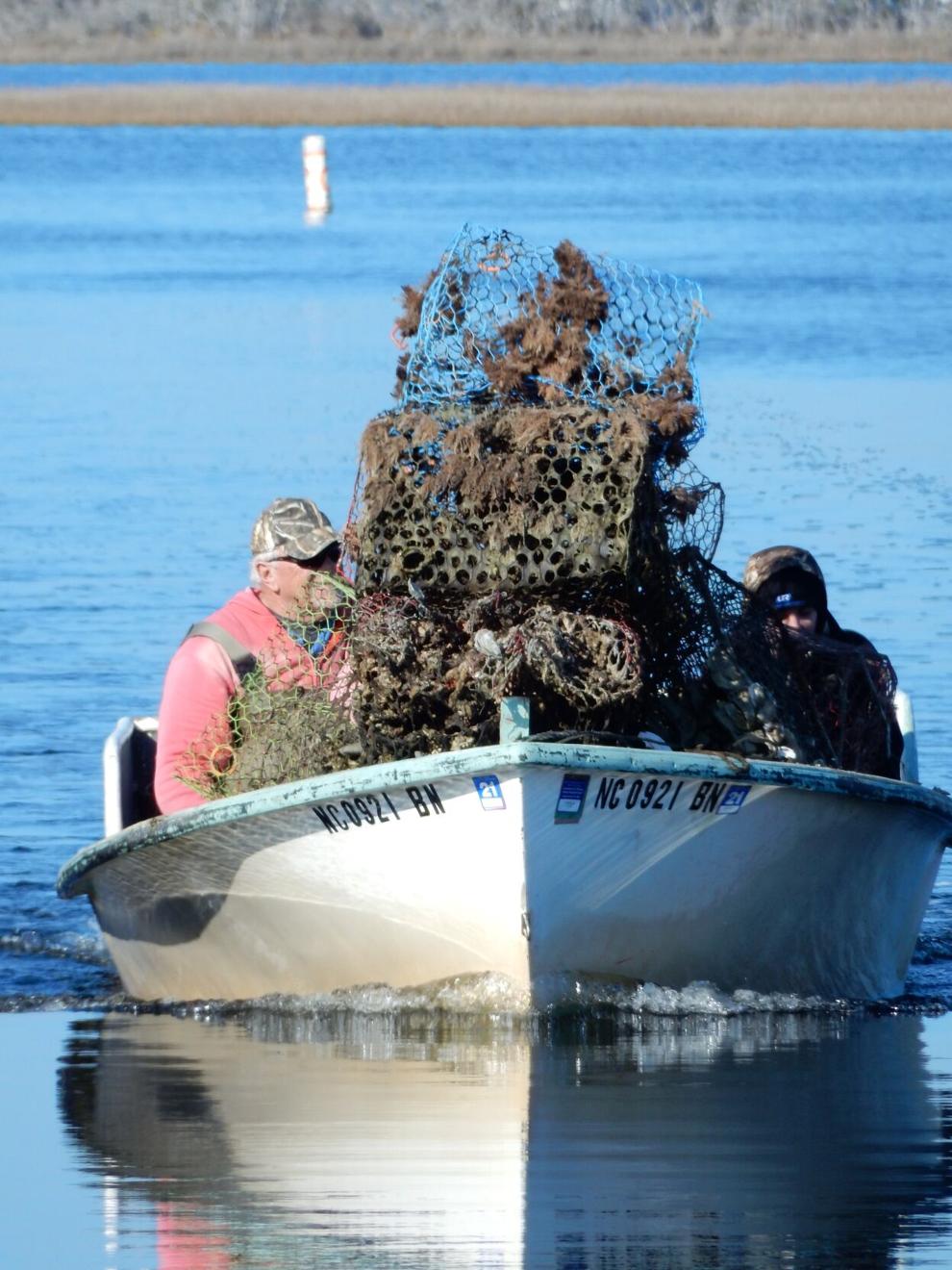 "They taught me how important it was to conserve things for the next generation," Mr. Frost said. "I've fished from Massachusetts to Florida; this is the most beautiful place by far, Bogue Sound."
NCCF coastal education coordinator Rachel Bisesi said the federation's derelict fishing gear collection program began with funding from the National Oceanic and Atmospheric Administration. In recent years, the program has become funded through the state, derived from revenue from commercial fishing license sales.
The N.C. Division of Marine Fisheries' marine patrol divides the coast into three districts, with Carteret County in District 2. Ms. Bisesi said in 2019, 3,112 derelict crab pots were collected, of which about 1,500 came from District 2.
"We have crews working all off the county (collecting gear)," Ms. Bisesi said. "People depend on clean water for their livelihoods."
Contact Mike Shutak at 252-723-7353, email mike@thenewstimes.com; or follow on Twitter at @mikesccnt.