EMERALD ISLE — Occupancy tax revenue for July "blew away" the previous one-month record, Carteret County Shore Protection Office Manager Greg Rudolph said Tuesday.
Collections for the month totaled $2.41 million, only the second time in history the tax has generated more than $2 million in a single month. The previous record was $2.02 million in July 2017, long before anyone had ever heard of the novel coronavirus pandemic, which many people thought would limit tourism this summer.
"What we think is that with the virus going on, many people who would normally get on a plane and fly somewhere for a vacation in the summer 'discovered' Bogue Banks," Mr. Rudolph said.
In addition, more people are working remotely because of virus safety restrictions, and with computers and internet service, they can work from anywhere, including the beach.
"We started July down 9 percent in collections for the year," largely because the virus and an associated stay-at-home order by Gov. Roy Cooper limited visitation in the spring, Mr. Rudolph said. "But now we're up by 9 percent."
That's an astonishing change, since his office generally expects a year-to-year increase of only about 3 to 4%.
The occupancy tax is 6% of gross receipts derived from any room, lodging, campsite or accommodation furnished by any hotel, motel, inn, condominium, cottage, campground or rental agency. It's always a crucial number for Mr. Rudolph, because the county's beach nourishment fund gets half the proceeds.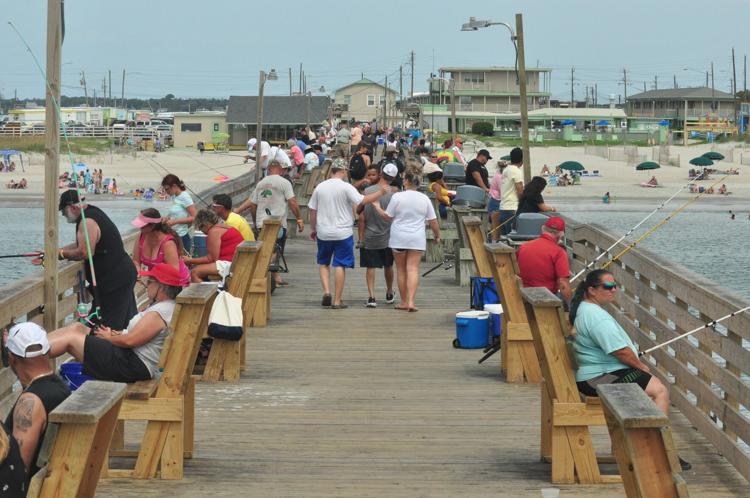 It might be even more important this year because the county in the spring finished a $28.2 million nourishment project and is scheduled to start a $33.2 million project late this year or early next year.
 Although much, if not all, of that $33.2 million will come from the Federal Emergency Management to pay to replace sand lost during Hurricane Florence, Mr. Rudolph had been concerned this spring about cash flow if the occupancy tax revenue didn't improve and the FEMA money didn't arrive in time.
That concern dropped some when June revenue collections broke the all-time June record, barely. In early July, he said he was hopeful when July collections were totaled, they'd be strong. But he didn't expect an all-time one-month record.
Mr. Rudolph also noted August collections – still not in – sometimes top those in June, which is most usually the second-highest month. So, there's hope for an even better rebound from the poor spring, especially since tourism officials believe the fall season will be strong, barring unpredictable factors, like hurricanes.
If you add the June collection of $1.58 million to the July collection of $2.41 million, the nourishment fund has risen by nearly $2 million in two months.
The busy July was also good news for tourism promotion, Mr. Rudolph said, as the Carteret County Tourism Development Authority gets the other half of the occupancy tax proceeds.
Finally, he said, the booming visitation is also good for municipalities, as they get shares of the sales tax revenue, generated as visitors spend on things other than lodging. Mr. Rudolph added the businesses that generate those sales tax revenues also were likely busy in July, helping them rebound from the spring closures forced by coronavirus-related restricted.
Contact Brad Rich at 252-864-1532; email Brad@thenewstimes.com; or follow on Twitter @brichccnt.