BEAUFORT — The town of Beaufort will join other North Carolina municipalities in mandating mask-wearing in public spaces beginning Tuesday.  
The Beaufort Board of Commissioners voted unanimously Monday to approve a mask mandate, which would require individuals to wear a face covering in public buildings within the corporate limits of Beaufort, including area establishments and businesses open to the public.  
"We're currently at a 16 percent transmission rate, and to put that into perspective, we should be as low as 5 percent," Commissioner Sharon Harker, a licensed respiratory therapist, noted. "And we do have some things in our toolbox that we can use to mitigate the spread and I think it's responsible for us to look at this. Wearing a mask is one of them, vaccine is another."
The vote came during the board's regular work session, held virtually via Zoom.  
Beaufort is the first municipality in Carteret County to issue a mask mandate, though other city, town and county governments have done so in recent weeks as COVID-19 cases continue to spike with the spread of the highly contagious delta variant. During the previous peak in cases this winter, all areas were under a statewide mask mandate issued by Gov. Roy Cooper. That directive expired at the end of July.
In a resolution drafted by the town's attorney in support of the mask mandate, Beaufort said the mandate "is designed to mitigate and slow the spread of COVID-19 within the Town."
Exemptions to the mandate include those who are under five years of age, those who have a medical or behavioral reason not to wear a mask, those actively eating or drinking and more.
Masks are already required in Beaufort town government buildings.
"I think a mask mandate for inside buildings … right now is a good time for it," Commissioner Ann Carter noted.
The ordinance adopted Monday remains in effect through Friday, Dec. 31, but at the request of Commissioner John Hagle, the board will reconsider the matter at each commission meeting.
In addition to the mandate, commissioners also opted to tie an extension of the town's emergency paid sick leave for employees to vaccination status.
The policy was initially adopted in January to extend up to 80 hours of additional leave to employees who needed sick leave after contracting COVID-19 or to care for a family member who contracted the virus. It expired June 30.
Monday, human resources officer Barbara Cooper requested the board extend the policy through Dec. 31, with a retroactive application to July 1 to cover "the increase (in cases) that we have had with our employees."
Tuesday, Beaufort staff told the News-Times two employees were currently out on quarantine.   
Rather than a blanket extension to all town employees, commissioners opted to only extend the leave for employees who have been vaccinated.
"If you want to participate in the emergency sick leave, you need to go ahead and be vaccinated," Commissioner Marianna Hollinshed said. 
Ms. Cooper said there is a "large group" of town employees that are unvaccinated.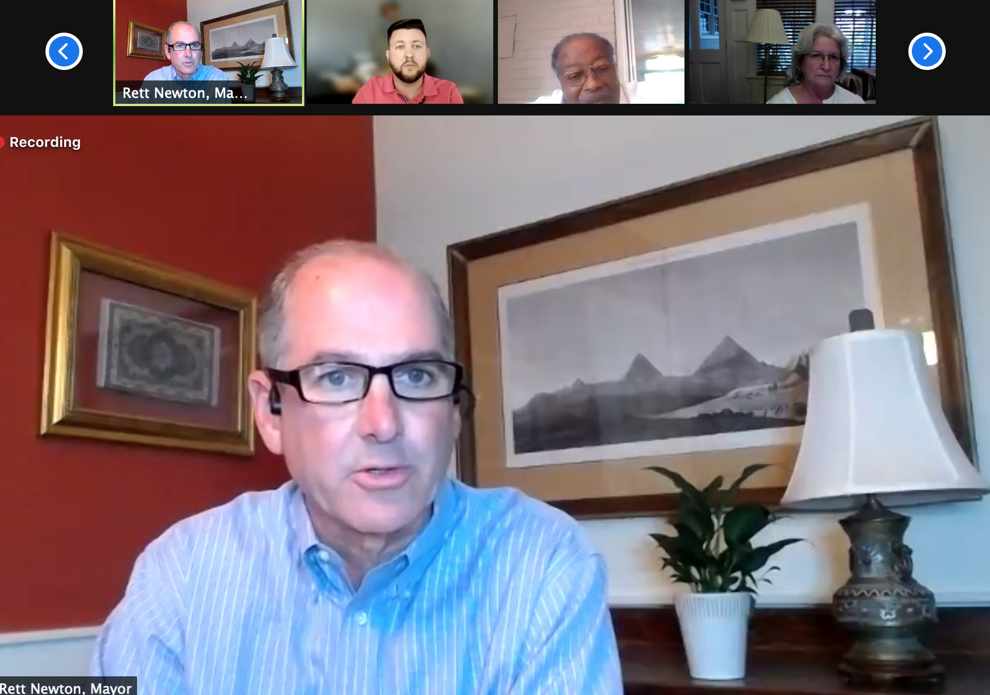 Though Ms. Harker initially hesitated on the measure that would tie the leave to vaccination status, she joined the rest of the board in unanimously supporting the measure.
In an email following the meeting, Ms. Harker said she wanted to ensure staff could have the time off they needed despite vaccination status and changed course once she confirmed unvaccinated employees could still take traditional accumulated sick leave.
The move comes the same day the U.S. Food and Drug Administration gave full approval to Pfizer's COVID-19 vaccine. Moderna has applied for the full approval for its vaccine as well, and Johnson & Johnson has said it will do so later this year. All three varieties of the vaccine are being administered under emergency provision.
In other pandemic-related business the board, by consensus, opted to keep Beaufort board meetings virtual for the time being. The commissioners have been assessing a return to in-person meetings semimonthly.
In the meantime, commissioners authorized staff to move forward with a technology upgrade to the town train depot — the site of most board meetings and located at the corner of Broad and Pollock streets — to accommodate hybrid meeting.
The equipment to allow the meetings to proceed under the hybrid model will cost $19,582, according to town clerk Allen Coleman, to be paid for with federal recovery funds.
Finally, the board consented to allow the Beaufort Harbor and Waterways Master Plan Advisory Committee to meet using the hybrid model at the Beaufort Hotel off Lennoxville Road. During a meeting Thursday, that panel had requested the commissioners allow them to meet at the equipped hotel to better examine maps and other materials.
Reporter's note: This article was last updated at 11:06 a.m. Tuesday, Aug. 24, 2021, to include a count of town employees currently out on quarantine. 
Contact Jackie Starkey at 252-726-7081, ext. 225; email jackie@thenewstimes.com; or follow on Twitter @jackieccnt.