MOREHEAD CITY — An unattended barrel fire led to a blaze that spread to a nearby building, burning it to the ground Wednesday evening near Morehead City, according to city Fire Marshal Dykeman Baily.
"The occupant had started a fire in the barrel, then went back inside, leaving the fire unattended. Either through spreading embers or just the intense heat, there was wood and debris near the barrel that apparently caught fire," he told the News-Times. "There was a wooden building 8 feet from where the barrel was located. That's what burnt down."
The fire also caused damage to the home at 1406 Highway 24 owned by Corrina Baye of Morehead City. In addition, the fire melted siding and fencing on a neighboring home owned by Al Day of the Trailwood subdivision.
No injuries were reported, and Mr. Baily said he did not have a cost estimate on the property damage as of Thursday morning.
He said several items were destroyed that were contained in the storage building and two lean-to shelters built onto the structure. Items included a boat, lawn mower and ATV.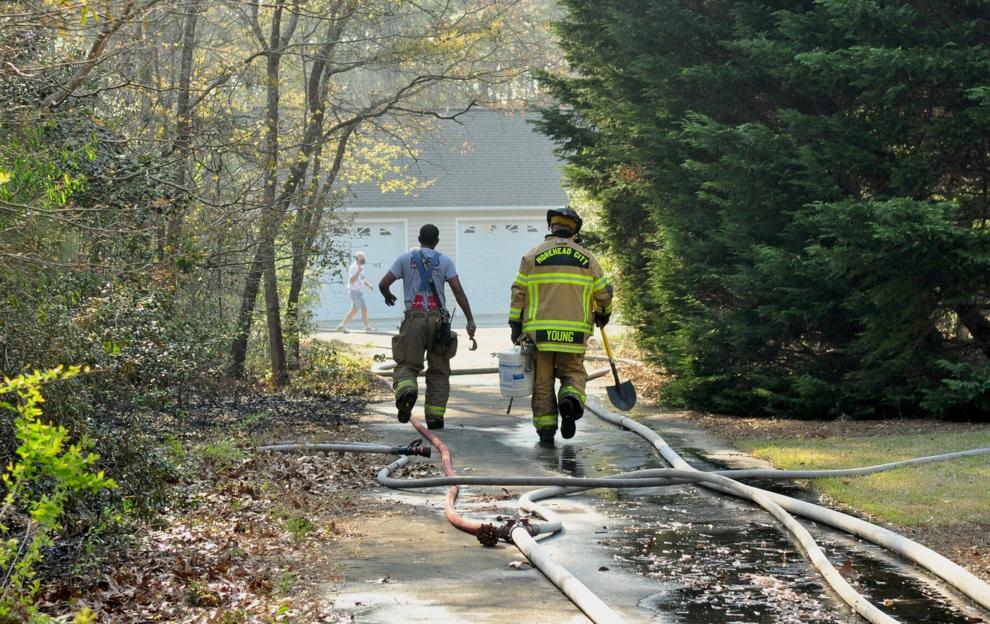 Neighbor Jan Day said she was talking on the phone with her daughter, Nancy Mickle, when she saw the large blaze catch the building on fire.
"It was the biggest fire I've ever seen in my life," Ms. Day said.
After her daughter called 911, Ms. Day and her family got fire hoses and began spraying the fire, their yard and house because embers were floating onto their property.
Ms. Baye's son, Andrew Baye, was among those home at the time of the fire. He thanked firefighters for their quick response.
"I'm just glad they were here to put out the fire," Mr. Baye said.
Mr. Baily said the call for the fire came in at 4:54 p.m. Wednesday, and by the time emergency crews from three fire departments arrived, the building was fully engulfed. The home was at the intersection of Highway 24 and Trailwood Drive, near Carteret Craven Electric Cooperative.
The fire was under control by about 6 p.m., although firefighters remained on the scene until about 6:45 p.m. to put out hot spots. Fire departments that reported were Morehead City, Newport and Broad and Gales Creek.
Mr. Baily said the incident showcases the importance of never leaving a fire unattended.
"By general statute, if you start a fire you must stay in constant attendance of the fire and must have a way to extinguish it," Mr. Baily said. "You must attend the fire until you have extinguished it and there are no hot embers."
He added that as well as attending outdoor fires, it's just as important to constantly attend food cooking on stoves.
"Leaving fires or food cooking unattended is a more common occurrence than we desire to see," he said.
Contact Cheryl Burke at 252-726-7081, ext. 255; email Cheryl@thenewstimes.com; 1or follow on Twitter @cherylccnt.