MOREHEAD CITY — Grace Minter, a recent college graduate and new teacher, has once again proven that obstacles are made to overcome.
Ms. Minter, 25, born legally blind, was recently named the North Carolina Student Teacher of the Year. The N.C. Association for Colleges of Teacher Educators announced the award during a Zoom ceremony Sept. 24.
After graduating valedictorian in May from Mid-Atlantic Christian College in Elizabeth City, Ms. Minter was hired as a Braille education teacher in August at Governor Morehead School, a school for the blind in Raleigh.
She did her student teaching earlier this year at J.C. Sawyer Elementary School in Elizabeth City.
In an email to the News-Times, the Morehead City native said she was surprised to receive the award. Each of the state's teaching colleges and universities select a finalist, with those picked vying for the state award. She was selected by a panel of judges from 10 state finalists.
"I am both honored and humbled because when I heard the other nine finalists being described I thought to myself that each of them deserve the award," she said. "All I did was do my best to love and bless each student as the special person they are, made in the image of their creator and infinitely valuable to him, while helping them overcome their own challenges."
Ms. Minter said she is driven by a determination to teach her students that if she can overcome obstacles, they can, too.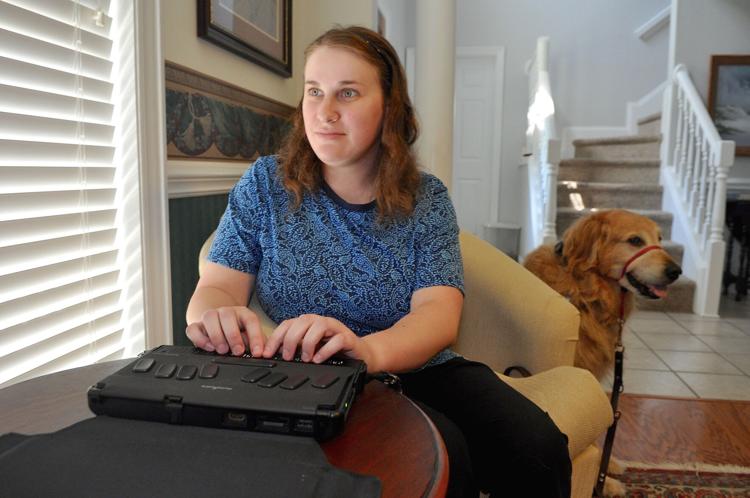 "As a legally blind teacher with a guide dog, I don't just value diversity, I personify it, bringing a unique message to share: any challenge can be overcome with the right mindset," she said. "Daily I demonstrate that physical limitations do not hold me back. I want my students to see this and be motivated to overcome their own struggles."
Another passion for Ms. Minter is her love of reading.
"As a student teacher at J.C. Sawyer Elementary School my favorite thing to focus on was literacy and reading comprehension," she said. "I truly believe that reading enriches our lives in so many ways and is the access point to so many other areas of learning."
She added that she got the best of both worlds when she landed her new job.
"I absolutely love being a teacher at the Governor Morehead School for the blind," she said. "I am the Braille education teacher, which means I get to do exactly what I love, teach literacy to open doors for my students. Only the medium has changed from print to Braille."
Ms. Minter currently teaches 23 students in grades kindergarten through 12.
"The students I work with are incredible young people and it is an absolute joy to see them grow," she said. "I teach some of them one-on-one and others in small groups via Microsoft Teams. I look forward to the day when we will all be together at school."
Ms. Minter received her bachelor's degree in elementary education, with a minor in Bible, from Mid-Atlantic.
Accompanying Ms. Minter on her journey through college and into her new profession has been her leader dog Stormy, a 7-year-old male golden retriever.
A graduate of West Carteret High School, she chose as her senior project in 2014 to help train leader dog puppies by working alongside Tom Snively of Morehead City, who helped raise and train puppies for the Leader Dogs for the Blind school in Rochester Hills, Mich.
Ms. Minter's love for Stormy is evident, and the faithful canine is an important part of her everyday life. She was matched with the dog the summer prior to entering college.
As well as beginning her teaching career, Ms. Minter has created a website to promote family literacy and encourage children to overcome challenges. To learn more about Ms. Minter and her mission, visit theblindbibliophile.com.
Contact Cheryl Burke at 252-726-7081, ext. 255; email Cheryl@thenewstimes.com; or follow on Twitter @cherylccnt.