MOREHEAD CITY — While the Rev. James Tosto is a regular blood donor, he said the week leading to Easter seemed a fitting time to give.
"It's a good time to give since Jesus gave his life's blood for us. The least I can do is give a little blood to help someone else," Rev. Tosto said as he donated during an American Red Cross blood drive Wednesday at Carteret Community College.
Red Cross regional communications officer Callie Edwards said there has been a continual need for blood since the coronavirus pandemic shut down many of the nation's blood drives more than a year ago.
"Throughout the pandemic the Red Cross has seen tens of thousands of blood drives canceled, resulting in more than a million uncollected blood donations," Ms. Edwards said Wednesday. "We've worked hard to mitigate the losses because blood is perishable and can't be stockpiled for an extended period. That's why it's so critical that we hold more blood drives."
James Jarvis, executive director of the Cape Fear Area Chapter of the American Red Cross, agreed.
"Since COVID began to shut things down in February 2020 it's been very challenging for the American Red Cross to collect blood," he said. "Twenty percent of our blood supply comes from schools and colleges, so when they moved schools to virtual, we lost all of those blood drives. Plus, a lot of businesses moved to virtual, so we lost a lot of businesses that held blood drives."
Mr. Jarvis said there's a need for all blood types and places willing to host the drives.
"We've had to get creative in finding space," he said. "We need a minimum of 1,000 square feet for a donation area, so we've gone to more meeting halls for drives. We're not using our blood mobile as much because it's so limited on space and we can only fit two donors versus the four or five we normally would have."
He appealed to those in the community who have space to consider offering their sites.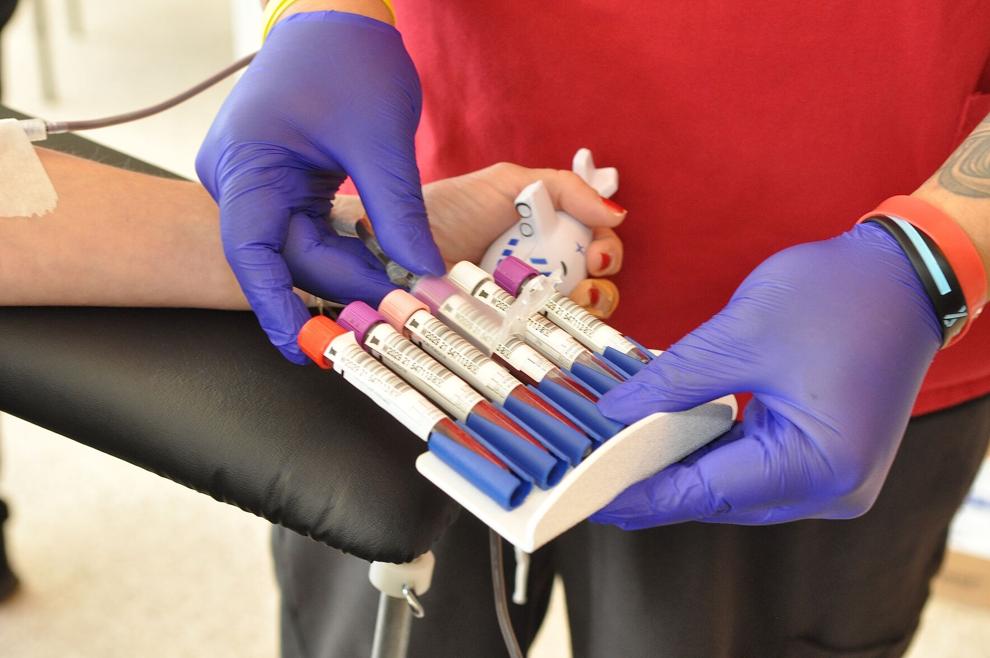 "We're encouraging churches, civic organizations and businesses to host drives," he said.
Mr. Jarvis added that he foresees an increased need for blood as warmer weather arrives and virus restrictions are loosened.
"I think the summer months are more challenging because people travel more, so there's an increase in accidents," he said. "We normally do see a spike in the need for blood during the spring and summer."
Another important reason to give blood is the need for convalescent plasma from those who have previously tested positive for COVID-19. Convalescent plasma helps those with severe COVID-19 symptoms boost their antibodies to fight the virus.
"In June 2020, the (Food and Drug Administration) asked the Red Cross to perform COVID antibody testing for everyone who donates blood," Mr. Jarvis said. "Donors are notified within seven days whether they have COVID antibodies."
He said notifying people of antibodies in their blood was important for two main reasons. First, "people would like to know if they've had COVID. Second, it let's us know whether they are a good candidate to donate convalescent plasma.
"That's so important for those who are seriously ill with COVID," he continued. "You can give convalescent plasma to a seriously ill COVID patient in ICU and their immune system will essentially learn from that person's plasma how to battle COVID and begin to build antibodies."
Mr. Jarvis said people whose blood tests positive for COVID antibodies don't need to come back and donate blood again.
"There's nothing else required on the donor's part," he said. "If you are fully recovered from COVID-19, we can take your convalescent plasma from the blood and put your blood in the convalescent plasma supply."
With so many reasons to donate blood, CCC President Dr. Tracy Mancini said the college will continue to host blood drives every two months.
"We want to do this because there's a shortage of blood and we feel like we're centrally located in the county and people drive by our campus on a regular basis," Dr. Mancini said as she donated blood. "We normally have a good turnout for our blood drives. Carteret County is a generous community and it seems people are always looking for ways to give back. This is just another way to help our community."
She added that many of the college's faculty, staff and students not only donate blood, but help host the drive, sponsored by the college's foundation.
CCC therapeutic massage therapy student Kelly Mayo was among students donating Wednesday.
"Everybody should do it if they can. It's a duty, really, if you can help somebody," she said.
CCC therapeutic massage therapy student Anna May agreed.
"I used to go with my parents to donate at our church," she said. "My uncle was in a car accident and needed eight units of blood. He really depended on that blood. After that my dad started giving, then my mother, and when I turned 16, I started donating."
Marine Science and Technologies Early College High School student Pierce Toledo, 16, donated blood for the first time Wednesday, saying he had been waiting for the day he could give.
"I've been waiting to donate blood for the last few years, but I wasn't old enough," he said. "I had to get parental permission, but I wanted to do this as soon as I could. It makes a difference and if I'm healthy enough, why not do it? It just seems like something that could help others."
As for those interested in donating blood, Mr. Jarvis said there are more blood drives planned in Carteret County over the next two weeks:
Glad Tidings Church in Morehead City from 2 to 6:30 p.m. Tuesday.
Crystal Coast Civic Center in Morehead City from 9 a.m. to 3 p.m. Thursday, April 8.
VFW Post 8986 on Hibbs Road in Newport from 9 a.m. to noon Saturday, April 10.
First United Methodist Church in Morehead City from 9 a.m. to 3 p.m. Monday, April 12.
Mr. Jarvis said those interested in donating blood or hosting blood drives can sign up or find information by going to redcrossblood.org. To find a location hosting a drive, put in your zip code. There is also a tab on how to host a blood drive for those interested in applying.
Those wanting more information can call 1-800-REDCROSS.
Contact Cheryl Burke at 252-726-7081, ext. 255; email Cheryl@thenewstimes.com; or follow on Twitter @cherylccnt.