MOREHEAD CITY — Thirty-five organizations provided one-stop shopping Thursday for military veterans and others seeking help with tough issues like homelessness and unemployment.
NCWorks Career Center joined forces with multiple agencies to present Carteret County Homeless Stand Down in the Crystal Coast Civic Center.
While the event targeted veterans, NCWorks veterans' representative John Sotirkys said he wanted it to be open to anyone struggling with homelessness and other crises.
"We wanted to provide a one-stop shop for the homeless, underemployed and unemployed," Mr. Sotirkys said. "We have a variety of veterans services here, as well as mental health, substance abuse, domestic violence and career advisers. We had several local employers sign up to assist with applications and we have representatives here that can help with job-seeking skills and résumé writing. We even have a booth set up for people wanting to receive their COVID-19 vaccinations."
He added that Hope Mission of Carteret County provided a van and driver to transport individuals in need to and from the event. He said at least five homeless veterans attended.
The first hour of the stand down was limited veterans, with the remaining three hours open to all.
Vietnam veteran Bill Grove of Newport was among those who came by to check out the wide variety of services.
"I was actually at the library seeing about using a computer when I saw what was happening over here. I wanted to go in and mingle with other vets, where everybody understands what I've been through," he said.
A quick walk through the civic center made it apparent the primary focus was on veterans, who face a unique set of struggles.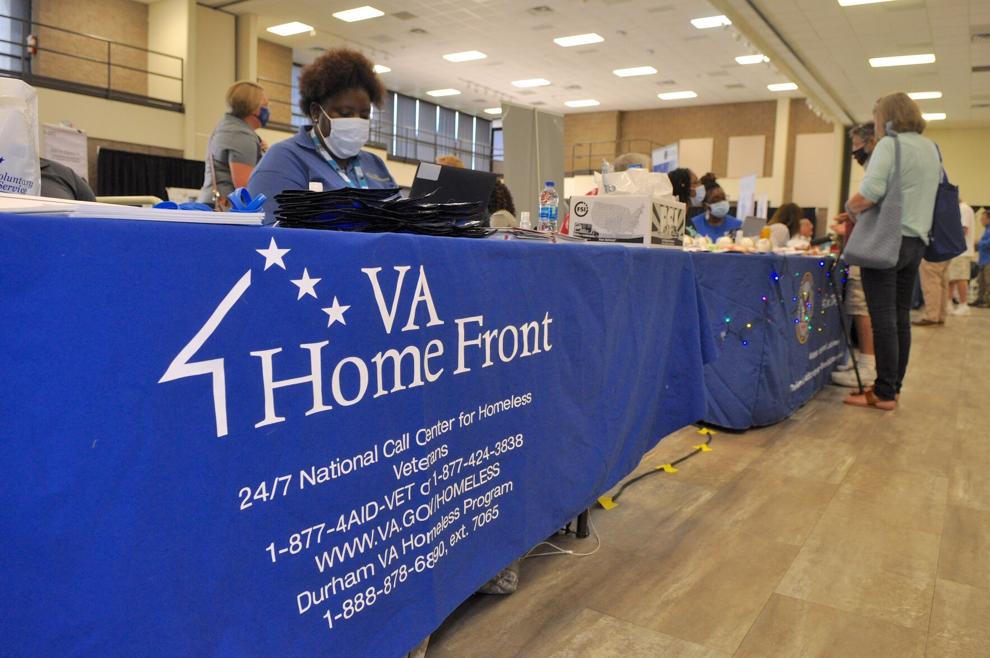 Gary Brown, a representative with the Vet Center mobile unit of Greenville, said, "We provide counseling for combat veterans and their families. We have six vet centers throughout North Carolina. We have a counselor who comes (to Morehead City) each Thursday and meets with a group of about 30 veterans for group counseling. Most of them are Vietnam vets."
He added that the services are provided to combat veterans free of charge.
Mr. Sotirkys works with veterans at Carteret County's homeless camps.
"I see three basic groups at the homeless camps I visit," he said. "There are some dealing with substance abuse, some personally choose it and some are just dealt a bad hand. They are the ones who usually want the help."
For veterans who are ready to receive assistance, Mr. Sotirkys said there are many resources available.
"There are so many resources out there for veterans, and others, who are struggling. The problem is getting the information to those who need it," he continued.
One issue that concerns many groups, such as the Veterans Coalition of the Crystal Coast, is the high suicide rate among veterans. The organization's primary mission is to build a coalition dedicated to detecting veteran mental health issues and preventing suicide.
"On average 17 veterans die of suicide every day in the nation," Jim Nelson, treasurer for the coalition, said. "Our mission is to reduce the number of veteran suicides."
Mr. Nelson said his organization is providing suicide prevention training to organizations and individuals.
"We want to train groups in the protocols for accessing suicide risk. If you're the family member of a veteran going through stress, we can contact them with the help they need," he continued.
There were a variety of other medical and mental health agencies available for veterans at the event, such as the Steven A. Cohen Military Family Clinic at Hope for the Warriors in Jacksonville.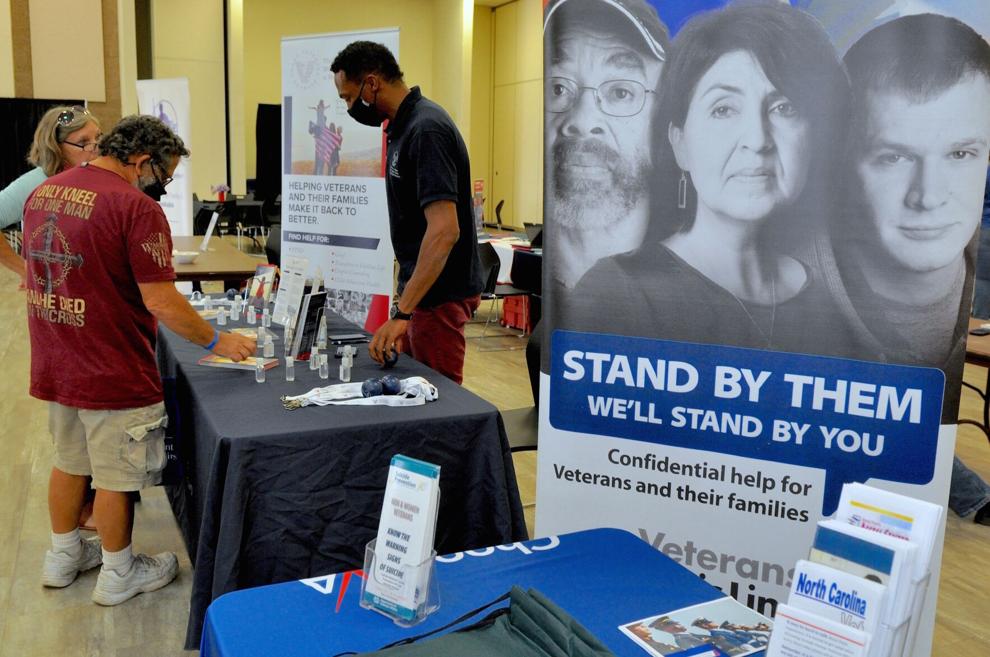 Monroe Holcomb, outreach manager with the clinic, said his group provides outpatient mental health services for veterans and their families. While they charge for services, there are special funds available for those who can't afford to pay. He said one of the common areas he sees veterans struggle with is when they transition from military to civilian life.
"It can be very difficult for veterans and many times family members don't understand what they are experiencing. We do a lot of couples' therapy to help them work through the transitions," he said.
As well as medical services, several employers, such as the N.C. Department of Public Safety, were on hand to share information on careers.
Melissa Thames, military and veteran employment consultant with the NCDPS, said many veterans are drawn to careers in public safety because they feel it's a way to continue to serve.
"We both share a similar mission, so a lot of military veterans are drawn to careers in this field," she said.
For veterans and others wanting information about resources available to help them with issues, such as homelessness and employment assistance, contact Mr. Sotirkys at john.sotirkys@nccommerce.com.
Those wanting information about suicide prevention training through the Veterans Coalition of the Crystal Coast, contact Mr. Nelson at jnelsoncv43@gmail.com.
Those concerned about a veteran struggling with stress can also contact the VA Crisis Line at 1-800-273-8255 or Integrated Family Services at 866-437-1821.
The National Suicide Prevention Lifeline number is 800-273-8255.
Contact Cheryl Burke at 252-726-7081, ext. 255; email Cheryl@thenewstimes.com; or follow on Twitter @cherylccnt.