BEAUFORT — There will no longer be temperature checks required for students and staff entering Carteret County public schools beginning Monday.
In addition, West Carteret High School will offer in-person instruction five days a week starting the same day.
The county's high school and middle school schedule currently has in-person instruction four days a week, with Wednesdays a remote learning day. Croatan and East Carteret high schools and middle schools will continue on that schedule the remainder of the academic year.
Parents and guardians have the option of students attending 100% virtual.
The County Board of Education unanimously approved the end of temperature checks and the shift for WCHS after hearing a presentation from Superintendent Dr. Rob Jackson Tuesday night.
"As allowed by the governor, after working with the principals and seeking feedback from school system nurses and cabinet staff, it is my recommendation that the Plan A operations be revised to allow West Carteret High School to operate face-to-face five days per week," he said.
Dr. Jackson further recommended "entry point screenings be halted beginning April 19" at all schools.
The superintendent said he based his decision to discontinue temperature checks on recent protocol changes recommended by the N.C. Department of Health and Human Services and as revised in the guiding document used by the N.C. Department of Public Instruction regarding safety protocols in schools. Dr. Jackson added that Gov. Roy Cooper has endorsed the change, with several districts already halting such checks.
Dr. Jackson reported the number of confirmed COVID-19 cases in schools has continued to fall. He said he would monitor the number of cases, especially since students just returned from spring break.
Additionally, he estimates that 65% of school employees have "received one or more vaccine shots."
Dr. Jackson is strongly encouraging all employees to get vaccinated, but he does not require it. He also asks all employees to provide proof of their vaccination to the central office.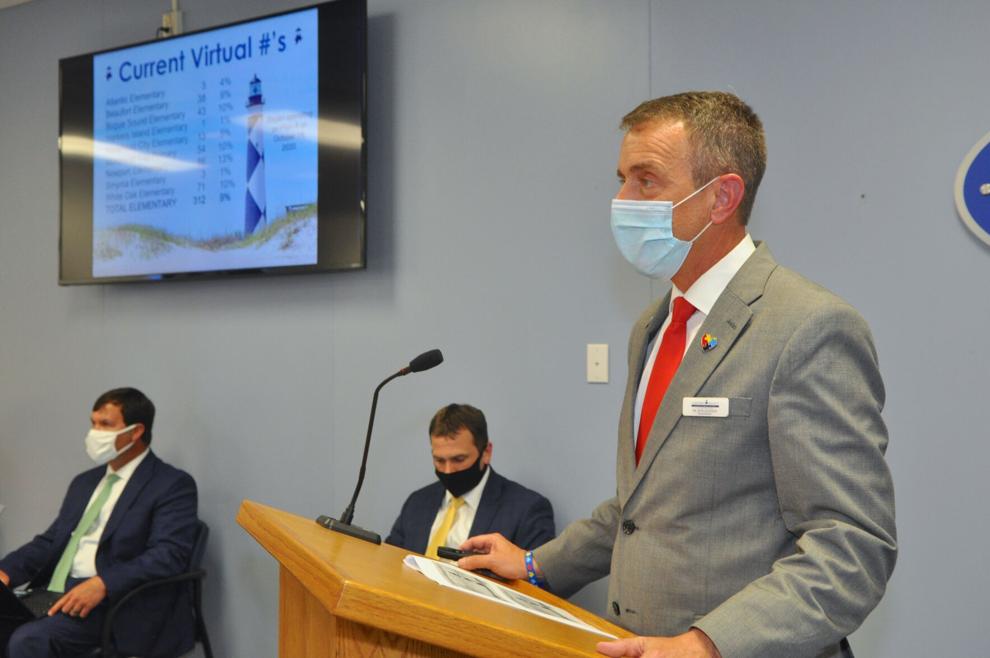 The superintendent emphasized families should still continue home-based symptom screenings for students, keep children home when they are ill and refer them for COVID-19 testing if they are displaying symptoms. He further said schools should follow typical procedures for the exclusion of students as they would for any illness if a child is symptomatic at school.
As for the recommendation for WCHS, Dr. Jackson said the school requested moving to five days of instruction based on their attendance schedule. WCHS "has few teachers serving both 100% virtual and face-to-face students," he said.
This compares to the other high schools, where the majority of teachers are instructing both virtually and in-person. Plus, WCHS offers four 60-minute classes versus the three 80-minute or 75-minute classes at the other schools. Dr. Jackson said the other three high schools had asked to remain on their current schedule for the last six weeks of the 2020-21 academic year.
As for virtual students, Dr. Jackson said 9% of elementary students are attending virtually, with 15% of middle school students and 24% of high school students. Dr. Jackson said his staff was already discussing what next school year may look like.
"We still don't know where we will be next school year due to COVID-19," he said. "As we go into next school year, we'll need to ask parents to let us know what they prefer so we can make an instructional decision."
Board member John McLean said, "It must be incredibly difficult for the administration to plan."
Dr. Jackson agreed, saying he anticipates asking parents to commit either to virtual or in-person for a semester to provide continuity in planning.
He added that if students are not being successful using the virtual schedule, "We may want them to attend face-to-face."
He further said the district is starting to plan for a six-week summer school for students in grades kindergarten through 12.
"The governor just signed the legislation last week, and we are just starting to receive guidance. We are studying the requirements of the bill and are in the planning stages," he said.
Contact Cheryl Burke at 252-726-7081, ext. 255; email Cheryl@thenewstimes.com; or follow on Twitter @cherylccnt.