EMERALD ISLE — Emerald Isle resident Danny Shell continues to work behind the scenes to stress the need for beachgoers to know the risks of rip currents before they enter the ocean.
He's been working with businesses in town and elsewhere to post signs and get their employees to wear ocean safety T-shirts. He also wants to organize an ocean safety "summit" sometime this summer with the American Red Cross, the U.S. Lifesaving Association and the National Ocean and Atmospheric Administration "to share best practices and coordinate beach safety messaging and service delivery.
"It's now a work in progress with much promise, in my opinion," he said Monday. "My point is, there are many ongoing beach safety awareness initiatives … some after much personal pain and grief, and I would like our collective voices to combine under an umbrella."
Mr. Shell, a former Maryland Highway Patrol officer and Emerald Isle beach patrol officer, got involved last summer after four Emerald Isle visitors drowned in rip current-related incidents in the ocean. He started an organization called "Know Before You Go," and began handing out information and giving talks on the oceanfront deck of the Holiday Trav-L Park off Coast Guard Road.
He'd planned to do that again this year, but hasn't been able to do so for a variety of reasons, including the novel coronavirus and a recent stormwater pollution problem after a drenching rain in mid-June. He hopes to start back soon.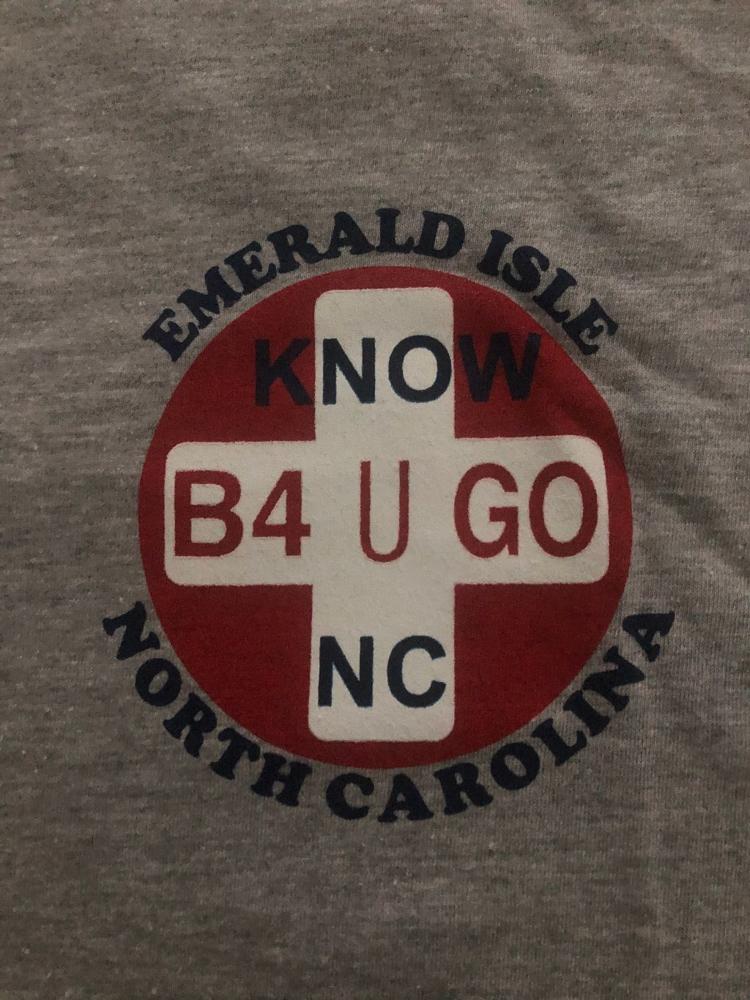 In the meantime, Mr. Shell said Monday he's had good success getting businesses involved in his crusade. For example, Bucky Oliver, owner of the Beaufort Hotel and the 34° North restaurant in Beaufort, is displaying a large Know Before You Go banner, and staff members at the Sweet Spot and Turtley Sweet shops in Emerald Isle are wearing "Emerald Isle NO B4 U Go NC" T-shirts.
He's hopes the shops, and perhaps others, will start selling the T-shirts to get the message across more widely and infuse some money into the effort.
Sound Ace Hardware, also in Emerald Isle, will soon unveil a sign displaying the town's beach safety flag system, visible to people driving along Highway 58 or riding bikes, walking or running on the town's multi-use path, Mr. Shell said. Other businesses in town have expressed interest, including Emerald Isle Realty and Village Market.
He's also networking with others, locally and elsewhere in the southeastern U.S., who are involved in similar efforts to inform people of the risks of rip currents and ways they can stay safe in the water, such as using floatation devices and not fighting rip currents, a common "escape" method that tires people and often has disastrous results.
Mr. Shell said he's proud of the actions Emerald Isle took after last year's four spring drownings, including adding more lifeguards this summer, obtaining new beach patrol equipment and putting out additional ocean condition flags on the beach.
"I've been blessed with much business support, and Matt Zapp, our town manager, and I have a great relationship I'm most grateful for," Mr. Shell said.
Contact Brad Rich at 252-864-1532; email Brad@thenewstimes.com; or follow on Twitter @brichccnt.