MOREHEAD CITY — The Crystal Coast Tourism Development Authority Board of Directors adopted the recommended 2020-21 fiscal year budget May 12.
The board met via Zoom to review and discuss the recommended $4.42 million budget. Members also heard from the TDA's marketing partners on the advertising and PR strategy going forward.
The board is set to hold a public hearing for adoption of the final budget at its regular June meeting prior to the start of the new fiscal year Wednesday, July 1.
Executive Director Jim Browder's budget message acknowledges the financial impacts of the novel coronavirus, especially related to occupancy tax collections.
Beginning in late March and lasting through early May, the county and municipalities imposed short-term rental bans on hotels, motels, condominiums and other temporary lodgings.
"The combination of lodging property closures, limited availability at others complying with local government declarations to suspend new reservations and discouraging existing reservations to either cancel or rebook at a later date, will negatively affect our Occupancy Tax Collections," the budget message reads, in part.
According to the recommended budget document, compared to what was originally budgeted, occupancy tax collections are projected to be down 80% for the month of March, 85% for April, 50% for May and 20% for June. That translates to an estimated loss of about $578,019.40 in income.
The TDA implemented several cost-saving measures to "drastically" cut expenses, Mr. Browder said, including furloughing some employees. With the visitor centers in Morehead City and Emerald Isle recently reopened, some part-time employees have been able to return to work, and Mr. Browder hopes to get the full staff back by June.
The recommended budget presents an "optimistic view of things to come in mid-to-late summer of 2020," with projected occupancy tax collections for the 2020-21 fiscal year budgeted at $3,797,500. That figure is based on pre-Hurricane Florence 2017-18 occupancy tax collections.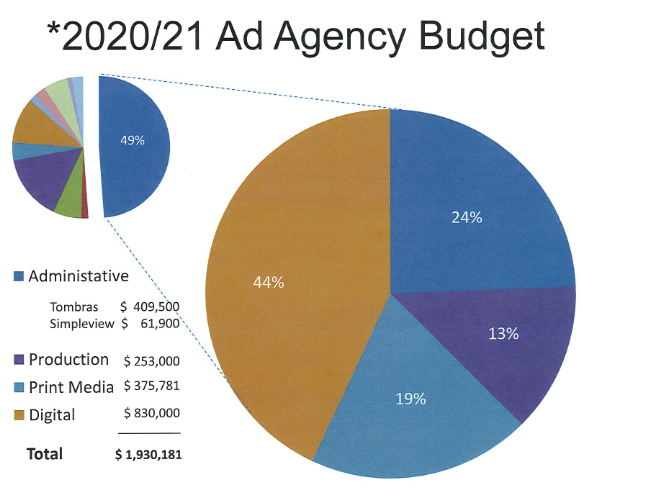 "Our model, because we didn't have a comparison point last year following Florence, we mirrored a lot of the expenditures and income … based on more the 2017-18 fiscal year, so that we have a better pattern to follow because last year was so unusual, as well," Mr. Browder told the News-Times. "We're hoping to not include any loss of occupancy tax collections in that budget based on the coronavirus because it (the budget) starts in July.
"That might be a little optimistic, but we have no reason to change that at this point," he continued.
Other sources of revenue for the TDA are a state appropriation of $142,857, a fund balance designation of $455,110 and interest and miscellaneous other income. The balanced budget totals $4,420,967.
The marketing, promotion and advertising budget is by far the TDA's single largest expense at $2,942,981, followed by salaries and benefits at $578,135. Operating expenses are $351,251, contracted services are $108,000 and there the event funding tourism enhancement grants are each appropriated $200,000.
Mr. Browder said there will not likely be any major changes between the recommended and final budgets. The TDA board held a brief discussion on the document before voting unanimously to adopt it.
Contact Elise Clouser at elise@thenewstimes.com; by phone at 252-726-7081 ext. 229; or follow on Twitter @eliseccnt.