BEAUFORT — Carteret County public school system officials announced late Thursday they will switch to remote learning Tuesday and Wednesday due to a significant spike in COVID-19 cases.
The remote days will be in addition to schools being closed Monday for the Martin Luther King Jr. holiday. Students and staff attended class for in-person learning Friday.
As of Thursday, positive COVID-19 staff cases stood at 47, up from 22 the previous week. There were 78 staff members out on quarantine.
The district reported 198 positive COVID-19 student cases as of Thursday, up from 17 the previous week.
There are 7,984 students enrolled in the county school system and 1,070 employees.
In an emailed statement Friday, Superintendent Dr. Rob Jackson said, "Currently, we are experiencing a spike in cases and quarantines. While we know how important it is for our students to be in class, we also recognize that we must continue to pivot in our operations when necessary to safeguard the health and well-being of our students and staff."
He continued that board of education members endorsed his recommendation. He said combined with the Martin Luther King Jr. holiday, the remote days would provide five days out of school buildings.
"I am hopeful that this pause of in-person learning will allow us to move past the current spike," Dr. Jackson said.
School district public information officer Jennifer Johnson said non-custodial, school-based staff members will work remotely Tuesday and Wednesday. Custodial staff will work to deep clean and sanitize CCPS school buildings in "anticipation of students and staff returning on Thursday, Jan. 20, 2022."
Ms. Johnson said the district would move remote learning days scheduled later in the semester up to account for the remote days Tuesday and Wednesday. She added that the calendar change also maintains teacher workdays that were previously scheduled in the calendar.
School officials also asked parents, students and staff members to continue to monitor for symptoms and remain at home if experiencing fever, nausea, shortness of breath or other symptoms consistent with COVID-19.
Masks have been optional since the end of September when the board of education voted to do away with a mask mandate that had been in place since the start of the school year.
When asked if the Carteret County Board of Education was reconsidering its most recent mask optional decision due to the rapid spread of the virus, Chairman Clark Jenkins said Friday, "We will watch our data daily and make adjustments if they are deemed necessary."
The decision to go remote comes on the heels of Carteret County health officials, on Monday, protesting the school board's Jan. 4 decision to keep masks optional in public schools. County Health Director Nina Oliver said masking students and staff inside school buildings was one of the most effective ways to prevent the spread of the virus, in addition to vaccinations and boosters.
The Onslow County school system, which also has a mask optional policy, opted to switch to remote learning Friday for grades pre-K through eighth because of the number of staff out due to COVID-19. Jones County Schools announced earlier this week it would be closed Friday and Tuesday due to staff shortages "related to COVID-19 quarantines." The JCS district also announced Jan. 11 that it was switching back to a mask mandate after being mask optional.
Tyrrell County Schools also voted this week to switch from mask optional to a mask mandate effective Tuesday.
Croatan High School parent Christine Hanks, in an email to the News-Times Friday morning, voiced frustration over the board's decision to go to remote learning next week.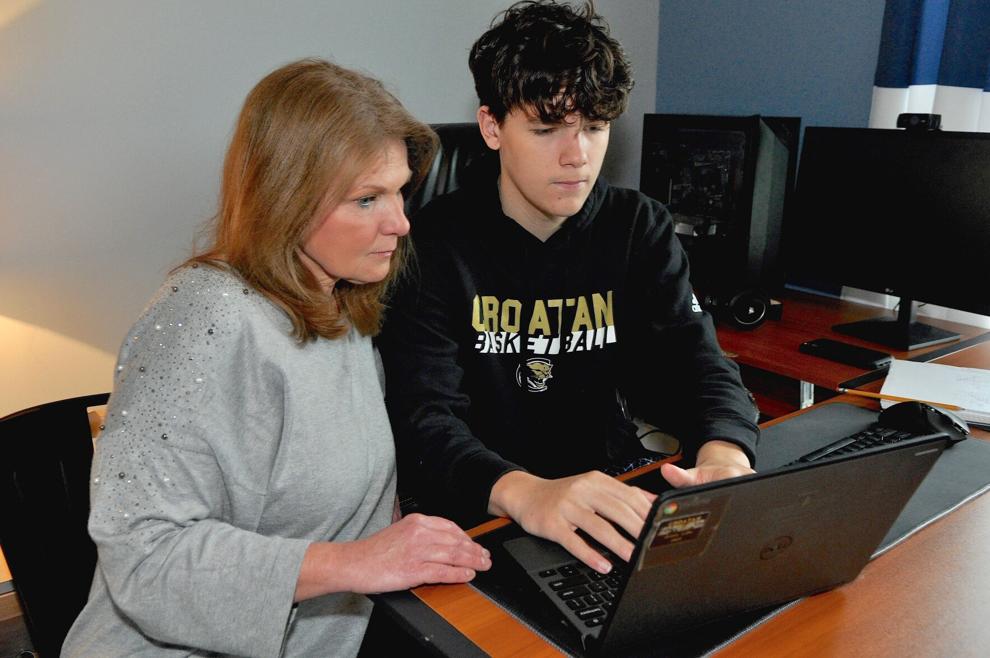 "Nothing in any of their communications has cited a personnel shortage at one single school which would be a legal reason to temporarily switch a school or classroom to remote," she said. "And unfortunately in Carteret County, remote instruction equals zero instruction for every single student."
She further said she was frustrated that the school district is only reporting the number of COVID-19 cases in schools once a week.
In response to the legal question, Ms. Johnson responded, "State statute allows school systems to move schools from in person instruction to remote instruction due to COVID exposures that result in insufficient personnel or student quarantines on a temporary basis. COVID metrics in each school in the school system has necessitated this temporary shift."
Gov. Roy Cooper announced Jan. 12 plans to help combat staff shortages in K-12 school districts across the state during the current surge of COVID cases. The policy will allow state employees to use volunteer days with supervisor approval to work in North Carolina public schools as substitute teachers, bus drivers and cafeteria staff. The policy will end Tuesday, Feb. 15.
"It is critical that we keep children learning in the classroom safely," Gov. Cooper said. "This policy will encourage state employees to lend a helping hand to our students at a time of severe staffing challenges for our public schools."
Editor's note: This article, headline and photos were updated at 12:41 p.m. Friday, Jan. 14, 2022, to include a full report.
Contact Cheryl Burke at 252-726-7081, ext. 255; email Cheryl@thenewstimes.com; or follow on Twitter @cherylccnt.