NEWPORT — Crystal Coast Hospice House recently received a welcome donation — ownership of a satellite office the nonprofit had been renting for office space.
Building owners and longtime hospice house supporters Libby Eaton, a former CCHH director, and Tim Coyne donated the office building and property on Chatham Street to the nonprofit organization at the end of 2020, according to CCHH Executive Director Charlie Miller.
"The generosity and support by Libby and Tim has been incredible. They have allowed us to rent this space for over six years at a rate well below market value," he said. "Now, through the donation of this property to us, they are making a significant positive impact on our expenses and overhead costs for many years to come."
The satellite building, at 133 Chatham St., houses the foundation's two employees, as well as provides space for board meetings. It's been the center of foundation business in support and maintenance of the State Employees Credit Union Crystal Coast Hospice House, at 100 Big Rock Weigh, for more than six years.
CCHH is a nonprofit organization formed in 2008 to provide an inpatient hospice home to serve the region. Thanks to donations and support, the CCHH opened the 10-bed inpatient hospice care facility in July 2013.
Because of its success and growth, Mr. Miller said the decision was made in 2014 to move the business operations to a satellite office to provide more room for patient care at CCHH.
"We were simply outgrowing the space there," he said.
CCHH partners with the nonprofit organization 3HC of Goldsboro to provide the only hospice home serving the growing need for inpatient hospice care in the five-county region of Carteret, Craven, Onslow, Jones and Pamlico counties. SECU Crystal Coast Hospice House offers 24-hour inpatient hospice care for individuals who are no longer able to remain in their own home.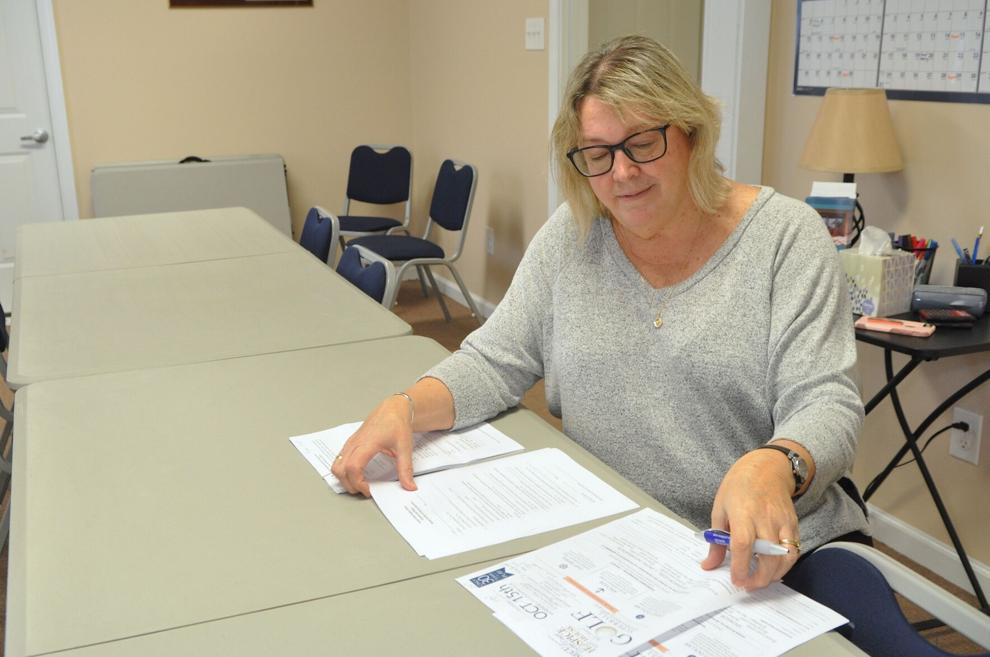 Mr. Miller said the facility stays full the majority of the time, with a waiting list for the four beds in the residential section. The residential section is for terminally ill patients who have six months or less to live and are not seeking additional curative care. The area is for those who still have some ability to care for themselves, such as eating without assistance.
The other six beds are for acute care patients who need around the clock care. He said the occupancy rate for that area is about 92%.
"We sometimes have over 100% occupancy in that area, as well," he said.
Prior to the coronavirus pandemic, family members and friends were free to visit patients with no restrictions. However, that all changed once the pandemic hit.
Mr. Miller said due to state mandates and Centers for Disease Control restrictions, there was a period of time when no visitors were allowed in the facility, which was devastating for patients and family members.
That changed at the end of 2020, with new guidelines that allow a limited number of visitors if they are on the patient's visitor list.
Mr. Miller said he is looking forward to the day when all COVID-19 restrictions are lifted.
"COVID has had a tremendous impact on our facility," he said. "This isn't just about the families who visit, but we have a staff caring for the patients. This isn't like a regular hospital with a larger staff. We have a much smaller staff, and if we only have a couple of nurses out it can significantly impact the care of patients."
Mr. Miller said patient care is the top priority of the organization. That's why receiving ownership of the satellite facility is such a big deal.
"Every dollar not spent on leasing property is another dollar for patient care and facility maintenance and office costs," he said.
Mr. Miller added that the donated 2,000-square-foot facility was appraised at $130,000.
To find out more about CCHH and the facilities and services it provides, or to inquire about opportunities to give support or volunteer, visit cchhnc.org or call the satellite office at 252-808-2244.
Contact Cheryl Burke at 252-726-7081, ext. 255; email Cheryl@thenewstimes.com; or follow on Twitter @cherylccnt.