EMERALD ISLE — The most venerable and visible landmark in Emerald Isle, other than the ocean, is for sale.
Mike Stanley, owner of the Bogue Inlet Fishing Pier, said Wednesday his asking price for the property is $18 million, and he thinks that's cheap.
"I won't take anything less than that," he said. "It could take a few years to sell it. But I think there will be a lot of interest.
"There are a lot people from up north coming down here, bringing a lot of money and looking to invest and get out of all the craziness up there," he continued.
The sale will include the pier, parking lots, Surf's Up Restaurant and Beachfront RV Park.
When the sale happens, Mr. Stanley said, "That's it for me. I'm out. I won't be turning right (at Bogue Inlet Drive) anymore."
The pier was built in the late 1950s and has been in the Stanley family for 49 years, he said. It's doing great this summer – "wide open," he said – after being closed in the spring because of the novel coronavirus pandemic.
"It's just time to do it," he said of the sale.
The pier and other businesses on the property have been all-consuming, and Mr. Stanley has been hands-on, showing up for work and talking to customers.
The pier has been repaired, almost rebuilt, many times after hurricanes, as well, and Mr. Stanley said he's enjoyed keeping the whole thing running.
"There have been challenges," he said, "but I've always enjoyed making changes, making it better. For us, it really hasn't been about the money. It's been about the satisfaction you get from running a business and putting out a 'product' based solely on people enjoying it. I've always known that if people didn't have fun here, I wasn't doing my job. And I've had fun, too."
In fact, Mr. Stanley thinks that's a big reason the pier has been a success these many years.
"We know how to have fun and how to help other people have fun," he said.
The business has grown with Emerald Isle, which was chartered as a town in 1957, and the Stanley family and the town have often been partners. For example, the town's Fourth of July fireworks show has been launched from the pier for years, attracting thousands of visitors on a day the pier is not open for fishing.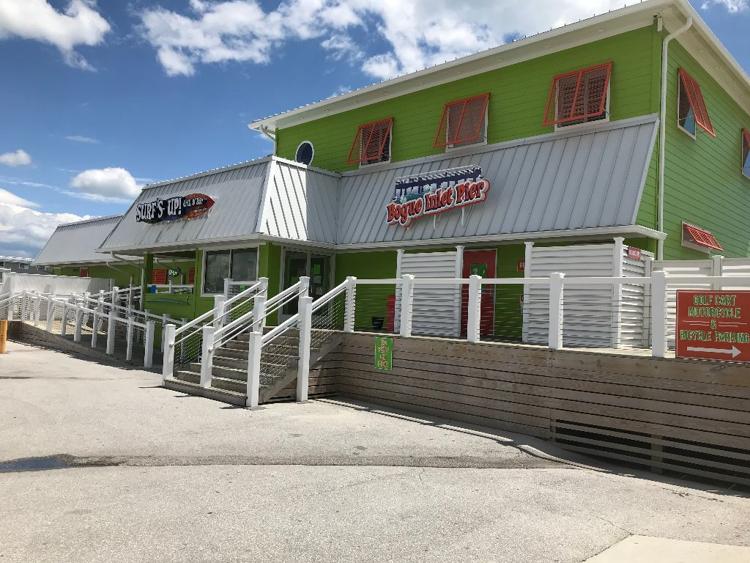 Emerald Isle has taken off in the last few years, for good reason, Mr. Stanley said, and he also knows the pier is a part of that.
"It's one of the premiere properties on the East Coast, and the town is a big part of that," he said.
Vacationers are increasingly shying away from other resort areas, like Ocean City, Md., and Myrtle Beach, S.C., Mr. Stanley said, because those places have lost some things Emerald Isle has managed to maintain despite its growth: community and small-town feel.
He plans to remain a town resident and thinks Emerald Isle has a bright future, but doesn't think there's much room for a lot of growth. He believes that's a good thing. In the early 2000s, he recalled, there was talk of a regional sewer system, piping waste from Bogue Banks across Bogue Sound to a sewer plant.
It didn't happen, and Mr. Stanley thinks that was the best decision local officials made. If sewer had come, growth would have come faster and would have been more overwhelming.
"I can't think of a better place to live," he said.
Mr. Stanley last tried to sell the pier in 2006, when a developer from Raleigh was trying to put together a mixed-use project. The town was interested in taking over the pier as part of the plan.
People in the RV park at the pier heard about the deal and panicked, however, many of them moving out.
Then the economy crashed, Mr. Stanley said, and "we almost lost it all."
But he and his family persevered, making needed repairs, renovating the pier house and adding the restaurant. They've since greeted new generations of fishermen, observers, surfers and beachgoers, who have used the parking lots and beach access ramp.
Mr. Stanley said his sister is retaining her financial interest in the pier, so whoever buys it, "would be wise maintain it like it is."
The pier went on the market Tuesday, and the sale is being handled by Mary Rawls Realty.
Mr. Stanley said he hinted to town officials a few months ago he might be selling, but there was not any interest this time around.
In the short time the pier has been on the market, he hasn't had any "nibbles." But Mr. Stanley knows just like fish will not bite one day but bite like gangbusters another, the offers will come, and he's ready. He said he hopes there's a bidding war.
"It' been a great time," he said. "But it's time to do this."
Contact Brad Rich at 252-864-1532; email Brad@thenewstimes.com; or follow on Twitter @brichccnt.