Editor's note: This article was updated at 10:20 a.m. Friday, Aug. 21, 2020, to include information from the attorney representing some MaST parents. 
MOREHEAD CITY — A group of parents has retained legal counsel in an effort to have the Carteret County Board of Education reinstate the freshman class at the Marine Science and Technologies Early College High School.
"Our plans are to get the freshman class added back and to prevent the Board of Education from continuing this ongoing crusade against MaST," Jaymie Kerstein of Newport, who had applied for her freshman son to start at MaST in August, said.
Attorney Ann Paradis with Gahagan Paradis of Raleigh said she sent a complaint and motion for a preliminary injunction to Carteret County Civil Superior Court Thursday. The complaint asks that the board open enrollment to a freshman class pending the outcome of the case and preserve "the status quo for the CCPS and MaST school as existed during the 2019-20 year."
The complaint further states that the board violated the requirements of N.C. General Statute 115C-72(a)(1), the due process clause of Article I, Section 19 of the N.C. Constitution.
Ms. Paradis is requesting a hearing be set for 10 a.m. Monday, Sept. 7. 
The school board voted in June to not allow a freshman class this year, citing budget concerns. The board voted to allow only sophomores and juniors to continue this year at the school, asking MaST officials to focus on building up the numbers in those two grades.
Then, the General Assembly agreed in July to allocate $200,000 to the school, which meets on the campus of Carteret Community College in Morehead City and allows students to earn college and high school credits simultaneously.
While MaST parents had hoped that would cause the board to reconsider the decision and reinstate the freshman class, BOE Chairperson John McLean said because the funds weren't recurring, he and other board members weren't comfortable doing so. The sole board member who has supported having freshmen at the school is Melissa Ehlers, whose effort to reinstate the freshman class was shot down by lack of a second following her motion at the Aug. 4 BOE meeting.
Ms. Kerstein said the group of parents has retained Stacey Gahagan of Raleigh, who represented MaST parents in July 2019 when the BOE voted to close the school over a lack of funding. After standing room-only crowds protested the closure of the school, followed by the attorney seeking a preliminary injunction and filing a civil complaint, the board approved keeping the school open for the 2019-20 academic year. In addition, CCC offered funds to keep the school going that year.
This month, Ms. Gahagan's firm sent a litigation hold letter to school board attorney Neil Whitford. The hold means no documents, emails, video, texts and other items associated with MaST can be destroyed. Ms. Gahagan could not be reached for further comment about action that may be taken.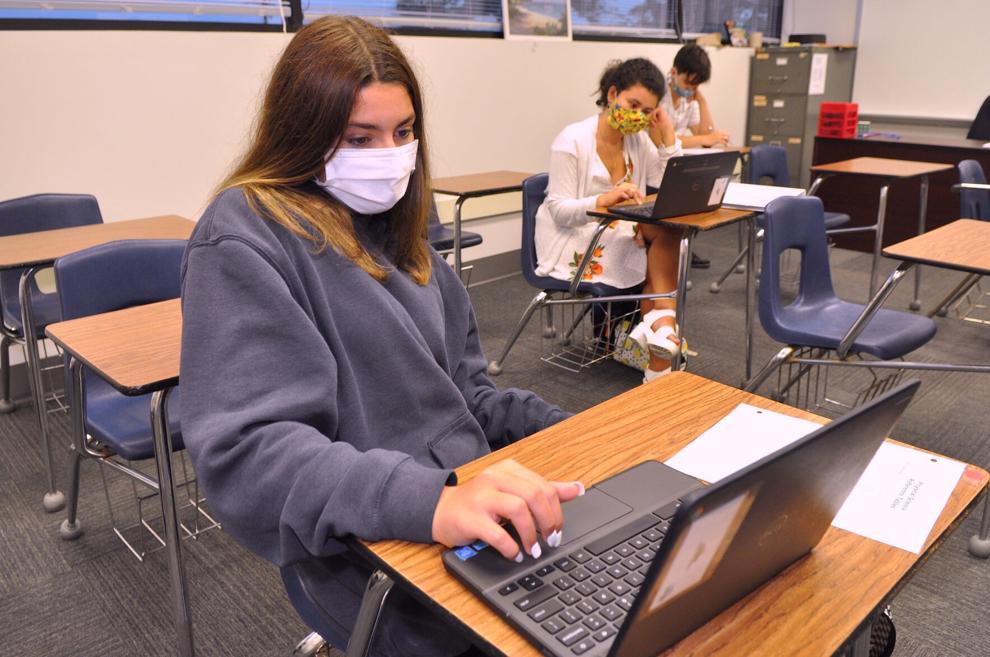 Mr. Whitford, during a telephone interview Tuesday, confirmed he had received the letter. He said because documents in respect to MaST are already public record, items would not be discarded anyway.
"The board has a public records retention policy and nothing gets deleted. Under state law, it forbids you to do that," Mr. Whitford said.
As for any potential litigation against the board regarding its actions related to MaST, Mr. Whitford said, "The school is open. It's not only open, but there is an effort to increase enrollment in classes. We're looking forward to a good school year there and wish the students and parents great success."
He added that because there was a super majority vote against having a freshmen class in June, he didn't think the board would reconsider. He further pointed out that since the school opened three years ago, the state has only provided funds this year.
"There have been three funding cycles, and two of the three years there were no state funds," he said.
Mr. Whitford also said the school's enrollment had fallen this year, although he admitted much of that was due to the coronavirus pandemic cutting the application process short.
As to accusations by some parents that the school board is trying to close down the school, Mr. Whitford said, "Students enrolled at that school will be graduated from that school if they choose to stay there."
Ms. Kerstein said she wants to see the school remain open and still hopes to see a freshman class reinstated not only for her son, but for other parents who had hoped to have their children at the school.
"I've talked to so many people who want to apply, but they don't because they're afraid the school will be shut down anyway," she said.
For now, Ms. Kerstein has enrolled her son, Sean, under the virtual option for the fall semester at West Carteret High School. Sean said he wants to be a marine biologist, which was the reason he had hoped to attend MaST.
"I felt like I would have more opportunities there," he said. "I'm more of a hands-on learner and I felt like I would get that there."
While he couldn't comment regarding any pending litigation, MaST Principal Cory Johnson said he was glad to start his first year as leader of the school and was excited to see students back in the classroom. He said once late enrollments are finished, he expects to have 96 or 97 students enrolled this year.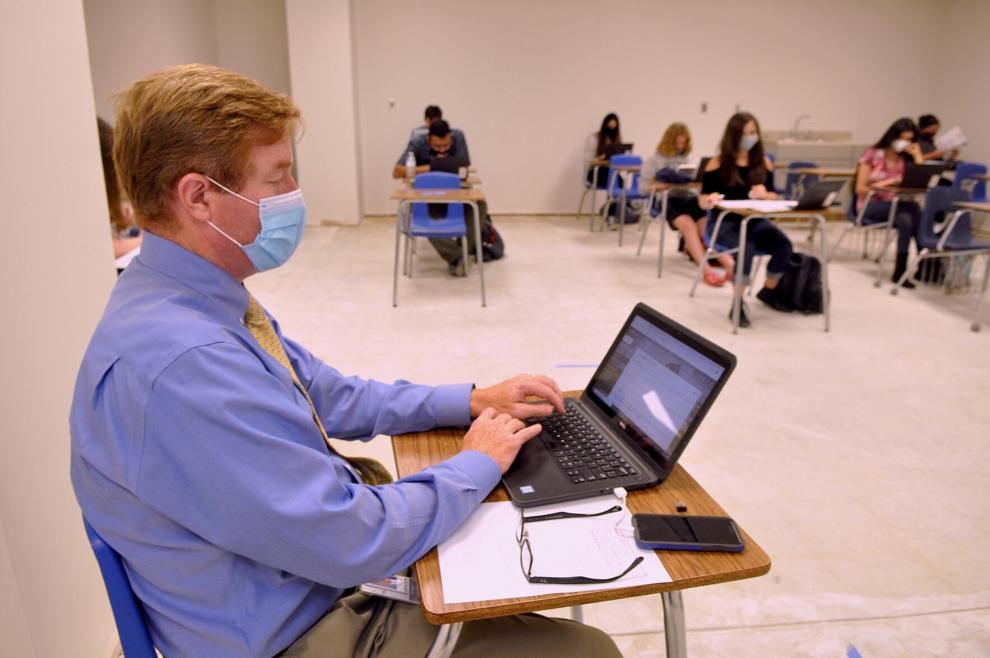 "We're focusing on the kids that are here and will be supporting them," he said Tuesday. "It's just a treat to see kids back in classrooms because we haven't seen that since March."
MaST students are attending on a hybrid schedule of classroom instruction and virtual. Some students are attending under the virtual-only option.
Those in class Wednesday said they were happy to be at MaST.
"I want to get a head start on college credits," sophomore Kahlan Brewer said.
Sophomore Kylie Seltzer said, "I enjoy the learning environment here and getting to have more freedom."
As for the school's budget, Carteret County school system Finance Officer Kathy Carswell outlined the school's budget for 2020-21 during the Aug. 4 BOE meeting. She said even with the $200,000 in state funding, the school would operate in 2020-21 with a $78,476 deficit. The deficit will be made up from the school system's fund balance.
MaST's total budget for 2020-21 is $455,958. Of that, $245,958 comes from county commissioners, with $200,000 in state Cooperative Innovative High School funding and $10,000 in state textbook funding.
There are four teaching positions in addition to a guidance counselor, clerical position, a part-time social worker and the principal. The school's English instructor resigned last week to take a position teaching at Morehead City Middle School, so Mr. Johnson said they are currently advertising to fill the role.
Contact Cheryl Burke at 252-726-7081, ext. 255; email Cheryl@thenewstimes.com; or follow on Twitter @cherylccnt.