OCEAN — Going against the latest recommendations from the U.S. Centers for Disease Control and Prevention and other health agencies, the Carteret County Board of Education voted unanimously Wednesday evening to make masks optional for public school students and staff in the 2021-22 academic year.
The vote came during a special meeting Wednesday in the media center at Croatan High School. There was no opportunity for public comment at the proceedings, but a number of audience members in attendance broke into applause in apparent support of the decision after the board voted.
BOE member Travis Day made the motion and member John McLean seconded it. After some discussion, the board voted 7-0 to approve making face masks optional for the public school system beginning this fall.
"If someone feels that they need to wear a mask, that that's what keeping them safe, then they're able to do so to be safe," board member Brittany Wheatly said, "but I also think that those parents and students who are…comfortable with removing their mask can do so."
With the board's decision, teachers would not be allowed to require masks in their individual classrooms, school officials said, though teachers still have the option to wear their own masks. 
During discussions, some board members said while they supported making masks optional, they also wanted to ensure students still have virtual learning options in the event they have to quarantine due to close contact to someone with COVID-19, for example.
"I just want to make sure that if the Delta variant were to pick up and something were to happen and we had an outbreak, we can still hold the option to go virtual in the event that it's needed to protect our students and staff," board member Katie Statler said.
The school system will not offer a full-time virtual learning option for K through 8 students next year, but Superintendent Dr. Rob Jackson said Wednesday the technology could still be used on a smaller scale if quarantines or other situations call for it.
"If we had to move back to what was previously called Plan C virtual, we would certainly be positioned to do that. Teachers will be assigned to students just like they always have, and then they would begin to instruct their students virtually," Dr. Jackson said. "So although we will not have a separate, standalone virtual academy, we will continue to have that option."
Mr. McLean suggested the school system take another survey of parents to see if interest in a fully virtual option increases with the decision to not mandate masks next year. Fewer than 120 parents indicated their students would be interested in continuing with full-time virtual school, but Mr. McLean said he didn't want to lose any students to virtual charter schools or homeschooling.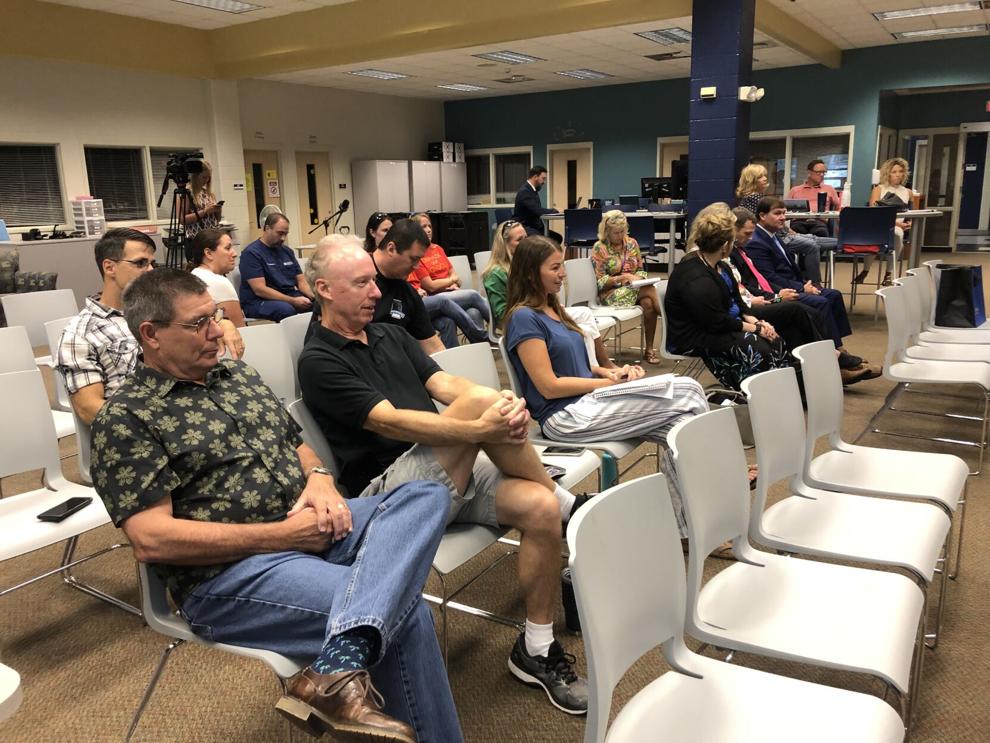 Other BOE members pointed out the school system may have already lost students to private schools where masks mandates did not apply.
The school board's attorney, Neil Whitford, said based on his legal interpretation of the latest state guidance, the school board is well within its rights to decide to make masks optional next school year. In the latest revision of the StrongSchoolsNC Public Health Toolkit for K through 12, issued by the N.C. Department of Health and Human Services July 21, the guidance on masking changed to eliminate the word "required" and replace it with "should."
"I can tell you with certainty that the change of the previous protocol on masks from 'required' to 'should' was intentional and was designed to give local school boards flexibility to address the pandemic based on local circumstances," Mr. Whitford said. "This flexibility allows local boards to rescind mask mandates without violating the law."
However, he acknowledged NCDHHS could hand down new mask mandates that override local decisions.
"Whatever we say today, it might not actually be in place tomorrow, we need to keep that in mind," he said.
Tuesday afternoon, the CDC issued new guidance on indoor masking for vaccinated people based on evidence on the highly infectious Delta variant. Specific to school settings, the CDC recommended universal indoor masking for all teachers, staff students and visitors to K- through 12 schools, regardless of vaccination status.
County BOE Chairperson Clark Jenkins acknowledged the board's decision Wednesday night could upset some parents, but he said it felt like the right call. 
"Part of our job is to look beyond the science, to look at the educational aspect, to look at the social aspect, the psychological aspect and the emotional aspect," he said. "So when we make a decision, we've got to pull all of that together, and we're here for the kids. We appreciate the parents' input, whether you're for masks or against masks, we appreciate that, but we've got to look at every aspect of it."
During Wednesday's meeting, Dr. Jackson also briefly reviewed the guidance in the latest toolkit revision for opening schools in the fall. He noted schools are allowed to return to full-time, in-person learning five days a week, with no continued requirements for daily wellness checks, including temperature and symptom screening. Schools should continue to practice social distancing "to the extent possible," and frequent hand washing and disinfecting of surfaces will continue to be emphasized.
Other changes next school year include no more one-way hallways, no more social distancing on school buses and the prohibition on outside field trips has been lifted. Quarantine requirements for close contacts of confirmed cases will remain in place, with certain exceptions depending on vaccination status and other factors.
Reporter's note: This article was updated with a full report and a new photo at 12:55 p.m. Thursday, July 29, 2021. 
Contact Elise Clouser at elise@thenewstimes.com; by phone at 252-726-7081 ext. 229; or follow on Twitter @eliseccnt.