NEWPORT — A former shelter dog from the Carteret County Humane Society Animal Shelter has now become famous thanks to a Delaware author who adopted him.
Finn, a 3-year-old Vizsla mix, is now the topic of two series books, The Finn Chronicles, written by Gwen Romack of Ocean View, Del., that made the Amazon best-sellers list this year.  He's also garnered quite a following on Facebook and other social media sites.
Ms. Romack said she originally took the quirky dog in as a foster to help with his rehabilitation process, but quickly fell in love and adopted him. Before deciding to adopt him, she began posting weekly updates on his progress, written in his voice, on Facebook as a way to promote him to prospective adopters.
"The posts became so popular in the Vizsla community that I kept going," Ms. Romack said in an email. "If I don't get it posted by noon, I get private messages from Vizsla and beagle lovers around the world asking if they missed the post."
After adopting Finn, Ms. Romack lost her corporate job in April due to the coroanvirus pandemic.
"After years of people encouraging me to publish these (posts) as a book, I decided to use this down time to make it happen," she said. "The books will keep coming as long as he's still a riot."
Book one of The Finn Chronicles is his first year of weekly reports with photos and links to videos on YouTube. Book two picks up from there. Both books have received five-star reviews and are now in public libraries in Maryland, Georgia and Minnesota, according to Ms. Romack. Locally they are sold at Scuttlebutt in Beaufort and Sea Paws in Morehead City. He's also picked up a following on social media sites.
The real story of this now popular dog began on Sept. 8, 2017, when he was picked up and taken to the animal shelter after found wondering the streets of downtown Swansboro.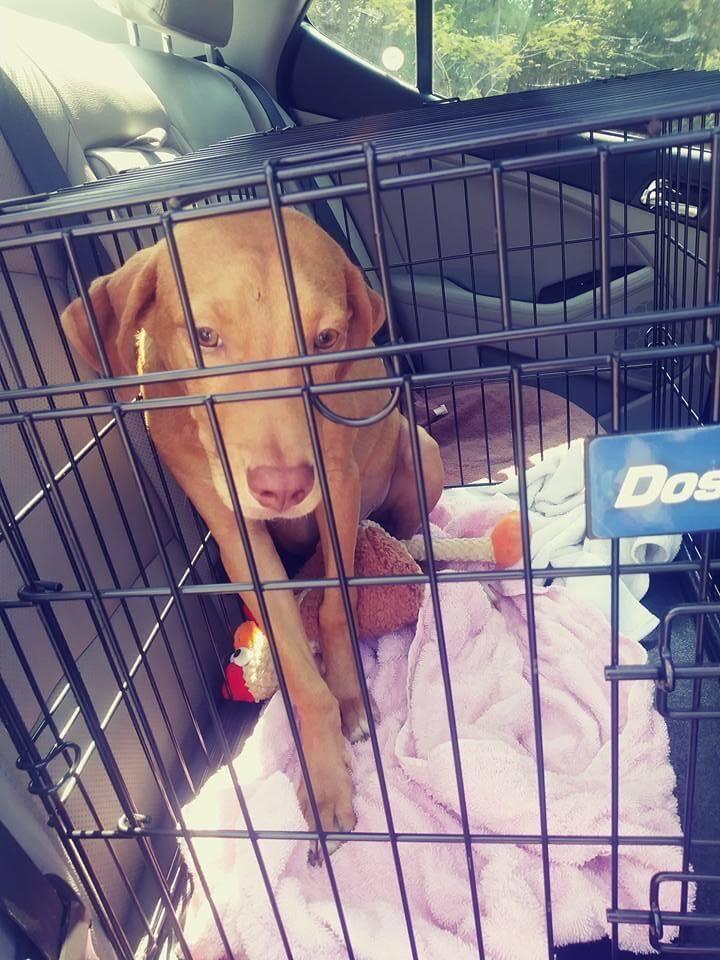 "He was named Cupid when he first came in and he was about 7 months old," Humane Society Shelter Manager Rachel Hardin said. "We changed his name to Teddy. He was an untrained puppy, wild and rambunctious. He needed training."
Enter animal shelter volunteer Rhonda Privette of Morehead City, a big Vizsla lover who also works with a Vizsla rescue group, Airsong's Angels, based in Georgia.  
"He was there when I went in to volunteer. He was a wild puppy. The breed can be a handful because they have a lot of energy," Ms. Privette said. "He was very special and I knew I had to do something."
He was transferred Sept. 20, 2017, to a foster home with Airsong's Angels in Cary. However, Ms. Romack said the organization "encountered an emergency and needed to place some dogs quickly. We drove down to the state border of Virginia and North Carolina to pick up Teddy, who we would rename Finn…our lives were changed forever."
Ms. Hardin said she was glad to know that one of the shelter's former dogs has made it big.
"It's awesome to know that any of these dogs have that potential," Ms. Hardin said. "It's awesome that they can be put with the right home and the right person who has patience and they can become a great dog."
Those interested in learning more about Finn and his antics can visit thefinnchronicles.com. They can also find him on Facebook, YouTube, Instagram and Twitter.
Books can be purchased on Amazon, at Scuttlebutt, Sea Paws or the Paper Scraper in Charlotte.
Contact Cheryl Burke at 252-726-7081, ext. 255; email Cheryl@thenewstimes.com; or follow on Twitter @cherylccnt.