MOREHEAD CITY — Carteret Community College President Dr. Tracy Mancini sealed the deal on a $960,546 U.S. Department of Agriculture Distance Learning and Telemedicine grant during a signing ceremony Thursday on the patio of the Crystal Coast Civic Center.
USDA Rural Development State Director Robert Hosford visited the college to sign the final paperwork and share about the agency's commitment to CCC and the other institutions who received grants across the state.
"We want to show our partnership with this community," Mr. Hosford said prior to the ceremony. "We want Dr. Mancini to come back to us as they have needs. We want to be a resource to Carteret County."
CCC's effort is one of 116 projects funded through the USDA DLT grant program, which helps health care and education institutions buy the equipment and software necessary to deploy distance-learning and telemedicine services to rural residents. The college plans to use the funds to enhance the college's existing distance learning program to expand course offerings to include virtual substance abuse certificate programs, suicide prevention and opioid awareness training and increased professional development opportunities to geographically isolated communities in the area.
Dr. Mancini said the grant funds will enable the college to put computers and other IT/AV equipment and software in communities and organizations throughout the county.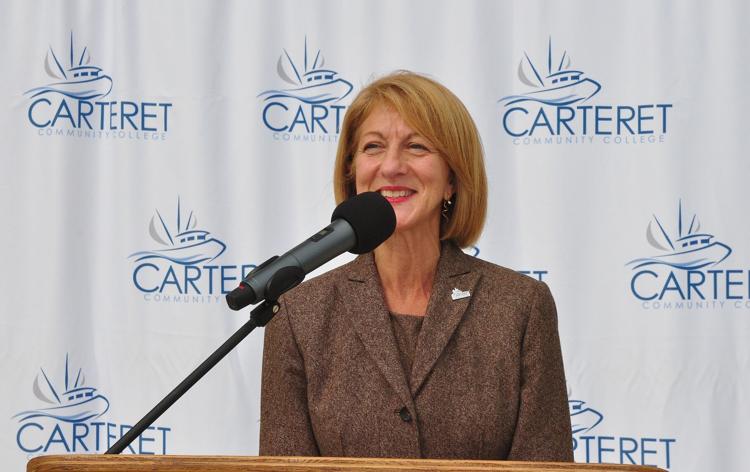 Equipment will be installed at the Bridge Downeast on Harkers Island, the Harlowe Community Center, the County Department of Social Services in Beaufort, East Carteret and Croatan high schools, Western Carteret Library in Cape Carteret, Fort Benjamin Park in Newport, the Marine Science and Technologies High School on the CCC campus and Broad Street Clinic in Morehead City.
Representatives from the partner agencies attended the ceremony, as did representatives from the offices of Sens. Thom Tillis and Richard Burr.
Dr. Mancini said she was excited to receive the grant to better serve the rural areas of the county.
"We're so thrilled to be a recipient of a USDA distance learning grant," she said. "Not only has (COVID-19) proven the need for distance education, but it's important during this digital divide to provide access to health care."
During the ceremony, Mr. Hosford reiterated the USDA's commitment to help families in rural areas of the state, including Carteret County. Since 2016, Mr. Hosford said the USDA Rural Development program has invested $2.17 billion in loans and grants for various projects across the state. Of that, nearly $195 million has been invested in Carteret County.
"More importantly, last year we helped more than 8,000 families, communities and projects," he said.
Carteret County Schools Superintendent Dr. Rob Jackson was among representatives from partner agencies attending the ceremony.
"Having sites at Croatan and East Carteret means we are able to better connect with Carteret Community College and beyond and help our families be able to connect to the campus. Our partnership with the community college is critical to our ability for students to be prepared for life," Dr. Jackson said.
Contact Cheryl Burke at 252-726-7081, ext. 255; email Cheryl@thenewstimes.com; or follow on Twitter @cherylccnt.