MOREHEAD CITY — It's been a little more than two years since Marine Science and Technologies Early College High School freshman Alex Doss died, and his parents want a way to keep his memory alive by helping other students.
To honor their son, Sean and Jennifer Doss of Cedar Point donated $11,800 to the Carteret Community College Foundation to create the Alex Doss Memorial Scholarship.
The parents formally made the donation during the March 9 CCC Board of Trustees meeting, joined by Alex's brother, Hunter.
The scholarship will support students enrolled in one of three CCC degree programs: marine propulsion, boatbuilding or aquaculture. Students who live in Carteret County and graduate from a county high school are eligible.
The first scholarship will be awarded this fall in an amount yet to be determined.
"Alex had a goal of owning his own marine propulsion business," Mr. Doss said during the check presentation. "We can't thank you enough for what you did for him. This is the best way we can think of to honor him."
Alex died of an undetected brain hemorrhage Jan. 11, 2019, at the age of 14. His mother is a math instructor at MaST.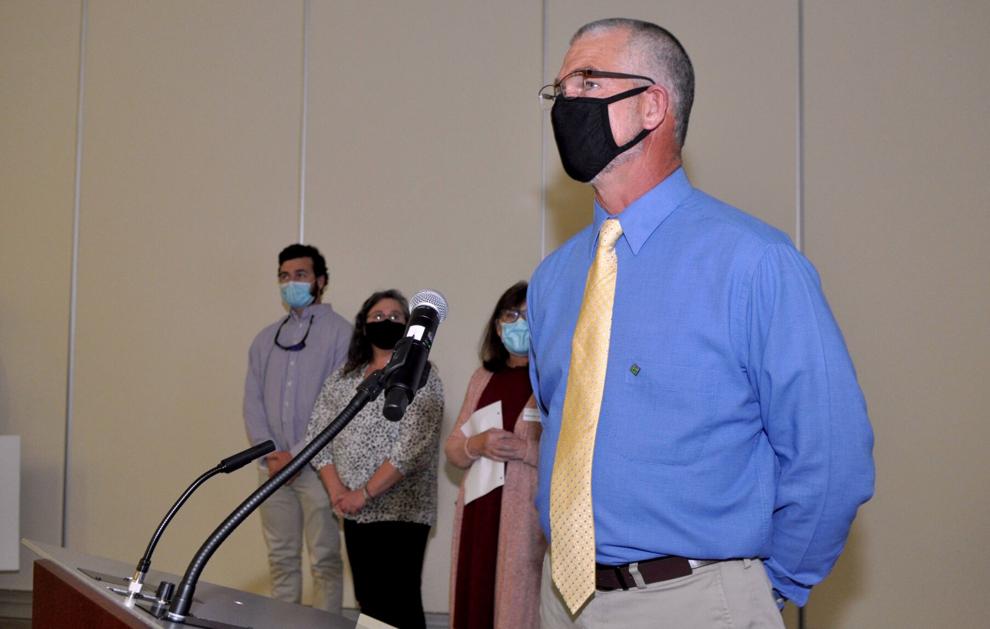 The popular student leader was among the first group to attend MaST, which allows students to obtain high school and college credits at CCC. The school opened on the CCC campus in August 2018.
Mr. Doss said MaST was a "new beginning" for his son, and he had just begun attending marine propulsion classes at CCC at the time of his death.
CCC Board of Trustees Chairperson Melodie Darden thanked the Doss family for the donation.
"I just think the lasting way you've created to honor him is very special," she said.
CCC President Dr. Tracy Mancini agreed.
"I want to thank the Doss family for keeping his memory alive," she said. "It will serve many students in the future."
Trustee June Fulcher also thanked the family.
"I want to give thanks to the Doss family. It's a great loss, but with the potential for another student to do well, it will bring some good feelings for the family and honor his memory," Ms. Fulcher said.
Alex was known for his love of the outdoors and was a member of the Order of the Eagle of the Boy Scouts of America. He enjoyed hunting, fishing and riding ATVs. He also played football, was a member of the Croatan High School Junior Varsity Football Team during the 2018 season and played running back and defensive end.
To learn more, contact CCC Foundation Director Brenda Reash at 252-222-6262 or reashb@carteret.edu.
Contact Cheryl Burke at 252-726-7081, ext. 255; email Cheryl@thenewstimes.com; or follow on Twitter @cherylccnt.