BEAUFORT — The Carteret County school system plans to offer a summer learning program to students in grades kindergarten through 12 whose academic performance has fallen during the coronavirus pandemic.
The school system's chief academic officer, Jody McClenny, said 1,551 students have been identified for the program because they have failed classes or are below state standards in reading, math and core subjects. However, it's optional for students to attend.
"We do encourage our families to participate," she said during the County Board of Education meeting, held Tuesday in the school system's central office on Safrit Drive. "This will fill in the gaps created during (the pandemic)."
The program will be offered at schools from 8 a.m. to 3:15 p.m. Monday through Thursday from June 14 through July 29. There will be a vacation week Monday through Friday, July 5-9.
Summer school will be offered at the three traditional high schools, and the system will decide by Friday, May 21 which elementary and middle schools will offer the program, based on enrollment.
Students that are being targeted for the program are elementary students who have fallen below state standards in reading and math, and middle and high school students who have failed classes or are below state standards in core subjects.
"We must offer it to those students first," she said. "It's not necessarily limited to them if we have more students who want to attend."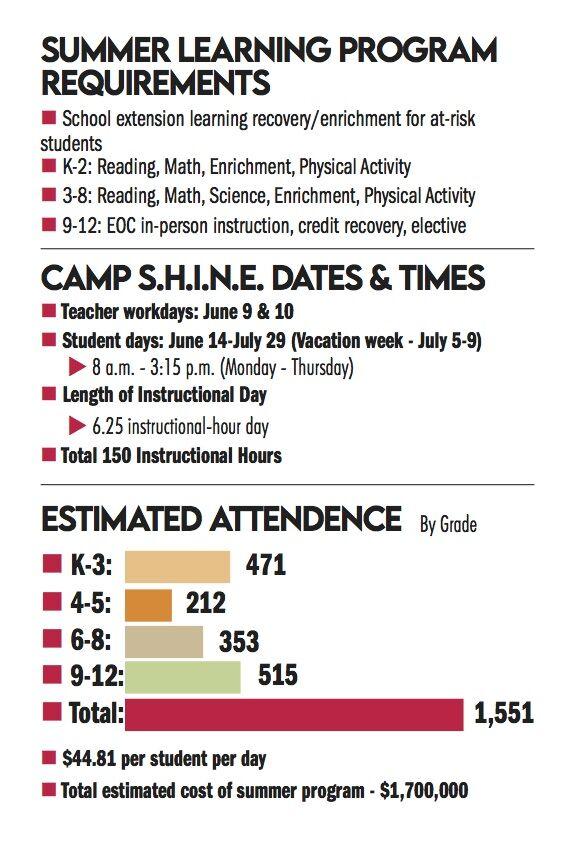 Meals and transportation will be provided. There will be in-person social and emotional support provided through counselors and social workers and daily individual and small group instruction.
Kindergartners who complete the program will be exempt from grade level retention. Ms. McClenny said students in grades 1-12 will be reassessed for their eligibility for repeating a grade after the program ends.
The program, Camp SHINE, or Serving-Helping-Investing-Nurturing-Engaging, will offer specific learning recovery and activities at various grade levels. For grades kindergarten through 2, there will be reading, math, physical activity and enrichment — non-core activities based on students' interest.
For grades 3-8, there will be reading, math, science, enrichment and physical activity. For grades 9-12, there will be end-of-course, or EOC, in-person instruction, credit recovery and electives.
Ms. McClenny said the district is recruiting "highly effective teachers" for the summer program.
"So far, 239 county employees have applied to work," she said.
The estimated cost of the summer program is $1.7 million, based on $44.81 per student per day. Funds for the program are coming from federal Elementary and Secondary School Emergency Relief Stabilization, or ESSERS, funds.
As for the breakdown on the 1,551 students recruited for the program, there are 471 in grades K-3, 212 in grades 4-5, 353 in grades 6-8 and 515 in grades 9-12.
Ms. McClenny said schools are currently contacting families to notify them about their children's eligibility for the program. Once they determine how many students selected for the program will attend, they will decide whether to open slots to other students.
Contact Cheryl Burke at 252-726-7081, ext. 255; email Cheryl@thenewstimes.com; or follow on Twitter @cherylccnt.