MOREHEAD CITY — Small kindergartners and pre-K students with big dreams entered Carteret County school doors Monday for their first full day of the 2021-22 academic year.
The 465 kindergarten and 224 pre-K students started one week after their older peers to give them a chance to come in small groups, meet their teachers and tour the school. This is done to help alleviate some of the anxiety that can accompany young children starting their school career.
Monday, parents could be seen kissing their youngsters through masks and hugging them one last time before they entered Morehead City Primary School, where they were greeted by teachers and staff, who escorted them to classrooms. Due to coronavirus restrictions, parents weren't allowed to enter the buildings.
The MCPS parent teacher organization set up a "Boo-Hoo Yahoo Breakfast" outside the main doors. The area included a colorful balloon display where parents and students could grab a quick photo of their first day.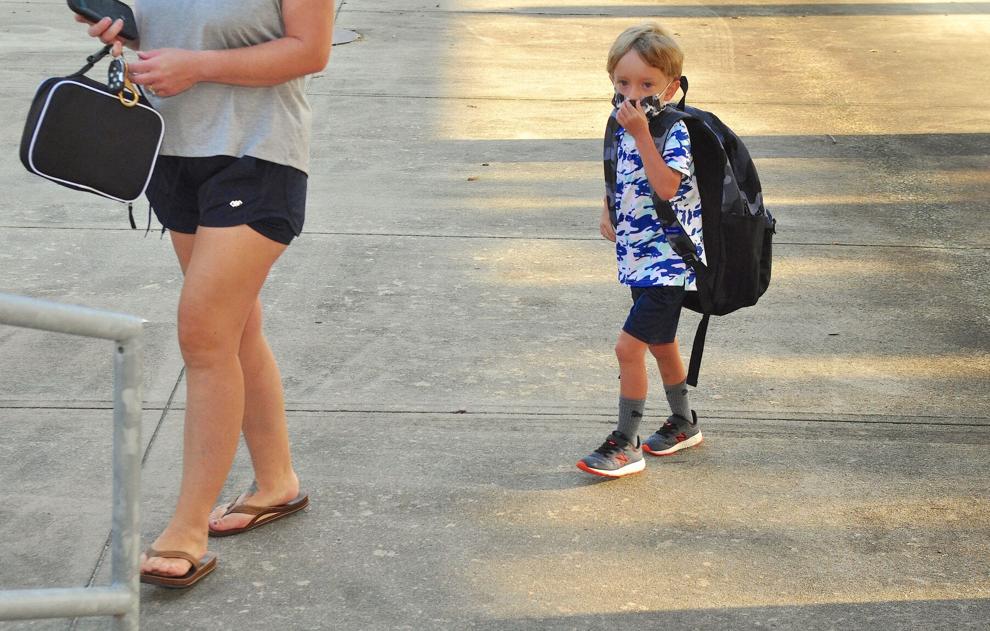 Erin Decker, who had twins starting kindergarten, said she was glad to see her little ones start their first day of in-person learning.
"I'm so excited for them, especially since they can start at school during COVID," she said. "I'm excited for them to make some friends and have a good time."
She added that she was supportive of the district mandating students and staff to wear masks.
"I'm very supportive of the mask mandate," she said. "If they can keep kids in school through it, I am all for it. One of my daughters has asthma, so that's another reason I support it."
Mother Elena Torres admitted she was having mixed emotions about her daughter Sophia starting school.
"I'm nervous for her," she said. "I wish I could have walked her down to her classroom. But I'm also excited for her at the same time."
Ms. Torres and Sophia hooked pinky fingers and kissed just before the child headed inside.
"I made a pinky promise that I would be here to get her when school let's out today," she said.
Ms. Torres added that she and her daughter visited the school last week for the small group visit and she believed it helped ease some of the separation anxiety.
"She knows her teachers and is familiar with the school," Ms. Torres said.
Many parents and children took advantage of the PTO breakfast and photo station to make new friends.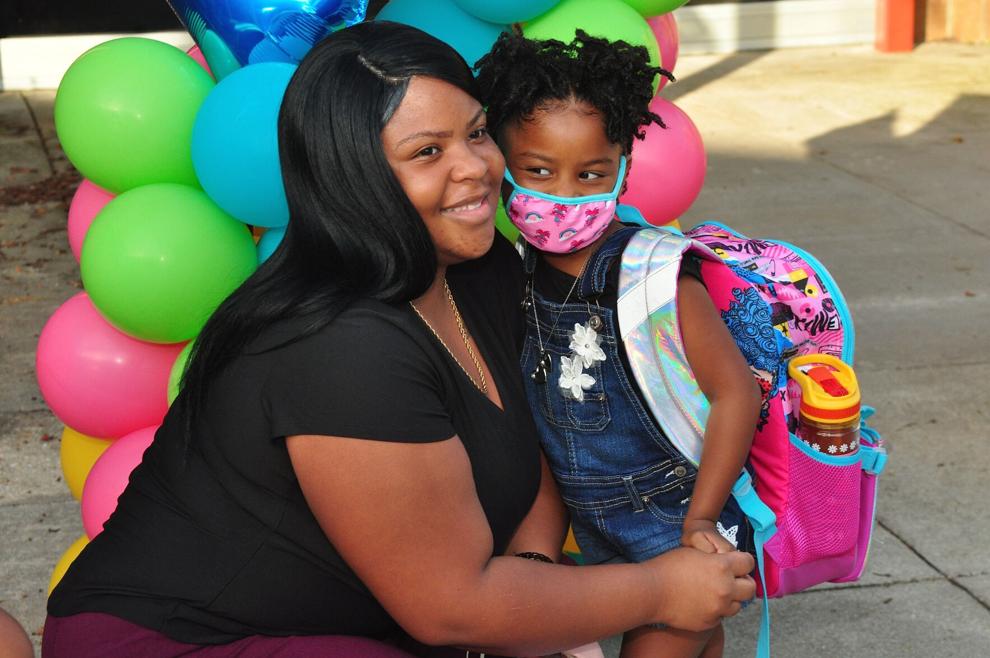 PTO president Sarah Lawrence said the organization has offered the station for many years on opening day of kindergarten and pre-K.
"We just want to let the kindergarten parents know that we're here to support them," she said.
MCPS guidance counselor Liz Sharkan said the school offers various support for families as they transition young children into school.
"We try to show the school as a happy place and we're trying to introduce the children to happy people," she said.
She offered tips on ways parents can help ease their children into the new phase of their lives.
"They can try putting a photo of themselves or a picture in their backpacks," Ms. Sharkan said. "They can talk about all the positive things at school. Parents can also lean on other parents who have been there as places of support. It's also good to schedule other fun things outside of school time to encourage them."
As for ways to help children transition into wearing a mask all day, Ms. Sharkan said, "I think it just helps to hear that everyone is wearing them. The masks are so totally normalized at this time."
As for the N.C. Pre-K program, of the 224 students enrolled, 170 are attending at county school sites and 54 are enrolled at Excel Learning Center in Morehead City.
Contact Cheryl Burke at 252-726-7081, ext. 255; email Cheryl@thenewstimes.com; or follow on Twitter @cherylccnt.