EMERALD ISLE — The town got a rare visit from a seal Wednesday, and the Emerald Isle Sea Turtle Patrol protected the juvenile on the beach until it left sometime after 12:30 a.m. Thursday.
Dale Baquer, head of the turtle patrol, said the juvenile was first spotted on the beach early Wednesday morning, and the patrol quickly started getting calls.
"A protective barrier was installed around the seal," she said, to keep it safe until it finished resting on the beach and headed back into the water. The patrol put out the word to beachgoers, urging them to give the seal plenty of distance and not do anything to impede its voyage back to the sea.
Ms. Baquer said she didn't know the gender of the seal, but believes it was probably a harbor seal.
"I've been told it's hard to determine the type of seal at a young age without examination," she added.
Ms. Baquer said volunteers left the beach around 12:30 a.m. Thursday but checked the entire beach around 6:15 a.m. Thursday and didn't see it, so it appears to have resumed its journey.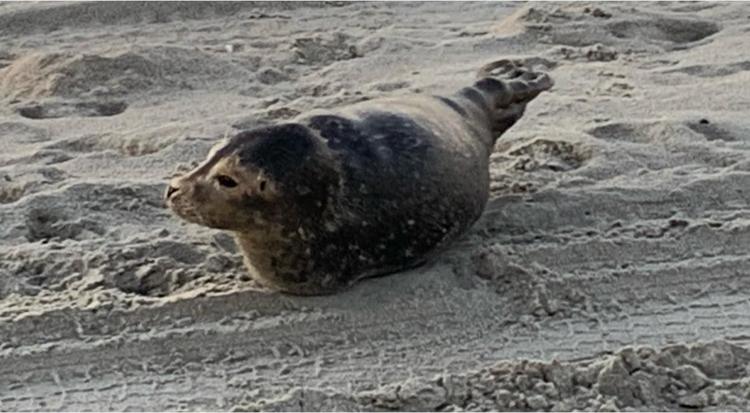 Wednesday evening, Ms. Baquer said in a post on the turtle patrol's Facebook page that those on the beach had been "respectful" and although many people came out to see the seal, they stayed behind the safety lines and followed wildlife rules. All seals and sea lions are protected under the federal Mammal Protection Act.
Many people, Ms. Baquer said, had urged the turtle patrol to call the N.C. Wildlife Resources Commission, but that wasn't necessary.
"We are a volunteer organization … but we operate through/under the direction and guidance of the commission," she said on the Facebook page. "We are in constant contact with proper agents of other species."
She added it had "a pleasure and joy to protect" the seal and she was happy it made it safely back to the ocean.
Along the East Coast, harbor seals are found from the Canadian Arctic to New York and occasionally as far south as the Carolinas, according to the National Oceanic and Atmospheric Administration, which is charged with protecting the animals.
"The population in New England is … increasing," NOAA says on its website. "Breeding and molting colonies can number in the thousands in these areas."
"This is not an uncommon event for juveniles migrating" these days, Ms. Baquer added Thursday morning, and gray seals and harp seals also are occasionally seen in this area.
Contact Brad Rich at 252-864-1532; email Brad@thenewstimes.com; or follow on Twitter @brichccnt.