CARTERET COUNTY — One-stop in-person voting began across North Carolina Thursday, and in Carteret County, eager early voters queued up to cast their ballots in the 2020 General Election.
By the time sites wound down after 7:30 p.m., the Carteret County Board of Elections reported 3,370 ballots cast the first day, contributing to the nearly 230,000 accounted for across the state as of 5:30 p.m. In addition, more than 533,000 North Carolina voters have voted early by mail.
"I've been doing this 20 years and never seen anything like it," electioneer Bill Flynn, of Cape Carteret, said as he observed a line of voters waiting outside Western Park Community Center in Cedar Point.
"It's very indicative of how people feel about this election," he continued.
Poll workers at Western Park, like the other one-stop sites, reported a line of voters waiting when they arrived to open the polls at 8 a.m.
"It's been like this all morning," official Wanda Young noted as she juggled assisting others inside the voting enclosure and monitoring lines and room capacity – capping the space at roughly 25 to 30 people. By the day's end, 789 ballots had been cast there.
Voters at all four of the county's one-stop sites – the County Board of Elections in Beaufort, Western Park, Fort Benjamin Park in Newport and the Morehead City Parks and Recreation building – anecdotally reported wait times varying from 15 minutes to an hour.
Despite the first day rush, residents have ample time to vote early and take advantage of same-day registration. One-stop continues Monday through Saturday from 8 a.m. to 7:30 p.m. The final day of early voting, Saturday, Oct. 31, the sites will run from 8 a.m. to 3 p.m.
At the BOE office in Beaufort, workers noted Thursday evening the lines had been ceaseless, but they were moving voters in and out as quickly as possible. The site had seen more than 930 voters by just after 5 p.m. and ended the day with 1,053 ballots cast.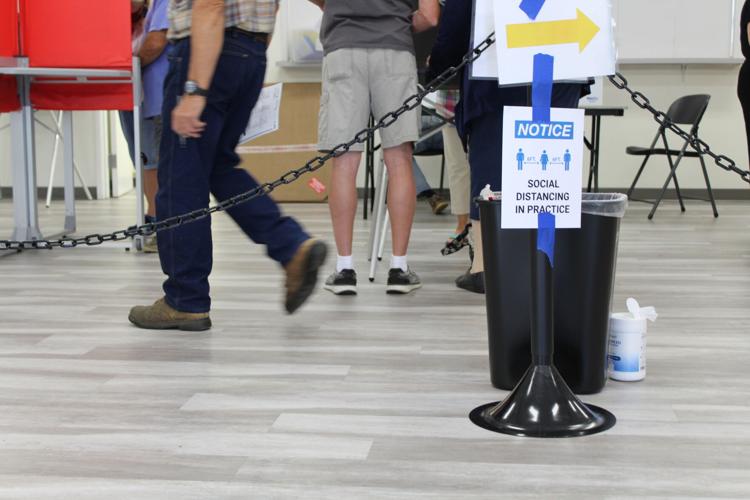 In Newport, a stream of voters transformed the recreation center into a hive of activity. Workers reported having as many as six curbside voters outside at a time, coupled with managing a continuous line running outside and along the sidewalk. The site reported 839 voters had cast a ballot by the time polls closed.
All four sites have expanded curbside opportunities for voters who do not feel comfortable entering the voting enclosure or prefer to physically remain in their vehicle. The BOE bought new banners this year to advertise curbside voting and increased bells for voters to use to alert officials inside.
"We're trying to make everybody feel comfortable when they come in here so they feel they can vote safely," poll worker Penny Liebhaber said. 
Capacity limits on the voting enclosures are one of several safety measures officials instituted to try to help prevent the spread of the coronavirus at voting sites. Poll workers are also geared in personal protective equipment, voters are being provided masks and pens and social distancing is being enforced.
At each site, one worker has been tasked with regularly cleaning frequently touched surfaces, like door handles, and wiping down each voting booth after it is used.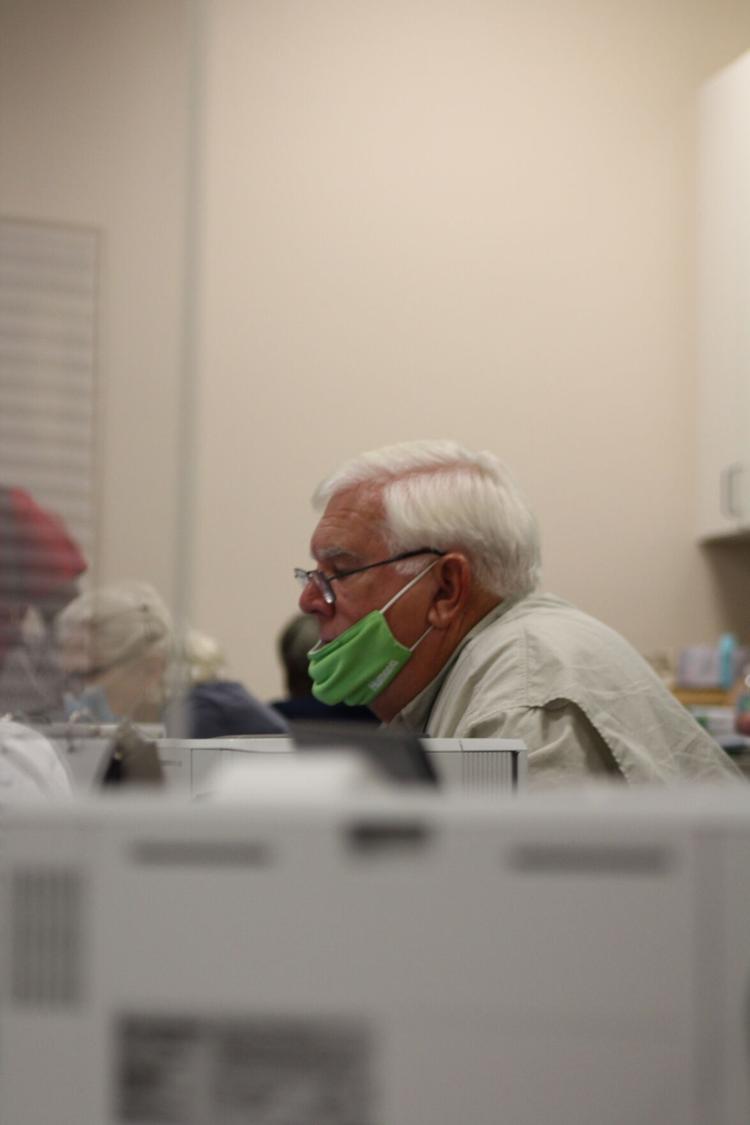 At Morehead City, a site which was last used for early voting in the 2016 election, the line had lulled to three people, but remained steady by 4:30 p.m. The site proved the slowest of all those in Carteret County, with poll workers assisting 689 voters by close.
Back at the BOE office in Beaufort, Director Caitlin Sabadish remarked the first day proved to be a whirlwind, but the office had no major incidents or technical difficulties to report around 5 p.m.
For those who would rather not vote in person, absentee-by-mail ballots can be requested through Tuesday, Oct. 27. To request a ballot, check your registration or get more information about voting in North Carolina, visit the State Board of Elections site at ncsbe.gov.
Contact Jackie Starkey at 252-726-7081, ext. 225; email jackie@thenewstimes.com; or follow on Twitter @jackieccnt.