BEAUFORT — The largely quiet office off Live Oak Street in Beaufort was abuzz with temporary help and activity Thursday as Carteret County Board of Elections officials prepared for the start of absentee-by-mail voting.
Two election workers whittled away with reviews at computers, while another two processed paper absentee envelopes and remaining staff fielded phone calls and attended other work.
All the hubbub marked the beginning of mail-in voting in the 2020 presidential election, though voters won't be able to visit the polls in person until one-stop early voting begins Thursday, Oct. 15.  
Nonetheless, it's off  to the races for elections officials.
"We're pretty much at max capacity," Board of Elections Director Caitlin Sabadish noted. "We just got our ballots today; we've got people stuffing envelopes right now and verifying all that."
Friday was the first day absentee-by-mail ballots could be posted to North Carolina voters that requested them. Statewide, elections workers expect to see a sharp increase in the use of the longstanding by-mail method, usually leveraged by the homebound and travelers.
As of late Thursday, Ms. Sabadish said the office had processed or begun processing requests for more than 2,740 absentee-by-mail ballots, and that number was an underrepresentation of the requests to date.
"There's such a volume that we can't get through them fast enough to give you an accurate number," she noted.
At best guess, Ms. Sabadish estimated Carteret County – home to 49,954 registered voters as of Friday morning – already had between 3,000 and 4,000 absentee-by-mail requests. That's a stark jump from the 2016 presidential election, when the office processed 1,309 absentee-by-mail ballots, just 3% of the county's registered voters.
Before the deadline to request such a ballot, which is Tuesday, Oct. 27, Ms. Sabadish expects her office could mail as many as 10,000.
The reason for the increase is the novel coronavirus pandemic, at least in part, as voters across the country look for ways to safely participate in the democratic process.
By Friday morning, roughly 643,400 North Carolinians had requested to vote by mail. In Florida, that number exceeded 4.2 million, The Associated Press reported.
Controversy has swirled amid that push for a means of voting with less person-to-person contact. During an address Wednesday in Wilmington, President Donald Trump seemed to encourage by-mail voters to visit a polling place on Election Day to attempt to vote twice. The remarks were widely criticized.
Thursday morning, State Board of Elections Director Karen Brinson Bell issued a statement reminding voters it is illegal to vote twice in an election.
"There are numerous checks in place in North Carolina that prevent people from double voting. Electronic pollbooks with information about who has already voted are used at every early voting site," she said in a statement. "If a voter tries to check in who has already voted, they will be prevented from voting a regular ballot. A voter will be offered a provisional ballot if they insist on voting, and this ballot will be researched after Election Day to determine whether it should be counted."
In Carteret County, while overwhelmed by the workload, Ms. Sabadish said she is sure the office can securely handle the volume of ballots, absentee and otherwise.
"I'm confident in our in-office procedures," she noted.
The process
To receive a ballot by mail, a registered voter must first request one using a state-issued form. The absentee ballot request form can be downloaded here.
Tuesday, the state rolled out an electronic means of requesting a mail ballot. The portal can be used to request and sign for the absentee ballot, which is then posted to the voter by their county BOE. To access the portal, click here. 
Military and overseas voters have the option to request their ballot electronically.
Ms. Sabadish said many residents are receiving request forms from third parties encouraging voter participation. Legitimate request forms will not have pre-filled voter information. Additionally, forms issued by the elections office only come after a request, not unprompted.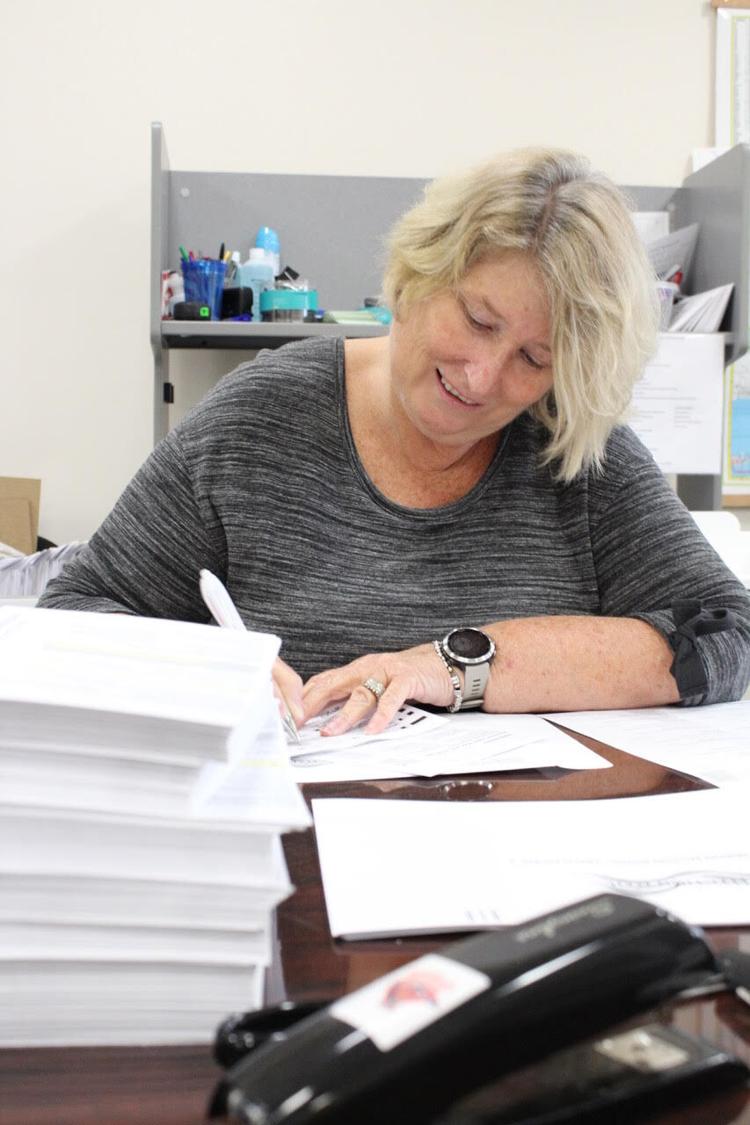 Once a request form is received by the BOE, it undergoes scrutiny prior to the ballot being mailed.
"It gets reviewed three times, basically. Three different sets of eyes are on it," Ms. Sabadish said.
Reviewers check whether the requester is registered in Carteret County, among other things. As of Friday, all requests should be reviewed and mailed out to voters as quickly as possible, Ms. Sabadish said.
Once they've received the ballot, voters are asked to follow the directions on the return envelope, mark the ballot, have the envelope signed by a witness and seal the ballot inside the return envelope.
Given concerns over the U.S. Postal Service's ability to deliver ballots back and forth on time, Ms. Sabadish recommends acting promptly.
"We're telling people to get it out early. As soon as you get your ballot, send it back to us. Don't wait till the last minute because there could be some delays," she said.
Voters can also return their ballot in person to the elections office at 1702 Live Oak St., Suite 200, or at a one-stop early voting site.
The voter or a near relative must hand the ballot directly to an elections official – office staff at the BOE or a smocked poll worker at one-stop. There will be no drop-boxes for ballots, and those returning a ballot in person must sign a log. Near relatives include parents, spouses, children, in-laws, grandchildren and grandparents.
On Election Day, absentee-by-mail ballots cannot be returned to polling sites, only to the BOE office in Beaufort.
Upon receipt by the BOE, staff will leave the envelope sealed and further review the validity of the mailed-in ballot.
The envelope is not opened until the ballot is approved by the County Board of Elections, which meets weekly, beginning Tuesday, Sept. 29, leading up to an election. Once approved, the envelope will be unsealed and the ballot fed into a DS200 voting machine used solely for absentee-by-mail ballots.
"All approved ballots, the board opens the envelope … the board opens that in front of everybody," Ms. Sabadish said. "It's very transparent."
For more information or direct questions about how to register to vote, vote absentee by mail, one-stop early voting or more, contact the BOE by phone at 252-728-8460 or visit its website, carteretcountync.gov/434/Board-of-Elections.
Contact Jackie Starkey at 252-726-7081, ext. 225; email jackie@thenewstimes.com; or follow on Twitter @jackieccnt.