CAPE CARTERET — White Oak Elementary School volunteer Danny Shell of Emerald Isle wanted to show the school's staff how much they are appreciated in light of the challenges the coronavirus pandemic has thrown at them.
After brainstorming ideas, he and his wife Cherie came up with a Halloween fundraiser, GHOST, or Giving to Help Our Schools Thrive! The idea was to raise funds to give each teacher and staff member a $25 gift card to area businesses.
Mr. Shell said he posted his plan on a few social media sites about three weeks ago and the idea took off.
"Funds started coming in from individuals and businesses," he said.
While his original goal was $2,400 — enough to provide a card for each of the school's 96 staff members — as of Thursday he had raised $6,600.
On Friday, Mr. Shell, dressed in a Superman costume, handed out the gift cards during a Halloween celebration at the school. The event also included a parade in which students dressed up in costumes and received pre-bagged candy.
Because his effort raised so much, Mr. Shell plans to hold bi-weekly drawings throughout the 2021 school year to continue to give staff members a pat on the back.
Mr. Shell said he decided to wear a Superman costume because when he was able to volunteer at the school the past five years he would wear it on Halloween to celebrate with the children. He has been unable to volunteer since the pandemic hit.
"COVID-19 nixed this year as a volunteer, which hurts my heart deeply," the retired state trooper said. "More importantly, the COVID-19 nightmare has stressed staff, parents and kids immeasurably, yet our teachers have been unyielding in helping our kids get through this scary time."
He added that teachers are the true super heroes.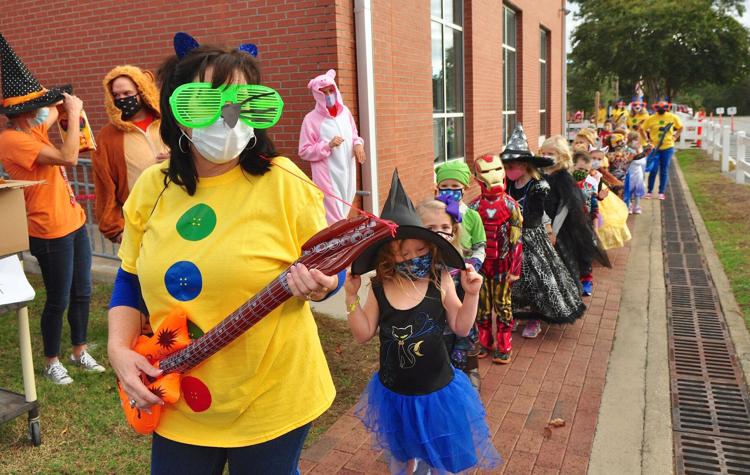 Mr. Shell said he's been touched by the support his effort has garnered for the school and the business community.
"Prayers have been answered and the love, respect and support for our teachers has been heartening," he said. "This not only helps the school, but the businesses that have been hurting during this pandemic."
WOES Principal Terri Brett said she and the staff appreciate the support shown by Mr. Shell and the community.
"This has been a challenging year to say the least. Our staff, parents and students met the challenge head-on and we're thankful for their patience and perseverance," she said. "We love having Danny here at White Oak, and the kids do, too."
WOES Assistant Principal Gina Dunn agreed.
"What Danny and Cherie have done in their outreach and unbelievable community and business response will mean more to our staff than perhaps they will ever know, especially at this uncertain time in education," Ms. Dunn said. "We are so grateful for their efforts and the support of so many."
Staff members, including prekindergarten teacher assistant Michelle Lane said she was grateful.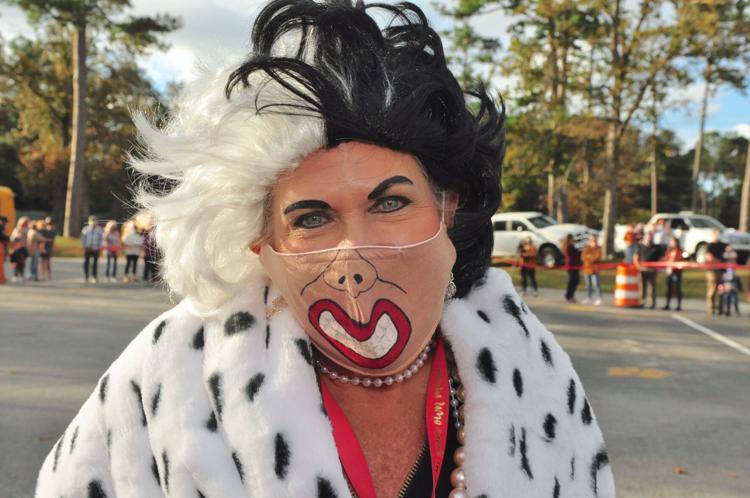 "I'm just overwhelmed right now," she said after receiving her gift card. "This is just the best place to work."
Third-grade teacher Charlotte Karcher agreed.
"It's very kind," she said. This means more than they know."
Superintendent Dr. Rob Jackson, who attended along with central office administration and staff dressed as Wizard of Oz characters, said, "I absolutely love and appreciate everyone who supports our teachers during these tough times. To have a way to show appreciation, and have fun and laugh during this pandemic, is important. Mr. Shell truly is a super man."
Cape Carteret Mayor Will Baker also took part in the fun.
"It's awesome how our community supports our schools and shows their generosity," he said. "This school is one of the most important things in our community. You've got to have great people to educate great children. During (the pandemic) it's been tough on our schools, and they deserve a token of our appreciation."
Those wanting to help keep the momentum going through 2021 can send donations to Danny and Cherie Shell, 219 Windjammer East, Emerald Isle, NC 28594, or call Mr. Shell at 443-536-8664. VENMO donations can be made @Daniel-Shell-12.
Contact Cheryl Burke at 252-726-7081, ext. 255; email Cheryl@thenewstimes.com; or follow on Twitter @cherylccnt.