By Heather Wilburn, Fleet Readiness Center East
CHERRY POINT — In military aircraft maintenance, repair and overhaul operations at Fleet Readiness Center East, the workforce is accustomed to seeing oversized dimensions – the 79-foot span of an H-53 main rotor, for example, or the 84-foot spread of a fully expanded V-22 Osprey.
Smaller measurements are common, too, however, and for those, the depot relies on the team at its precision measurement center, or PMC, which routinely works in increments as small as a ten-thousandth of an inch.
Recent equipment acquisitions in the PMC – a component of the Advanced Measurement Services and Reverse Engineering Labs Division at FRC East – will allow the program to perform these precise measurements more efficiently. A new optical comparator and laser trackers allow mechanical engineering technicians to more easily assess items small and large, including aircraft components, support fixtures and more.
An optical comparator allows technicians to inspect the geometry and measure the dimensions of small manufactured parts and assess whether those dimensions are within tolerance to required specifications. The tool uses lights, mirrors and lenses to magnify the parts and cast a two-dimensional image to a screen, allowing for noncontact measurement and evaluation, which prevents potential damage to the parts.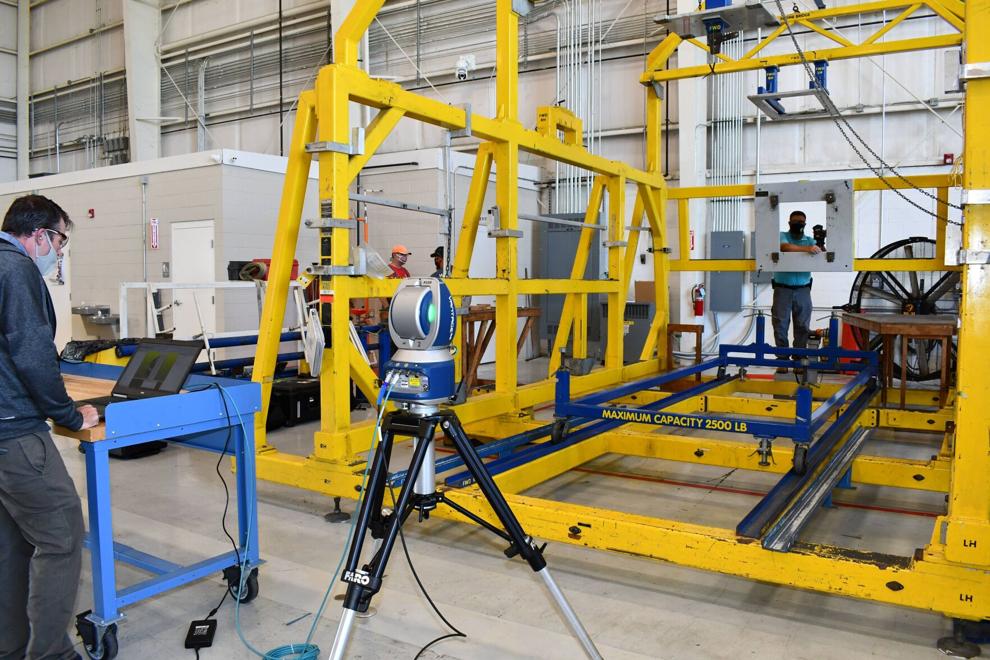 At FRC East, the optical comparator is primarily used in first article inspections, a process that involves measuring prototype parts created by defense contractors before the companies begin full production of the items, mechanical engineering technician James Gray said.
"When the contractors start making parts, they'll send us a run of them to inspect, so that we're confident the item is being produced to specification," he explained. "The shipment typically comes with criteria, with a drawing and a checklist. And we'll examine the parts, record the actual value and then certify our findings."
Thanks to technological advances, the new machine provides the ability to obtain more detailed measurements with higher precision than the version it replaced, Mr. Gray said, which improves overall accuracy. The new optical comparator is accurate to within five ten-thousandths of an inch, which is about one-fifth the width of a human hair.
It also offers innovative features including the ability to write a program to automatically measure certain characteristics of a specific part, and the addition of new digital tools that allow for the export of data.
The new optical comparator is already producing results in the PMC, said Michael Wagoner, metrology engineering and precision PMC branch head.
"The new equipment has already made a difference in our output; we have reduced our overall turnaround time on first article inspections by 10 percent," Mr. Wagoner said. "The team really came together to ensure we were able to obtain this new equipment. The results have been worth the effort."