MOREHEAD CITY —  Area schools have begun receiving personal protective equipment and other safety supplies in preparation for the opening of the 2020-21 school year.
The protective gear is part of a larger plan being developed by Carteret County education officials for the reopening of schools Monday, Aug. 17, in the midst of the novel coronavirus pandemic. However, county and state education leaders must wait until later in the month for a decision from Gov. Roy Cooper as to what the reopening will look like.
In the meantime, Superintendent Dr. Rob Jackson, who started his position July 1, is working with school system leaders on the development of three possible scenarios for reopening.
"Developing a strategic re-entry plan that takes into account the health and safety of our students and staff members is vital," Dr. Jackson said in a press release issued Wednesday. "We, as a school system, want to continue to provide our students with a high-quality education and we know that can be accomplished with careful planning."
Gov. Cooper has asked all schools systems to plan three different scenarios for reopening, with no final decision expected until at least Friday, July 17. He was originally scheduled to make a decision July 1, but delayed.
The three scenarios include Plan A, in which all students will be present at school with social distancing precautions in place. Plan B would involve 50% or less of the student body present with social distancing precautions, while Plan C is based on all students participating in remote learning only.
Dr. Jackson has created school committees to work on reopening plans based on seven key areas he wants to see addressed. The seven areas are student/staff health and well being, instructional delivery and curriculum, athletics and extracurricular activities, transportation, facility maintenance, child nutrition and communication and stakeholder engagement.
Principals chair the seven committees, which also include teachers, assistant principals, custodians, cafeteria managers and others.
"While there are school systems that have already shared their reentry plans," Dr. Jackson said, "please note that we are not behind. Our school system has been planning and is continuing to plan for the coming school year. We are working with what I consider a living document and we want to include the latest and most current information."
Dr. Jackson said he wants to have the school system's reopening plans ready by Thursday, July 30.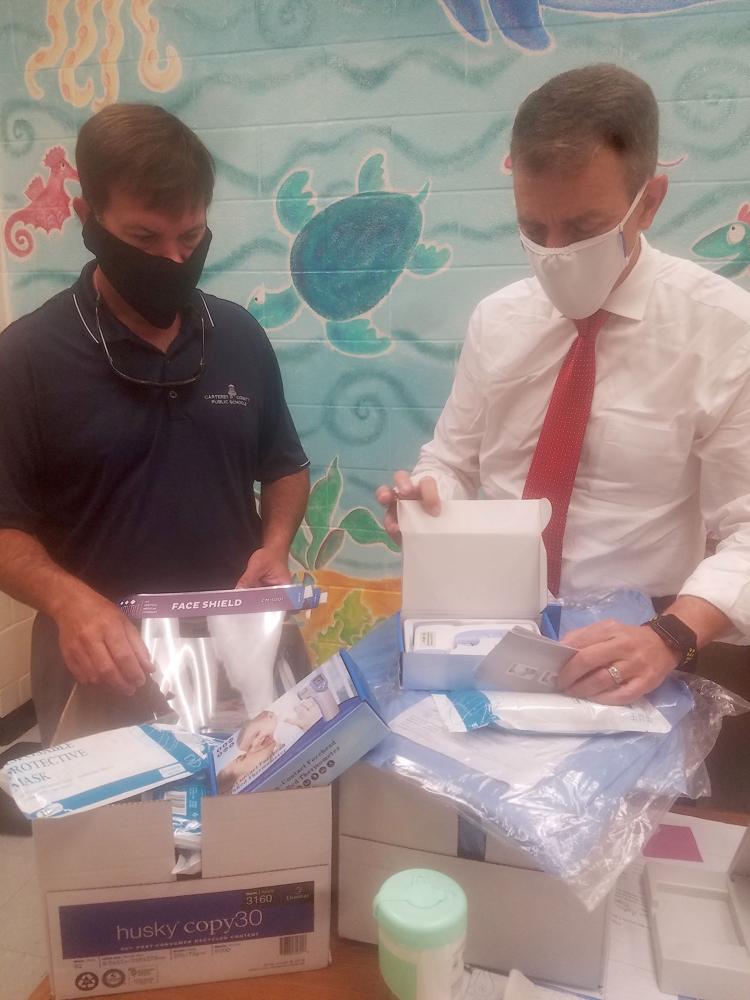 "Our ultimate goal is to be as prepared as possible with a well-vetted, solid plan that will ensure the safety of our students and staff as we begin the coming school year," Dr. Jackson said.
As for the personal protective gear now being placed in schools, Dr. Jackson said much of it is being provided through a partnership with Carteret County commissioners, emergency management and the Federal Emergency Management Agency.
The school system has ordered 47,000 cloth face coverings for students and staff, 50,000 pairs of disposable gloves, 18,000 bottles of hand sanitizer and 10,000 bottles of disinfectant.
The district has already received thermometers, surgical masks, face shields and disposable gowns from the state, and Dr. Jackson said the school system has also ordered thermal temperature detection units for schools.
At Morehead City Elementary School, Principal Anna Brooks said Wednesday she appreciated getting equipment to prepare for the return of students and employees. She has already stacked items such as thermal detection units, disposable gowns, face shields and facemasks in the school's health room.
"It's nice to have these things in place in case we need them," Ms. Brooks said.
She added that all support staff will be trained on how to use the equipment.
"We only have a school nurse here twice a week so our staff also performs many health duties," she said. "It's a lot for one nurse. We are working on having a strong protocol (in) place if we have a child running a temperature. This will take a team effort."
Dr. Jackson agreed it will be a team effort to get schools opened and health and safety must be the top priority.
"While remote instruction can be effective for students, it is my belief that face-to-face instruction that allows teachers and staff members to build relationships with students is the most effective," he said. "We want our students back in our buildings, but we must plan for all three of the state's scenarios and follow the guidelines issued to us. Above all, we want to do all that we can to protect our county's students, school system employees and their families' safety, health and well-being."
Contact Cheryl Burke at 252-726-7081, ext. 255; email Cheryl@thenewstimes.com; or follow on Twitter @cherylccnt.