MOREHEAD CITY — It's out with the old and in with the new this week at Carteret Community College as crews tore down the former culinary arts building and officials prepare to open a new $10.1 million state-of-the-art facility.
The new 17,000-square-foot Hospitality and Culinary Arts Center, set to open within the month, contains four teaching kitchens, a hospitality lab, a banquet room, additional food and supply storage areas, reception area, offices, classrooms, restrooms and an outdoor patio. The building contains state-of-the-art equipment used in the restaurant industry.
It replaces an older building, which was a renovated former restaurant that had a leaking roof and other problems. It was also too small to facilitate the growing programs, according to Chef Charles Park, the lead curriculum instructor.
"I feel like a caveman who is now a king," Chef Park said Thursday as he stood in front of the main entrance.  "I am looking forward to not having to deal with the problems we had in the old building and I will have more tools of the trade to teach students."
CCC President Dr. Tracy Mancini said the college opened for the second semester Wednesday, but culinary students will not report to the new building for a few more weeks as workers finalize the interior work.
"We should have students in the building within the month," she said.
As part of the plan, crews demolished the old culinary building this week to make way for parking and an entryway.
"We should have about 100 parking spaces," she said.
Money for the new building and land come from state bond and construction funds, the CCC Foundation, which purchased and donated the property, a county allocation, capital campaign proceeds, a Golden Leaf Grant and other private donations.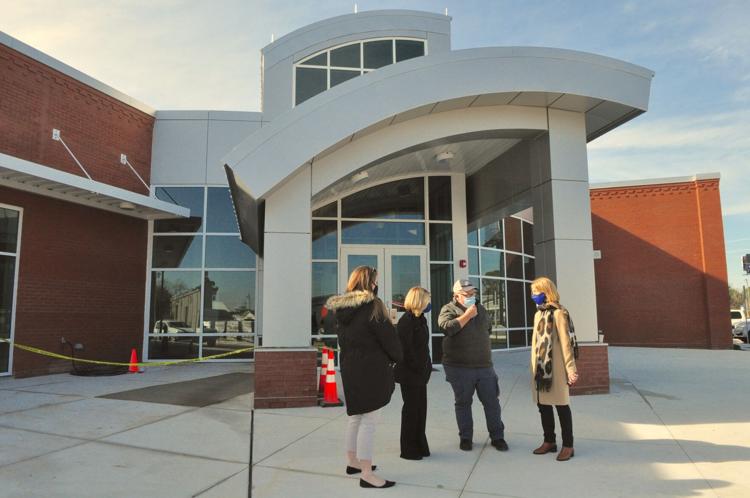 "We are so grateful to everyone who has helped fund this beautiful facility," Dr. Mancini said. "We are looking forward to this being a beacon of new ideas and creativity for the hospitality, tourism and restaurant industries."
Each of the four kitchens in the building have a distinct function, according to Chef Park. One kitchen is set up to teach beginning culinary students. A second production kitchen is for second-year culinary students and includes a service line similar to a cafeteria. A third is for the baking and pastry program. A fourth is a cold kitchen, where students will be trained in preparing and serving cold foods, such as sushi, salads and more.
A hospitality lab, which is set up as a hotel room, will be used to instruct students in the tourism service industry.
"Students will learn how to clean rooms properly, including disinfecting," Dr. Mancini said. "Especially with (the coronavirus) impacting the restaurant and hotel industry, we are focusing on the proper sanitizing and and disinfecting aspects."
She added that the larger building will provide additional space for students to remain socially distanced during the pandemic.
The building also contains a large banquet room that opens onto a spacious brick patio. The room will be used to host the many dinners and luncheons presented by the culinary program. However, those are not currently being offered due to COVID-19 restrictions.
The banquet room, which can serve up to 150 guests, contains wall dividers that can be used to create three smaller rooms for private events.
As for the brick patio, which contains a pizza oven, Dr. Mancini said furniture will be set up so students can use the area to eat lunch or study.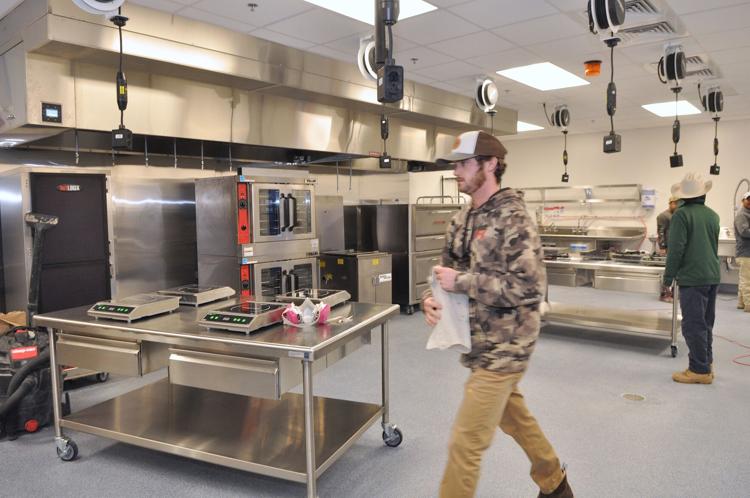 The large entryway and reception area will be used for instruction in the hospitality program.
Dr. Mancini said there are three general purpose classrooms and offices that can be used for culinary and hospitality programs, as well as others.
Additional college courses are being incorporated in the new facility, such as horticulture, photography and fine arts.
"Our photography students are creating a virtual tour of the building that we will post online," Dr. Mancini said. "We also want to allow our students to host exhibits and display their work in the building."
CCC is still conducting late enrollment and she encouraged students interested in the culinary and hospitality programs to register.
Contact Cheryl Burke at 252-726-7081, ext. 255; email Cheryl@thenewstimes.com; or follow on Twitter @cherylccnt.