MOREHEAD CITY — Offerings offace masks and hand sanitizer may have replaced the usual selection of soups and chowders at this year's Empty Bowls fundraiser, but organizers made sure the annual event benefitting several local food charities went on despite the coronavirus pandemic.
The event, which is usually held at the Crystal Coast Civic Center, took place Tuesday at One Harbor Church in Morehead City due to limited capacity at the civic center. Barbara Johnson, chairperson of the organizing committee for Empty Bowls, said the venue change was one of the several adjustments organizers made to ensure the event, now in its 18th year, complied with COVID-19 safety protocols.
"Our committee decided we would do the regular bowl selection in a socially distanced way, a careful way," Ms. Johnson said.
The other main difference this year was the lack of a sit-down luncheon, which usually sees attendees sampling from dozens of soups and chowders. Instead, ticketholders received a voucher for a free bowl of soup with the purchase of an entrée at one of eight participating area restaurants.
Like in years past, attendees still got to pick out a bowl to take home from the wide assortment of handmade pottery thrown by local artists.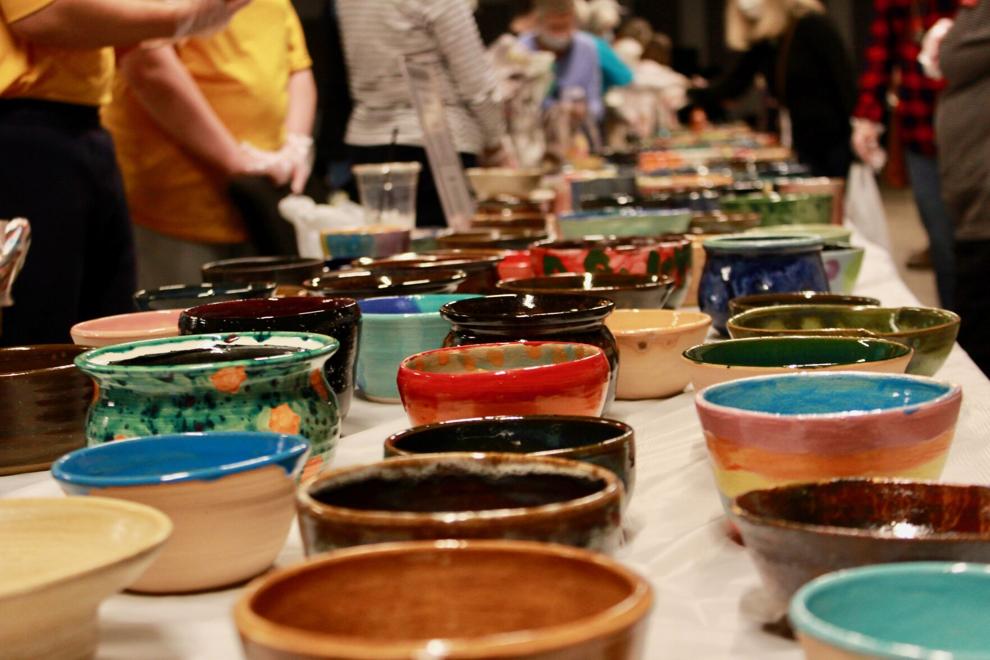 Despite the changes, twin sisters Joanie Hudson and Jennie Starr said they enjoyed the modified event, which they've attended together each year for almost a decade. Ms. Starr said they usually buy extra tickets so they can sample more of the soups.
"It's fun when they have all the soups there because you can try different kinds and go back to the table and pass them around," she said.
In addition to the soups and pottery, Ms. Hudson said she and her sister like attending Empty Bowls because it helps support a good cause.
"We just love it and we hope they continue it," she said. "…This year even though they weren't doing the soup here, it was well worth it just to get the bowl and to give back."
Proceeds from the event benefit feeding programs at Hope Mission Soup Kitchen, Martha's Mission Cupboard and BackPack Friends.
Glenda Killion, ministries director with Hope Mission, said this is the first year BackPack Friends was included with the fundraiser.
"In years past, it's just been Hope Mission and Martha's Mission, we have now included Backpack Friends in with that because we are all serving the same population of people, and so it's a collaborative effort to help those that are truly hungry," she said. "And this year, as it turns out, it is truly an empty bowls event, and it just reminds us that there are people that go day-by-day that have nothing more than an empty bowl."
Ms. Killion said she and other organizers are hopeful next year's event will be able to return to its traditional format at the civic center.
Contact Elise Clouser at elise@thenewstimes.com; by phone at 252-726-7081 ext. 229; or follow on Twitter @eliseccnt.