BEAUFORT — As with many food service businesses, the Carteret County school system's child nutrition program is struggling with a shortage of workers to serve meals in cafeterias.
"We're down six cafeteria workers, but three of those are at West Carteret High School," child nutrition director Melissa Albright said Tuesday. "We've only got two employees right now at East Carteret (High School). We've also got two people out on quarantine due to COVID."
Ms. Albright said she normally has about 65 employees working in the 17 public school cafeterias across the county.
To make up the shortage, she said other school employees, from central office staff to teacher's assistants, are being called on to serve in cafeterias. The district is also advertising the vacant positions on its website, carteretcountyschools.org, and at nc.teachermatch.org.
"If there are parents out there who want to work the same hours as when their children are in school, this is the perfect job," Ms. Albright said. "It's a six-hour day, plus you get state benefits because it's considered a full-time position."
While most cafeteria workers take summer months off, that has changed in recent years due to the system's summer feeding programs. Workers can opt to take summers off or work the summer season, according to Ms. Albright.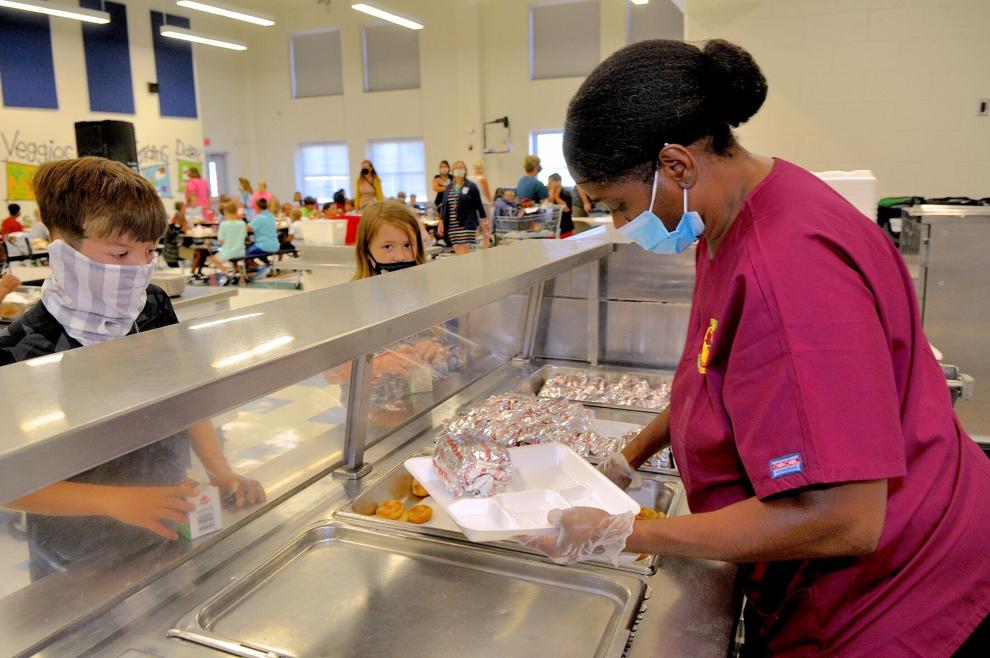 Child nutrition workers at Beaufort Elementary School said Aug. 25 they consider their jobs a way to help students.
"I enjoy it," Sandra Westmoreland said. "I get to see the kids everyday and it's always something different."
BES child nutrition employee Gale Jones agreed.
"I retired from (Marine Corps Air Station) Cherry Point. I worked in the snack bar area and I needed something extra to do," Ms. Jones said. "I enjoy being around people too much, and I enjoy the children."
Ms. Albright said people don't need prior food service experience to apply to work in school cafeterias.
"Sometimes it's more preferable if they don't have previous experience because school food service is different," she said. "We can teach from the ground up."
Across the board, the county school system is currently advertising 29 vacant positions on its website. Open positions include food service assistants, electricians and HVAC technicians, teacher assistants —who also drive buses — and warehouse personnel. There are also five teacher positions posted, ranging from math to English language arts.
Contact Cheryl Burke at 252-726-7081, ext. 255; email Cheryl@thenewstimes.com; or follow on Twitter @cherylccnt.