MOREHEAD CITY — It's critical senior citizens and those with disabilities have adequate cooling during the hot, summer months.
To help meet that need, Carteret County Aging Services, through Operation Fan Heat Relief, is giving away 38 fans at the Leon Mann Jr. Enrichment Center in Morehead City to county residents who meet certain criteria.
To qualify for a free fan, a person must be 60 years of age or older or receive disability income, show a valid driver's license or ID providing proof of age, be a resident of Carteret County and have a home situation where a threat to health and well-being exist.
"Anyone wanting a fan needs to call us and schedule an appointment. They need to come in and pick up the fan and bring photo ID for proof of age and residency," center health and wellness coordinator Chris Cannon said.
He emphasized it's important the elderly and disabled have adequate cooling during the hot weather.
"The summer heat can be very dangerous and life threatening if left unchecked for the elderly," he said. "It can lead to heat exhaustion and heat stroke. It's especially dangerous for seniors who are more sensitive to heat because of circulation problems or certain medications. They must have some source of cooling in their homes."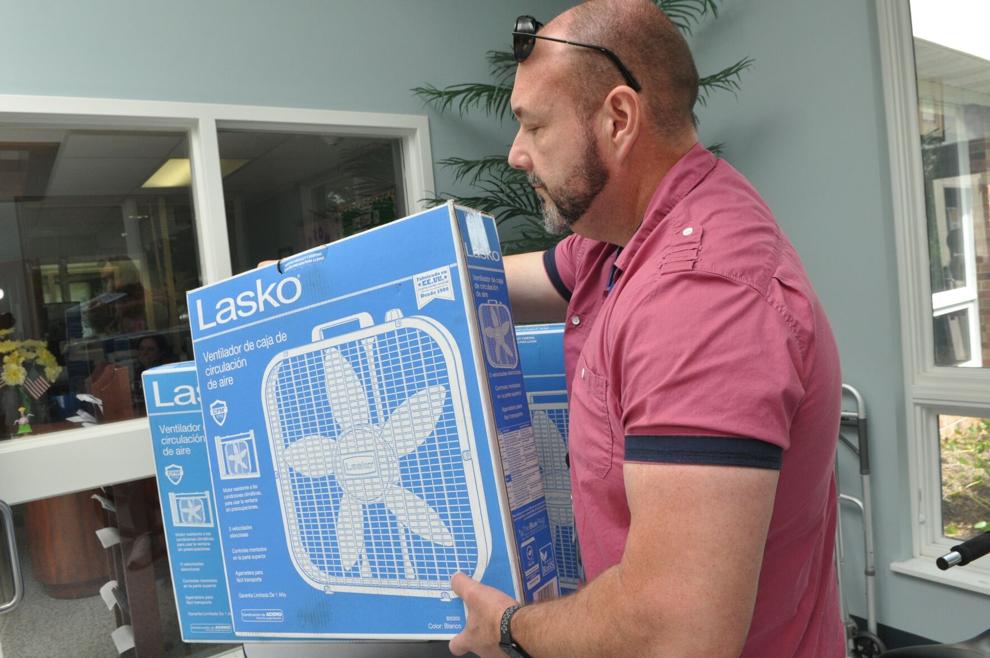 That's why Mr. Cannon said the senior center works hard to make sure all those in need of fans receive one.
"We're doing our best to provide fans and help seniors stay cool and get through the summer months with as little stress as possible," he said.
Gladys Foster, 88, of Newport, is among those who have received fans through the program. She said it's helped cool her home during the hot weather.
"For me, I have a window air conditioner in the dining room, and I put my fan so it can blow the cool air down the hall to the other rooms," she said. "It's a big help."
To protect seniors from the summer heat, it's best if they can stay in air-conditioned buildings, if only for a few hours per day, dress lightly and stay hydrated. It's important that individuals drink water, not sodas and other caffeinated beverages, in order to stay hydrated. If air conditioning is not an option, make sure seniors have fans available and use them.
Mr. Cannon said fans for the program are provided through a grant from Duke Energy Carolinas and community donations.
Those interested in picking up fans should call the Leon Mann Jr. Enrichment Center from 8 a.m. to 5 p.m. Monday through Friday at 252-247-2626.
Contact Cheryl Burke at 252-726-7081, ext. 255; email Cheryl@thenewstimes.com; or follow on Twitter @cherylccnt.