NORTH RIVER —  A nonprofit formed many years ago to assist residents in North River following hurricanes that caused flooding has once again come together to help its community during the coronavirus pandemic.
The North River Ladies Outreach Committee, with help from churches, nonprofit organizations and volunteers, has created a food pantry on the site of the old North River Community Center, which burned down about 30 years ago.
The group is raising funds to build a new community center, so for now, the pantry is in a tractor-trailer that has been retrofitted with shelves, a freezer and other items.
"Most of our community is elderly. Many of our residents need their money for medications, so the extra food is a big help," group Vice President Matilda Stewart said Wednesday. "Plus, we have people who have lost jobs during the pandemic."
The organization will hold a food distribution from noon to 1 p.m. Saturday at the pantry at 951 Merrimon Road. It's open to area residents.
Thanks to food boxes donated by Food Lion and Loaves and Fishes in Beaufort, Ms. Stewart said she anticipates giving away at least 150 food boxes. The Food Lion boxes are purchased by supporters for $5, then provided to the organization. The boxes contain a variety of items, including pasta, rice, green beans, spaghetti sauce, canned chicken and macaroni and cheese.
This is the third food distribution held on the site since July, thanks to help from grants, including a $10,000 grant from the Church of Jesus Christ of Latter-day Saints on Harkers Island. Another $5,000 grant came from the Duke University Community Outreach Program.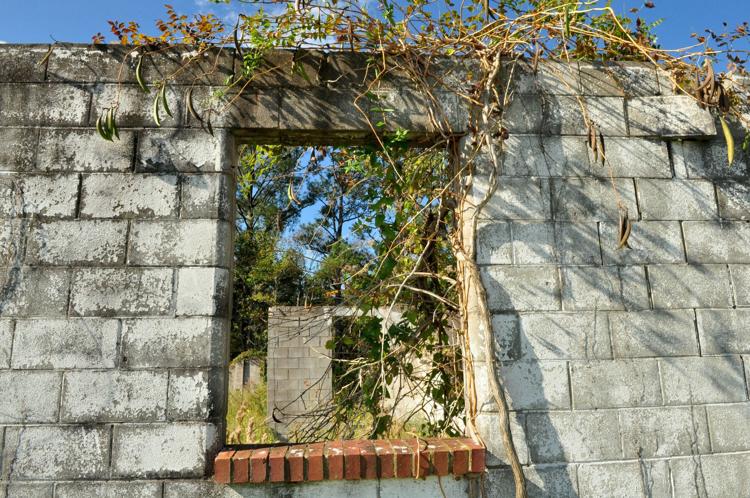 The group is seeking to partner with the Central and Eastern NC Food Pantry in New Bern. After passing inspection and special volunteer training by CENC in January 2021, volunteers will be able to receive food supplies at reduced cost or free to distribute locally on a monthly basis. Plus, Ms. Stewart said they are seeking other grants and partnerships for the food pantry.
As well as providing food to those in need, Ms. Stewart said the organization is hoping to raise enough funds to rebuild its community center.
"We've been trying for over 20 years to get a new community center," she said.
Food pantry volunteer and North River resident Tommy Murray said it would mean a lot to area residents to have a new community center.
"It would be a miracle," Mr. Murray said. "It would give the older folks a place to come for functions. We used to be able to put on programs here. We want to give the kids a place where they can come. We could have teachers in to help them with homework. We used to meet here for events, like weddings. We need a community center."
Ms. Stewart said a fund was set up years ago under "The North River and Laurel Road Hurricane Relief Fund" to raise money for residents and to build a new community center.
Those wanting more information about the North River Ladies Outreach Committee's efforts regarding the food pantry and community center can contact the group's president, Mary George, at 252-723-5396 or Ms. Stewart at 252-646-1628.
Those interested in making tax-deductible donations toward the community center project can send donations to The North River and Laurel Road Hurricane Relief Fund, c/o Mary George, P.O. Box 1041, Beaufort, NC 28516.
Contact Cheryl Burke at 252-726-7081, ext. 255; email Cheryl@thenewstimes.com; or follow on Twitter @cherylccnt.