ATLANTIC BEACH — An Atlantic Beach woman has turned her quarantine crocheting hobby into the gift of warmth in the form of dozens of baby blankets donated to newborns at Carteret Health Care.
Megan Hunter, business services coordinator at the UNC Institute of Marine Sciences, told the News-Times she's donated around 60 blankets and counting to the Brady Birthing Center at CHC in Morehead City. She said she's been crocheting on and off since high school, but she took up the hobby more seriously around January 2020 as a way to help fend off the "post-holiday blues."
"I was feeling a little restless after the holidays and decided I wanted some sort of long-term project to keep me occupied," she said.
With several of her friends expecting babies, Ms. Hunter initially started crocheting blankets to give as gifts, and she ended up making around six of them in just a couple months' time. That ended up sparking the idea for Ms. Hunter's project — to crochet 100 baby blankets within two years.
Ms. Hunter knew from the beginning she wanted to donate her creations, and at first, she wanted them to go to children in foster care. But when she called the local social services office, they told her they were at capacity for donations, so Ms. Hunter looked elsewhere.
She then looked into some national organizations, like Warm Up America, that distribute blankets to a variety of people in need, but none were local to eastern North Carolina, and Ms. Hunter knew she wanted to keep her donation within the community. So, she reached out directly to officials at CHC, and they said the hospital would accept the blankets.
"I really wanted to keep it local," Ms. Hunter said.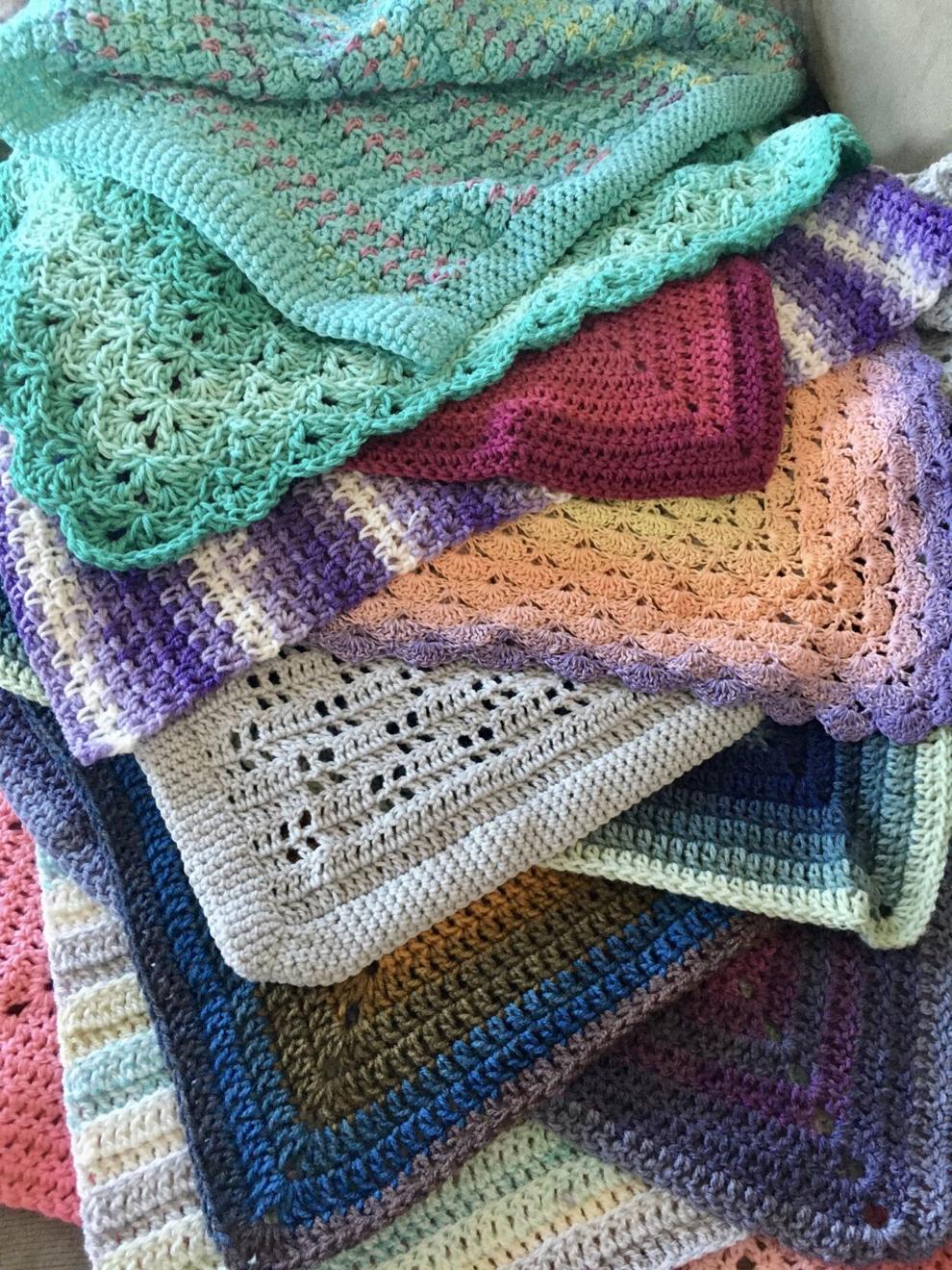 Ms. Hunter requested the hospital prioritize giving the blankets to newborns who "need a little extra lovin'," like those who are bound for foster care. Due to COVID-19 safety precautions, the hospital couldn't accept the donation until September, by which point Ms. Hunter said she'd already crocheted around 50 blankets.
So far, she's donated 61 blankets to CHC, along with 10 blankets to a nurse in Jacksonville who does home visits for newborns. She has 23 more blankets prepped for donations in January and February, and she's currently working on her 94th blanket of the year.
"I deliver to the hospital about once a month, around the 15th of every month, about 10-15 blankets at a time so as not to overwhelm them that week in case others in the community also give," she noted.
Ms. Hunter said crocheting, especially for a good cause, has been a positive outlet for the stress and anxiety brought on by the coronavirus pandemic of the past 10 months. She said she's been doing her part to prevent the spread of the virus by staying home as much as possible, and crocheting has helped her feel connected to others even in times of isolation.
"In moments, especially during COVID, where I can't see as many people as I'd like, this has helped me feel connected to my community," she said.
She said her family and friends have been supportive of her crocheting endeavor, giving her yarn or money for supplies to make the blankets. Depending on the size and type of yarn she uses, she said each blanket costs $6 to $12 and takes around two or three days to make.
Once she reaches her goal of 100 blankets – which will be achieved in about half the time she originally expected – Ms. Hunter said she thinks she'll probably keep crocheting for charity, whether it's baby blankets or something else.
"So many people this year are sick or out of work and everyone is struggling," she said, "and I just hope (the blankets) bring a little bit of hope and light."
Contact Elise Clouser at elise@thenewstimes.com; by phone at 252-726-7081 ext. 229; or follow on Twitter @eliseccnt.