EMERALD ISLE — The Carteret County Beach Commission agreed Monday to ask N.C. State University to offer advice on how to get rid of beach vitex.
The commission acted after a presentation by County Shore Protection office manager Greg Rudolph during its monthly session in the Emerald Isle Board of Commissioners' meeting room off Highway 58.
Vitex is an invasive plant species that is choking out natural vegetation along the oceanfront in some places along Bogue Banks.
"It's here on Bogue Banks," Mr. Rudolph said. "It's been here awhile. It's called the 'kudzu of the coast.'"
The plant, which has purple flowers and round-ish leaves, is a low-growing perennial shrub and spreads rapidly, probably by the wind and birds dispersing its seeds. It's dark green with woody stems in the summer and turns grey in winter.
Mr. Rudolph said there are several bad patches on the island, probably the worst is in the dunes at Dunescape Villas in Atlantic Beach.
In Emerald Isle, there are large patches in the dunes at 7025 Ocean Drive, 12th Street and Ocean Drive. Smaller patches can be found in many other places.
According to the National Invasive Species Information Center of the U.S. Department of Agriculture, in addition to crowding out native sea grasses, like sea oats and bitter panicum – both used at a relatively high cost in the county's beach nourishment projects to stabilize dunes – vitex can destroy sea turtle nests.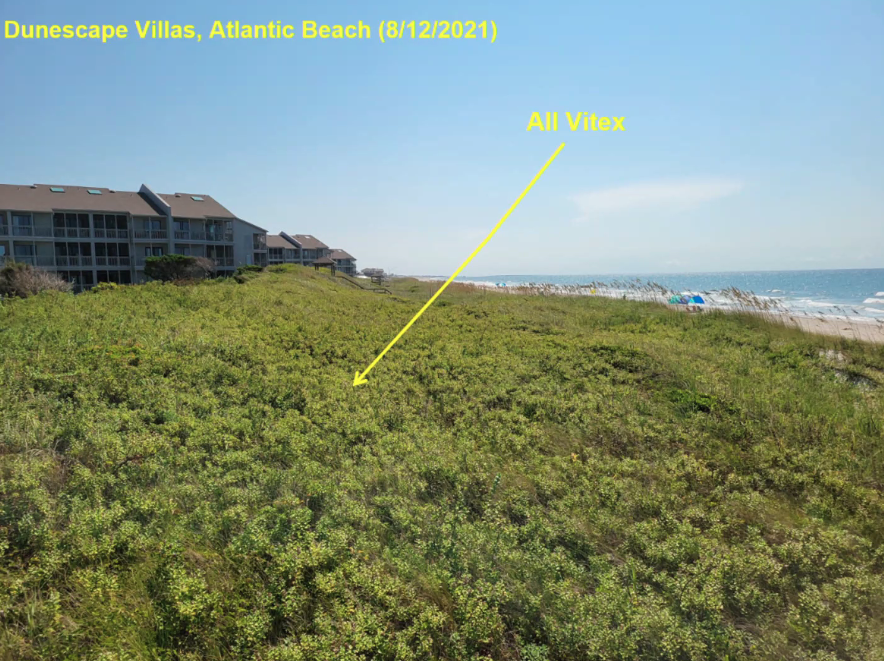 Mr. Rudolph said it's very difficult and time consuming to get rid of the plant. The most effective method is to pull it up, roots and all, which isn't hard to do because the roots are shallow in the sand, but it takes many hours to clear large patches. Other methods suggested by experts are to shade it so it dies or to gently scratch the stems and dab the scratches with herbicide.
All of the Bogue Banks towns have ordinances against planting vitex, Mr. Rudolph said. The question is what to do about the existing patches. At one time, he said, there was a N.C. Sea Grant task force set up to deal with the issue, but it has disbanded.
One problem is beach vitex, like kudzu, does what it's supposed to do – hold sand or dirt in place – so it's difficult to convince private property owners to remove it manually or let others do it, he continued. For the county or state to do it, officials have to get permission and easements to work in private property, which extends to the high water point on North Carolina ocean beaches.
Property owners, Mr. Rudolph said, are likely to decline, as the plant is holding up the dunes.
Beach commission Chairperson Jim Normile was the one who suggested Monday the county contact NCSU, known for its expertise in agriculture and related issues, to help come up with an eradication plan.
"It's worth talking to N.C. State," he said.
County Commissioner Jimmy Farrington, who also sits on the beach commission, wondered if it might be possible to cover the vitex patches with tarp and shoot gas in to kill the plants.
"I will outreach to NCSU," Mr. Rudolph said as the discussion ended.
Mr. Normile said it would be interesting to get some professors and students to come to Bogue Banks, look at the problem and "get their take" on what the county and property owners could do.
Contact Brad Rich at 252-864-1532; email brad@thenewstimes.com; or follow on Twitter @brichccnt.