SWANSBORO — The N.C. Coastal Federation was joined by about 18 commercial fishermen Monday to celebrate cleaning more than 1 million pounds of marine debris from the North Carolina coast.
The NCCF, partnering with the N.C. Division of Coastal Management, conducted an organized coastal cleanup project from February 2019 to August 2021. More than 50 volunteers, many of which were commercial fishermen, worked with federation staff in five counties to collect 1,846,020 pounds of marine debris. Volunteers collected the largest amount from Carteret County, 352,000 pounds of marine debris alone.
The project was funded through a combination of appropriated state funds and a Natural Resources Conservation Service Emergency Watershed Protection program grant.
To celebrate this accomplishment, the federation had a lunch celebration Monday at Hammock's Beach State Park with representatives from the DCM and about 18 of its volunteers. NCCF Executive Director Todd Miller said while this marks the end of one phase of a coastal cleanup project, "we're not stopping."
"What we realize is we need routine housecleaning of our coast," Mr. Miller said. "This cleanup focused on areas not managed by a local government. I think we realize through this we need to think about how we build things to make them more resilient to storms."
Large amounts of the collected debris were left behind by Hurricane Florence, which made landfall in North Carolina in early September 2018. According to the federation, 80% of the debris collected was lumber, 10% was dock floats, 6% was litter, 2% was lost fishing gear and the remaining 2% was miscellaneous items.
DCM Director Braxton Davis said the division has learned a lot through the cleanup and hopes to build on its success in future projects.
"I think this has set up a great model that we hope to continue using down the road," Mr. Davis said.
Mr. Miller said this project is the first of its kind.
"You really broke some new ground here," he told the volunteers who attended the celebration. "I look forward to hearing from you how we can do better in the future."
DCM coastal reserve central sites manager Paula Gillikin said she thinks the accomplishments of the federation and its volunteers are "absolutely fantastic."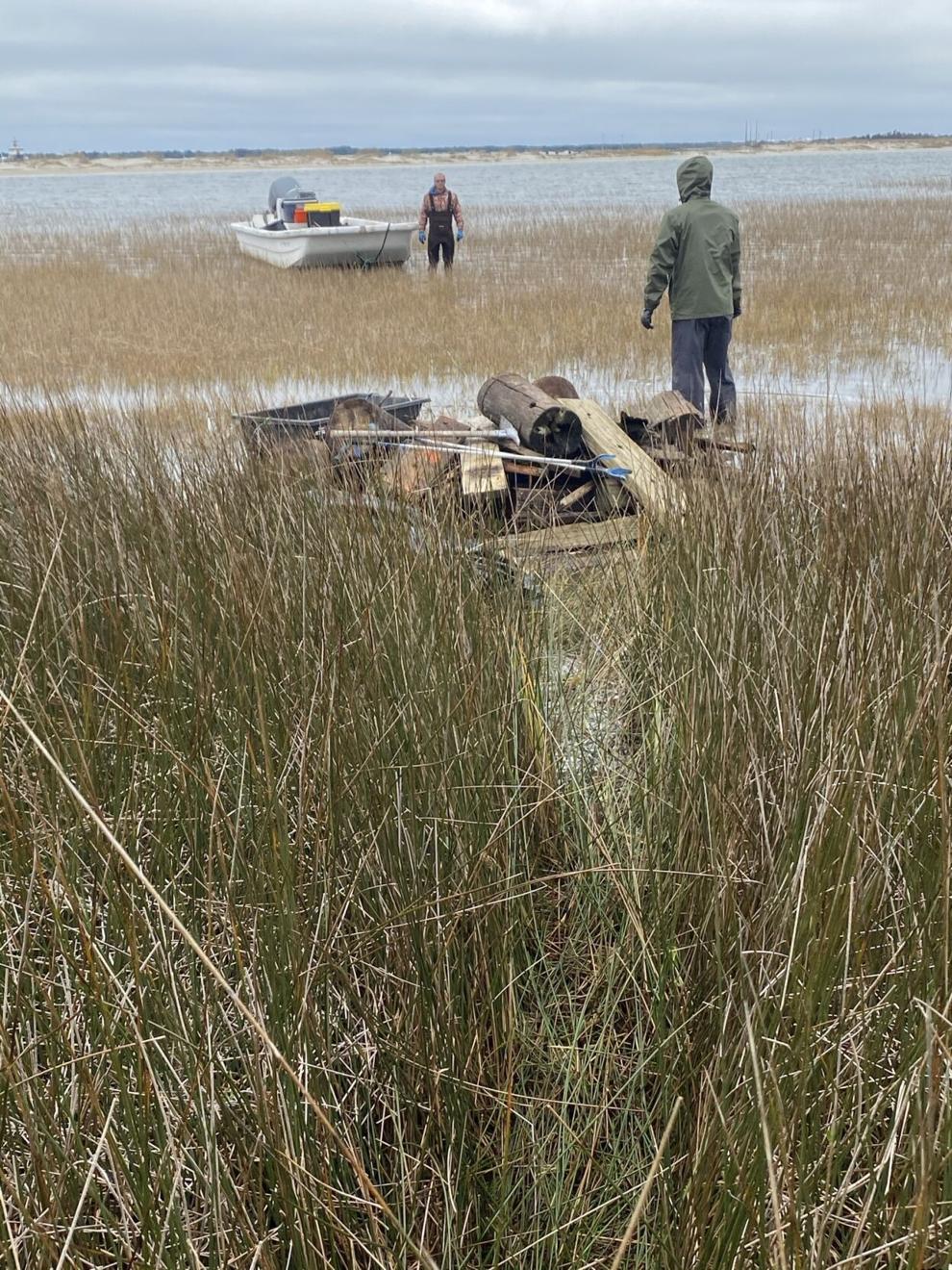 "It's the largest coastwide organized cleanup in North Carolina history," she said. "It says a lot about the hard work these fishermen and fisherwomen put in, and the need to address how that debris got here in the first place."
Joe Huie of Sneads Ferry was one of the crew supervisors. Mr. Huie, a commercial fisherman, said Monday he hadn't heard of the NCCF prior to joining the project.
"There was a huge lull in commercial fishing (after Florence)," he said. "We started (cleaning up debris) in Sneads Ferry, then worked south to Topsail, then to Wrightsville, then all the way to Zeke Island Reserve."
Mr. Huie said he thinks the most important thing he and his crew – Capt. Joey Huie, Mikey Willis and Josh Whitney – got out of the experience was awareness of the extent of marine debris.
"We've seen debris, but we didn't realize just how much debris was there," he said. "It's great to be able to give back to the areas where we work."
The cleanup work was anything but easy. Gathering large pieces of lumber, pilings and docks took a lot of effort, according to Mr. Huie, especially the pieces that had been washed deep into the marshes and wetlands.
"I took a step counter with us once," he said. "We walked just shy of seven miles in one day through the marsh."
Now that he's had a chance to work with the federation, however, Mr. Huie said he loves the work the organizations does to protect the coastal environment. 
"After being a part of one of their projects, I like how they focus on the issues," he said. "I had no idea of the scope of their work until I worked with them. I can see where all these contributions go: back into the coast."
Commercial fisherman Beth Miller of Onslow County said she joined the project after Florence, when she and her crew had a difficult time with their shellfish harvest.
"It was hard to find people to buy clams," Ms. Miller said. "I happened to see them (the federation) working one day, and they said they were looking for crews."
Ms. Miller, along with her son, John, and fellow crewmember, Lee Dickerson, focused their efforts in the area they were familiar with: the waters of Onslow County. The NCCF said 238 tons of debris were collected there.
"I never would have guessed we had that much," Ms. Miller said. "You never realized what you've accomplished until you're told."
Like Mr. Huie, Ms. Miller is pleased to see the efforts of the NCCF focused here.
"Being a part of the commercial fishing industry, it's good to see people other than people who work on the water care about marine life," she said.
Commercial fishermen weren't the only ones volunteering on the project. Ken Tramell said while he's not a commercial fisherman, he still joined the cleanup after a member of the Captains of the Crystal Coast, an informal group of licensed captains that provide assistance in a variety of ways to those on the coastal waters in the Crystal Coast area.
"We met Todd (Miller) when one our captains approached him," Mr. Tramell said. "He came to us (to join the project) and we said yes."
Mr. Tramell, along with Butch Breneman and Scot Lehey, formed a cleanup crew and helped with the Onslow County area effort.
"The biggest things we learned is how muddy it can be and how healthy the marsh grass is," he said. "You don't see a 30-foot piling until you're standing on it."
Mr. Tramell said they also saw a lot of support from onlookers during their cleanup runs.
"They'd be walking the beach and help us pile up stuff," he said. "It was really encouraging to see such a positive response."
CORRECTION: A cutline was corrected at 11:36 a.m. Tuesday, Aug. 31, 2021, to identify the subjects in the photo.
Contact Mike Shutak at 252-723-7353, email mike@thenewstimes.com; or follow on Twitter at @mikesccnt.