BEAUFORT — After hearing from about 20 impassioned parents and students who favored keeping masks optional in public schools, as well as presentations by county and state health officials, the Carteret County Board of Education voted 4-2 Wednesday to make masks mandatory for the first two weeks of the school year.
The mandate will take effect Thursday, Superintendent Dr. Rob Jackson said following the meeting, held in the media center of East Carteret High School.
The board will revisit the decision during its next meeting at 6 p.m. Tuesday, Sept. 7.
"I move that we make masks mandatory until our next board meeting. I hope we'll be able to get rid of them. I hate masks too," school board member Dennis Goodwin said in forwarding the matter to a vote.
Brittany Wheatly seconded, with John McLean and Chairperson Clark Jenkins voting in favor. Board members Travis Day and Kathryn Chadwick voted against the mandate. Board member Katie Statler attended the first part of the meeting virtually, but had to leave early and did not vote.
Board members asked Dr. Jackson to provide data at the next board meeting showing the number of positive COVID-19 cases and number of students and staff quarantined during the first two weeks of school.
With the recent spike in cases in the county, Dr. Jackson said there are currently 55 school staff members and 33 students in quarantine. That includes 17 staff members who tested positive.
Teachers officially returned to work Aug. 11. Students report back for classes Monday.
Following the meeting, Dr. Jackson said he didn't have the count on how many of the quarantined students tested positive.
"Students may have gotten the virus from other places or during school-related events, I just don't know. We will start posting our COVID numbers again on our website each Friday once schools open," he said.
Although the board did not originally plan to allow public comment during the special meeting, Mr. Day asked that the agenda be amended to allow comments. Ms. Chadwick seconded and the motion passed, with Mr.  Goodwin opposing.
Many who spoke had prepared speeches and held signs protesting masks. There were also brief outbursts from some parents during the meeting, including when board members were discussing the matter after public comment ended.
Masks will be required during the school day, but will not be mandatory during athletic and extra-curricular activities.
Students who have medical or behavioral issues due to the masks will not be required to wear them, according to school officials and the StrongSchoolsNC Public Health Tookit, which provides guidance on COVID-19 safety protocols in public schools across the state.
N.C. Health Director Dr. Betsy Tilson, who attended the meeting virtually, and Carteret County Health Director Nina Oliver, who attended in person, both recommended students in grades kindergarten through 12 wear masks, based on the rapid spread of the delta variant of the coronavirus.
"The virus is spread in respiratory droplets from nose and mouth," Ms. Oliver said. "By covering the nose and mouth, you are decreasing the amount of respiratory droplets coming out of that person — source control.
"Because we do know that people can spread even without symptoms, wearing a mask even when you do not have symptoms is important," she continued. "While the different studies on masks have some limitations, when you look at the aggregate data and the totality of our experience this year, masks do decrease the spread of the virus in a population."
Ms. Oliver said due to the highly contagious nature of the delta variant, there has been a 1,207% increase in active COVID-19 cases in the county from July 19 to Aug. 17. The county's percent of positivity rate for the week of Aug. 8-14 is at 14.3%, while the state's positivity rate is 13.5%. The state's goal is a 5% positivity rate.
Dr. Tilson said while it's been left up to local school boards to make the final decision, state health officials are recommending universal indoor masking.
Many parents attending the meeting said there was not enough data to support assertions masks prevent the spread of the virus. Several, like Stephanie Krzich, a parent with four children in the school system, said she believed masks should be optional "for the health, safety and medically developmental and emotional health of students. There is evidence that masks left on long term can cause additional health risks."
Following the meeting, parent Cheryl Pigott of Morehead City, who has one daughter in the school system, said she was disappointed with the board's decision.
"It's really hard for kids to focus in class with masks on," she said. "It's debilitating, but I understand why they are doing it."
After hearing parent comments and health officials, board members had a heated debate over mask requirements and quarantining. Finally, Mr. Goodwin made the motion to make masks mandatory the first two weeks of school, pointing to the rapid spread of cases in Florida and Texas, where mandatory mask requirements in schools have been banned by state officials.
"There are four school districts shut down in Texas as of 9 p.m. yesterday," Mr. Goodwin said. "They were shut down because somebody got COVID."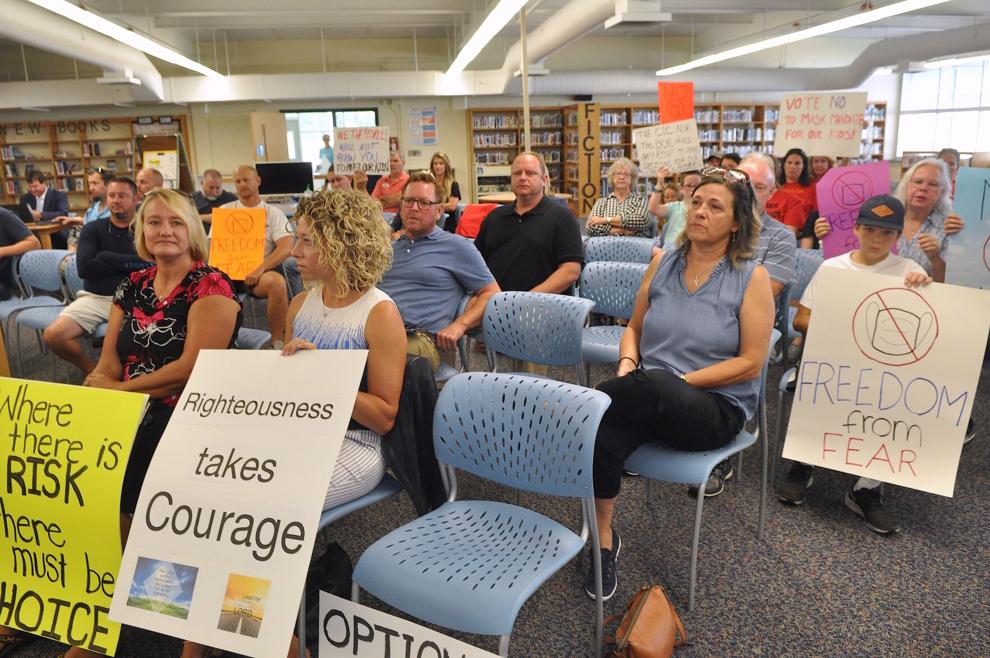 Ms. Wheatly seconded his motion, saying she understood the frustration over wearing masks, but, "We're trying to keep our kids in school and keep everyone safe."
Mr. Day, who adamantly opposed the mask mandate, said he felt data didn't support the need for masks in schools, saying there have only been four deaths in those 0 to 17 years of age in the state since the start of the pandemic.
He further said the Centers for Disease Control and Prevention's and N.C. Department of Health and Human Services' quarantine requirements were excessive. He suggested lowering the social distancing requirement from 6 feet to 3 feet when considering those who have been exposed to positive cases in schools.
He also pointed out the StrongsSchoolsNC toolkit was amended earlier to allow for exceptions for quarantining if both students are masked or vaccinated, as well as other exceptions.
Ms. Oliver said she would be willing to work with schools as the need arises.
"Do your best to social distance as much as possible," she said.
Dr. Jackson pointed out the school system is bound to follow the StrongSchoolsNC toolkit, which in most cases states anyone who has been within 6 feet of an exposed person for 15 minutes should be quarantined. There are exceptions if masks are worn and if the individual has been vaccinated.
Board members vented frustration over the quarantining protocols that have tied their hands.
"I hate masks," Mr. McLean said, "but I am terrified about closing down our schools."
Ms. Chadwick, too, said she's frustrated over the quarantine requirements that in some cases leads to an entire class being quarantined when one student tests positive.
"I don't think that's fair," she said.
Dr. Jackson said in some cases an entire class doesn't have to quarantine, depending on the situation surrounding the exposure.
Mr. Jenkins said he, too, was frustrated the board faced a tough call between requiring masks and quarantine now or possibly reverting entirely to remote learning in the future.
"I can tell you virtual (learning) was an abysmal failure because of the nature of it. My daughter struggled and I don't want to go back there. I am willing to put a mask on her for two weeks if it will keep our kids in school," he said. "This is not political. This is about my daughter and son and your daughters and sons staying school."
The board also unanimously approved providing for students to quarantine for seven days in certain cases. The CDC requires students to quarantine either, seven, 10 or 14 days, depending on circumstances. The school district last year had opted to do away with the seven-day quarantine because of the demand it put on school nurses and employees when it came to contact tracing.
Reporter's note: This article was last updated to include additional art at 5:38 p.m. Wednesday, Aug. 18, 2021.  
Contact Cheryl Burke at 252-726-7081, ext. 255; email Cheryl@thenewstimes.com; or follow on Twitter @cherylccnt.